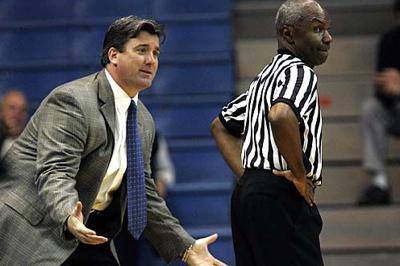 Ed Conroy is the ideal choice for the vacant athletic director job at The Citadel, his alma mater.
Check out the resume:
• Most successful Citadel head basketball coach since Les Robinson, his mentor.
• Doing well as an assistant coach at Minnesota after a run as head coach at Tulane.
• Former Citadel team captain.
• Earned rank of Lt. Colonel in the Corps of Cadets.
• Private business experience in Chicago right out of college.
• Cousin of the late best-selling author Pat Conroy, one of The Citadel's most famous alums.
No living human is a better fit for this gig.
I called Conroy in Minnesota and shared my theory. I asked what he thought.
In pursuit of accuracy, I want to get the words in his response in exactly the right order:
"No comment."
It sounded less like a "I'm in heated negotiations right now" no comment, more like a "I really haven't heard anything and I'm not sure I would be interested" no comment.
So it's up to Gen. Glenn Walters, who officially takes over for Lt. Gen John Rosa as new Citadel president on June 30, to change that.
Like Conroy and Rosa, Walters is a Citadel man.
Like most Bulldog sports fans, Walters can probably recognize the need for a bright winner who understands Citadel culture and has the people skills to raise funds, make good hires and attract interest.
Conroy, 51, and his wife Ginny have three children. Oldest son Riley just graduated from Tulane and wants to go into coaching, Hunt was a walk-on freshman guard at Minnesota last season and daughter Hannah is a sophomore in high school.
Those are some good reasons to stick with the Golden Gophers.
But maybe with a good offer, a quick connection with Walters and a little extra Citadel commitment to athletics, a deal can be worked out.
The search committee might also remind Conroy about Lowcountry hospitality and Minnesota snow.
Football and basketball
As for digging out in Charleston, the showcase pieces of the Citadel athletic department are not broken but require smart management.
The football team remains in decent shape under Brent Thompson but a 5-6 record in 2017 was a tumble from 10-2 in 2016. That was Thompson's first season after succeeding Mike Houston, who went on to immediately win an FCS national championship at James Madison.
Duggar Baucom's basketball program has improved from 3-15 to 4-14 to 5-13 in Southern Conference games. But four players left the team after an 11-21 finish in 2018.
Other parts of the athletic department have needs ranging from major renovation to minor morale boosts.
Les Robinson factor
Pat Conroy wrote the book "My Losing Season" about his Citadel basketball playing experiences.
Ed Conroy in 2009 led the Bulldogs to a rare winning season, 20-13. He got the Tulane job after following up with a 16-16 record in 2010. It didn't go that well at Tulane (92-103) but the Green Wave has had only three NCAA Tournament appearances, none since 1995.
Conroy when he was last in Charleston made Citadel basketball more fun than at any time since Robinson ran the program from 1974-1985. That was just what Robinson had in mind when as athletic director in 2006 he hired a guy he also recruited to play for the Bulldogs.
And if Conroy doesn't quite have the sports management experience Robinson brought to the Citadel as athletic director — Robinson had been a successful athletic director at N.C. State — Conroy has the advantage of being able to pick Robinson's brain over lunch on Sullivan's Island while it's 3-below in St. Paul.
Follow Gene Sapakoff on Twitter @sapakoff