Sapakoff: Bentley vs. Scarnecchia, a Gamecocks quarterback controversy that beats the alternative
"In football the object is for the quarterback, also known as the field general, to be on target with his aerial assault, riddling the defense by hitting his receivers with deadly accuracy in spite of the blitz, even if he has to use the shotgun."
 — George Carlin
Girlfriend controversy?
Boyfriend controversy?
Sigh. They typically don't end well. Unless it's every single Hallmark Channel movie. Or did you miss the last few dozen in which the old boyfriend gets dumped but gleefully realizes it's all for the best because the new boyfriend is nicer, smarter and cuter?
A quarterback controversy, on the other hand, is good after a win and bad after a loss.
South Carolina's fresh quarterback controversy — Jake Bentley vs. Michael Scarnecchia — is wonderful, considering the Gamecocks (3-2) had one less SEC victory and one less proven quarterback alternative last week.
Bentley, 15-9 as a starter, will start Saturday at Williams-Brice Stadium against Texas A&M.
Scarnecchia, 1-0, will be ready to come in if Bentley has more of the knee sprain problems that kept him out of last week's game, a 37-35 victory over Missouri that featured Scarnecchia as the surprise star.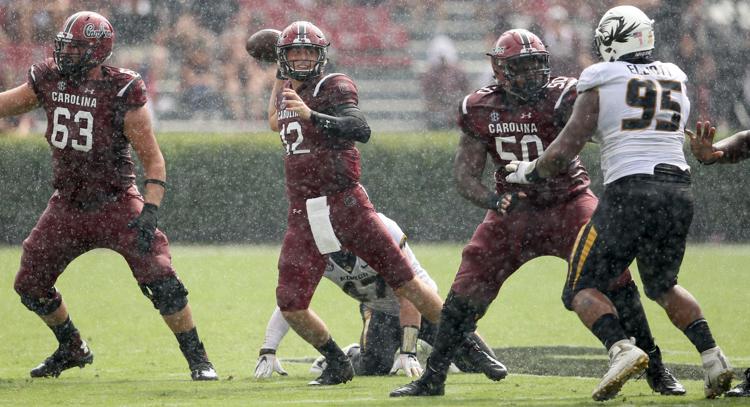 Finally, a position battle at the most important position, the only lineup spot where head coach Will Muschamp had been unable to extract real competition out of a gradually improving talent pool.
Gamecock Nation must hope this controversy gets more controversial. Imagine Bentley and Scarnecchia camps camped out on the banks of a win streak.
Field general vs. field general inspiring different opinions.
For now, the team knows Bentley can do it. They remember that second-half rally at the Outback Bowl against a good Michigan defense.
Presently, the correct pronunciation of Scarnecchia: reliable fifth-year senior.
Even if Texas A&M clobbers South Carolina, a Hallmark Channel ending is possible somewhere down the line.
A week ago, of course, Gamecock fans knew the SyFy Channel was the place for dramatized versions of Bentley's lesser outings.
More or less Adjusted QBR
Bentley is coming off one of his worst performances, though the bad knee is partly to blame for a three-interception night during a 24-10 loss at Kentucky on Sept. 29.
Scarnecchia's first extended action in his five years at South Carolina was a gem: three touchdown passes with no interceptions. The Fleming Island, Fla., native completed 20 of 35 passes for 249 yards.
Your eyes didn't deceive you. Scarnecchia's Adjusted QBR (a complex ESPN system that factors in passing, running and opponent defense rankings) was 62.7.
That's better than Bentley's Adjusted QBR average for 2018 (61.4).
But not as good as Bentley's average for the 2017 season (65.1), which was a nice step up from his freshman year of 2016 (62.5).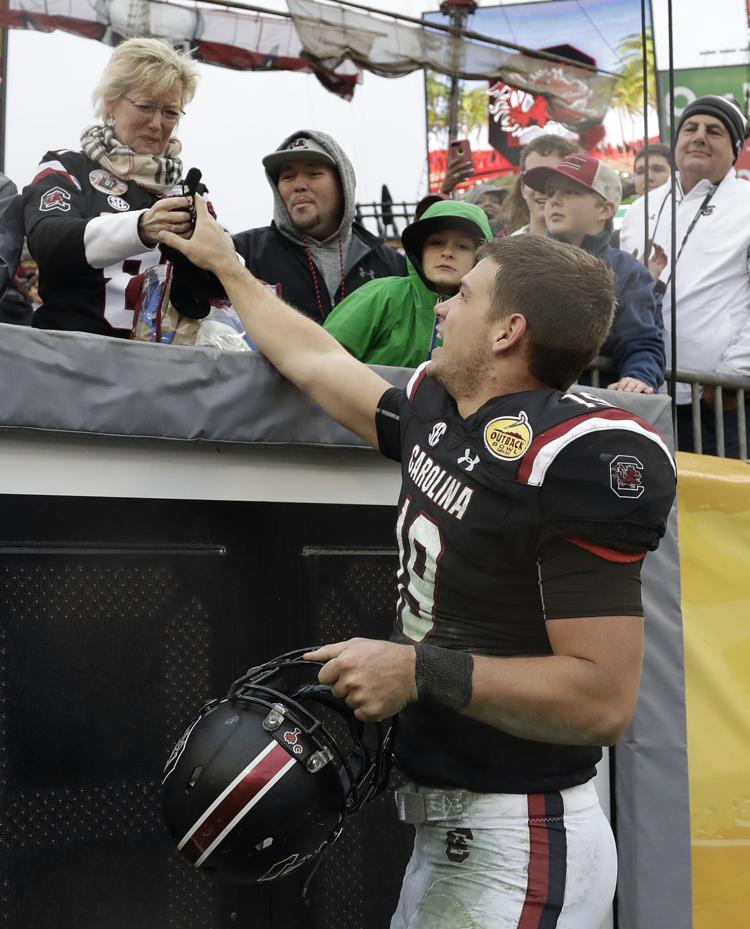 Which makes you think Bentley, if healthy and with better players around him (Deebo Samuel, for instance), can make strides again this season.
Adjusted QBR, however, isn't adjusted enough.
It doesn't factor weather into whether or not a quarterback is playing well. Scarnecchia had to deal with rain, a slippery field and wet footballs throughout the Missouri game.
Scouting Scarnecchia
There is no way of telling how well Scarnecchia might do if pressed into service during a game after not getting the majority of the first-team snaps in practice that week.
SEC defensive coordinators and Brent Venables at Clemson are pretty good at adjusting to a quarterback's tendencies once they watch a little video.
Scarnecchia has yet to face a hostile road crowd. It can get pretty ear-rattling at The Swamp (Nov. 10) and Death Valley (Nov. 24) even if Ole Miss (Nov. 3) fans are more concerned with tailgating protocol at The Grove.
But we know what Scarnecchia can do on a rainy day against Missouri when the best yards-per-carry producers are punter Joseph Charlton and punt protector Bailey Hart, and when a last-minute, 53-yard drive is necessary for a come-from-behind SEC victory.
South Carolina does not have the luxury of a Joe Montana vs. Steve Young debate.
This isn't Philip Rivers vs. Drew Brees, either.
It's just better than Jake Bentley vs. apparently nothing, which was the non-controversy the Gamecocks were dealing with a week ago.
Follow Gene Sapakoff on Twitter @sapakoff