CHARLOTTE — A.J. Green spent most of the second half sitting forlornly on an orange Gatorade bucket deep inside the Cincinnati Bengals' sideline.
Carlos Dunlap spent much of Sunday in the Carolina Panthers' backfield: four tackles and a sack.
A tackle for loss.
A forced fumble.
A tipped passed.
And credit Dunlap with a pep talk after Cincinnati fell to 2-1 with a 31-21 loss to the Panthers.
Knowing that Green was down after missing most of the second half with a groin injury, Dunlap made a point of walking to the other side of the visitors' locker room at Bank of America Stadium to seek out the Bengals' most valuable player.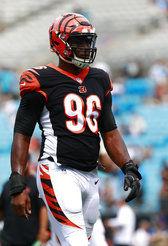 They were arch rivals in middle school, and when Green attended Summerville High School while Dunlap attended Fort Dorchester. An SEC rivalry commenced when Green picked Georgia and Dunlap chose Florida.
But they have been Bengals teammates since 2011 and have more in common than Lowcountry roots. They are fellow stars, both Pro Bowl players, two men who give considerably to charity.
"I just told him that we started out the season great, now we have a little bit of adversity and now we have to come back and respond," said Dunlap, 29. "It's a long season and now it's a 13-game season. He already knows that, but I was just communicating it to him because he's the key to our offense."
That was apparent Sunday, if there were any doubters left along the Ohio River.
Green is No. 10 among the NFL's active career reception leaders (572) and has played fewer seasons than everyone else in the top 10 except Atlanta's Julio Jones (No. 8 at 605).
With Green catching five passes for 58 yards, the Bengals were in the game, behind 21-14 at halftime.
It wasn't the same for quarterback Andy Dalton after Green and Panthers cornerback James Bradberry collided while going for an incomplete pass just 1:08 into the second half.
Green landed hard on his hip. He was flat on his back for a few minutes. He tried to run off the field but stopped halfway back to the sideline and gingerly limped the rest of the way.
"I wish I had been out there," said Green, 30. "I feel like if I had been out there, we would have had a better chance. It's tough to sit on the sidelines and watch my brothers struggle. But I'll be back next week."
For sure?
"Oh, yeah," Green said. "I didn't feel anything pop or anything like that."
Dalton threw four interceptions, though one of them was on the final play.
Dunlap would like to have another shot at the ball that was bouncing after his strip sack of Cam Newton in the fourth quarter. The Panthers held a slim 28-21 lead when Newton recovered at the Carolina 28.
"I've got to do a better job of holding Cam, within the rules, so he can't recover the ball," Dunlap said. "That's what I could have done better."
But Dunlap was grappling with ugly history after boosting his career sack total to 66.5.
Newton was determined, he said, "come hell or high-water."
"I've been bashed before for not jumping on fumbles," Newton said, referring to his infamously lackadaisical effort late in the Panthers' Super Bowl loss to Denver.
Mostly, the Bengals fell victim to an inside-out version of the NFL's zaniest offense.
Cam and McCaffrey
Christian McCaffrey, the Panthers' second year running back from Stanford who usually doesn't run, rushed for a career-high 184 yards. He ran for 435 yards all last season.
McCaffrey in 2017 became the first rookie running back to catch 70 passes with five receiving touchdowns. He entered Sunday tied for second in the NFL in receptions.
He caught just two passes for 10 yards Sunday.
Newton, the third-leading rusher among quarterbacks in NFL history (behind Michael Vick and Randall Cunningham), ran for a mere 36 yards, 14 below his season average.
Green rationalized, pointing out that the Bengals had 396 yards, 19 more than the Panthers.
"We moved the ball very well," he said. "We just had a couple turnovers. We're not going to put our head down because we know we're not always going to have those turnovers."
Falcons next week
Dunlap, who holds an undergrad degree from Florida and an MBA from Miami, was still spreading the business message as Bengals players were filing of the locker room.
Cincinnati, after all, is in first place in the AFC North Division.
"We're still good," Dunlap said. "We were in a tough football game in a tough environment. We just didn't capitalize."
The next game offers another chance for Dunlap and Green to win before Lowcountry friends and family; the Bengals meet the Falcons on Sunday in Atlanta.
But if Green isn't ready to go, a lot of Cincinnati players are going to need a Dunlap pep talk.
Follow Gene Sapakoff on Twitter @sapakoff.