There is nothing quite as quintessentially American as Niagara Falls. Its photo-friendly surge of churning water has long been trumpeted as a natural wonder, powering the country's tourist industry for centuries.
Then there is all that surrounds the epic site. Its attendant sideshow of barrel-encased, plunging daredevils, honeymooners in heart-shaped Jacuzzis and hokey themed restaurants have figured into our national nostalgia like a souvenir snow globe.
So it's no great wonder that playwright David Lindsay-Abaire would land there as the setting for his uproarious, antic female buddy play, "Wonder of the World." After all, it relentlessly has a laugh at another American institution that can also offer up freak-show fodder. Yes, that would be the institution of marriage. 
Directed by Erin Wilson for What If? Productions, this boisterous, retro '70s romp through Americana now running at Queen Street Playhouse giddily declines to take itself seriously, even as national landmarks like wedded bliss and postcard views go horribly awry.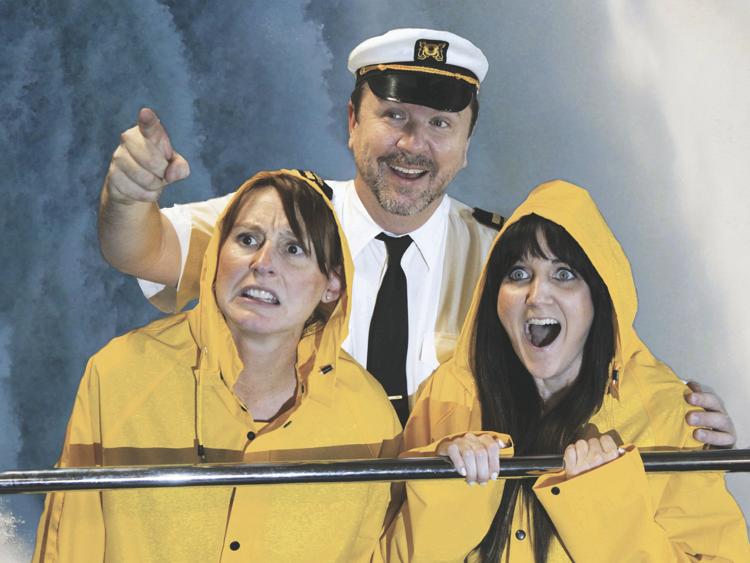 However, hold up. Before you fret that this satire scathes, just relax and go with the frenetically frothy flow. We are at Niagara Falls, after all, and the playwright checks such self-serious cynicism at the motel door, opting instead for a jet-powered, high old time.
Now for the plot. "Wonder of the World" centers on two women, the desperately-seeking Cass (the bright-eyed Beth Curley) and the liquor-addled Lois (the deliciously louche Tara Denton). They meet while en route to the falls, both propelled by severed wedded unions — the former by her own design and the other due to her drink-related misdeeds.
Those broken vows are about all this odd uncoupled pair share. Cass enthusiastically embraces her bold new future with a lengthy bucket list, which includes items like wearing a wig and having a hook-up. Lois, on the other hand, is more about barrels than buckets — those associated with Niagara plummets into the rushing abyss.
As each goes for her goal, the play masterfully ratchets up the ridiculousness, aided and abetted by a few other flailing souls. There is Cass' scorned and somewhat unhinged husband Kip, perfectly portrayed by a reeling Erik Bower, who goes the distance to hold onto his crumbling life.
There is Cass' love interest, Captain Mike, played with sporting, guileless calm by Kyle Barnette. And there is the undercover and gruesome twosome of Glen and Karla (Jimmy Flannery and Amanda Daniels), who go to extremes in pursuit of the American dollar.
Through it all, there is also a rogue's gallery of tourists, restaurant servers and even a clownish therapist, who pop in and out of the blue-paneled set. All of these other parts are portrayed by Madelyn Knight, who provides comic cohesion for the work. Knight gets extra props for this mad dash of role-playing, popping in regularly for economically delivered, highly entertaining character vignettes that demonstrate impeccable timing and range.
As the plot thickens, the surreal proposition that is a jaunt to Niagara Falls gets weirder still, lurching into the ludicrous with rounds of "The Newlywed Game" and other quippy bits. On that note, I would say the play may have literally been a bit much, as something felt a tad draggy in the denouement. 
Still, by the end of the evening, my laugh muscles appreciated the brisk workout, and I left there feeling utterly sated by a rollicking evening of theater. Time and again, it brought me to the precipice of losing myself utterly in merriment, one nutty, water-logged gag at a time.