The annual combo of bright-eyed self-improvement and post-holiday penance positions January as the perfect month to straighten up, fly right, or maybe just slip into a hair shirt.
That being said, the urge to cut through life's sweet and sparkly with more stringent fare doesn't necessarily mean it need be dreary. Take, for instance, the bracing topic of addiction at the crux of two theatrical works on offer in Charleston this past weekend, both infusing plenty of heart and humor, not to mention some terrific tunes, in one case.
At PURE Theatre, Sharon Graci directs "Tiny Beautiful Things," Nia Vardalos' adaption of Cheryl Strayed's popular autobiographical book that first premiered in 2016 off-Broadway at New York's Public Theater. Most known for her book "Wild," Strayed readily addresses her own recovery from an addiction to heroin in her nonfiction works.
"Tiny Beautiful Things" did so by sharing how she subsequently penned an online advice column called "Dear Sugar."  Rather than meting out a linear story, the play unleashes a letter-by-letter deluge of online queries from the shattered to the ridiculous, which Strayed fields under the pseudonym "Sugar."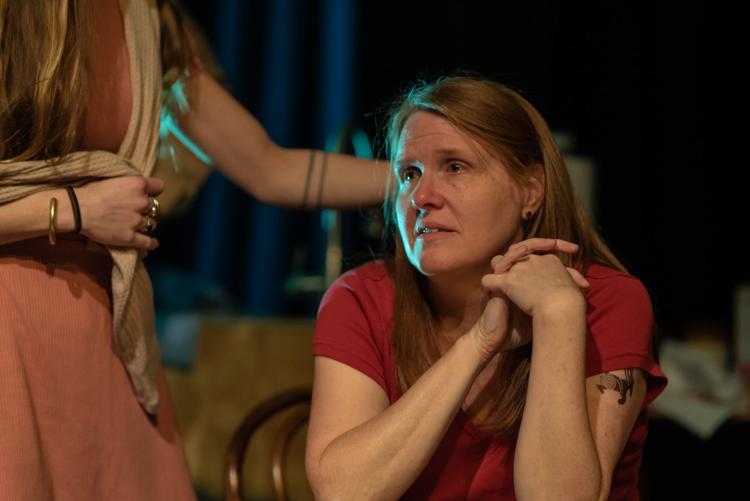 In her toy-strewn home that she shares with her husband and young children, Strayed (Cristy Landis) delivers eloquent, deeply empathetic responses to each, with the work also enlisting three other actors (Sullivan Hamilton, Evan Parry and Douglas Scott Streater) to assume all of those desperately seeking souls who have written to Sugar seeking counsel.
Each of them emerges from various places on stage, speedily shifting age, gender and accent to lob email letters on the full, faceless, nameless spectrum of human need. From philandering to Santa fetishes, from soul-searching to letting off steam, they confess, rebuke, whine, opine, marvel and mourn into that maw of need we call the internet.
Each character, no matter how craving or craven, guilt-addled or glib, is met with all the empathy and sincerity their Sugar can muster. She does this with world-weary candor, gentle teasing and, above all, gorgeously wrought, amazing grace. She gives them license, she gives them love. She gives them personal stories, she gives them pithy rejoinders. She gives them pretty much everything but her name.
As she grants such liberal access to her psyche and own war wounds, the characters become a part of her living room, picking up her kids' toys and books, helping pack the lunches, and it makes for transfixing, healing theater, this cavalcade of true confessions and tender mercies. What is less on offer is any traditional character development or dramatic arc, with Strayed largely maintaining the been-there-done-that composure throughout. We do get a harrowing, transfixing scene of a grieving father, played to perfection by Parry, where Landis has to dig deep into her reserves to respond to something that seems beyond most any person's depth.
While certainly compelling in the capable, comforting hands of Landis, I did crave a few flashes of the Strayed that existed before she became so seemingly intact following her own wild ride. We know she was rattled to the core by the loss of her mother. We get the sense that she becomes utterly consumed by her Sugar role. 
However, within the dramatic confines of this construct, there is much to mine from the succession of pleading baby birds stretching for a worm fed by anonymous mother. If you aren't moved by the manifold stories of yearning and despair, you may want to check your pulse. And, if it turns out you're among the living dead, that's okay, too. In the safe space of this theatrical tone poem, you are forgiven. 
Over at the Charleston Music Hall, "Love & Southern D!scomfort" provided an uncanny foil by way of an altogether different approach in a linear story set to music. Billed as a world premiere musical stage play, the work was produced in partnership with Patton Daye Slater Productions, South of Broadway Theatre Company and Adam Slater Productions. It was presented in a two-performance run this past weekend.
Written by Monica L. Patton with music and lyrics by Bobby Daye, the 23-number, full-scale show featured the utterly commanding Felicia P. Fields, who has previously proven her mettle with a Tony nomination for her portrayal of Sofia in "The Color Purple." With her every withering glance, Fields at once takes charge and charms. 
The production also enlisted a stellar cast of Charleston and Southeastern performers, who demonstrated in song after song the collective vocal power in our hometown.
Set in Louisiana, the story centers on Wilhelmina Dejoie (the engaging Joy Gregory), who is in the throes of addiction and doing far more bringing down than lifting up. The primary victim of her poor choices is her daughter Milla (Tonya Smalls Williams), who gets word she will inherit her wealthy grandmother's estate, Beaumont, when Wilhelmina is left out of the will. 
As the story unfolds, we pace through the mother-daughter reunion at the family estate, with each development punctuated by Daye's marvelous score, featuring poignant works like "What Am I Thinking" and "Perfect Grace," spirited songs like "Stir the Pot" and big old numbers like "Memory Lane" and "Going Home." The score and singers delivered time and again with soul, strength and skill. 
And it was a theatrical coup for Charleston that the production landed, testing our waters for a show with Broadway-high hopes, and availing of our fine local talent to do so. There is also the wonderful Kendrick Marion as Milla's love interest and Scott Pattison as the resident slimeball.
To realize that dream, which has considerable musical steam, I suspect that, akin to Wilhelmina's own conflicts, "Love & Southern D!scomfort" needs to decide first what it wants to be. It veered from a beginning that was as earnest as it was exposition-heavy, then took a whiplash-inducing turn for the absurd as truths and booze surround the coffin of their departed matriarch, before straightening right back up.
And it must also intensify the agency. Some of that is baked into the current story — the Louisiana setting, a narrative featuring three generations of women — but needs to be more fully mined and more firmly placed in the here and now if it is meant to capture these times.
When it allows instead for its sweet, cheeky humor to take rein, the fun begins — and never at the cost of its characters. I am hopeful that, like Wilhelmina, "Love & Southern D!scomfort" finds its feet, whether in the sobering month of January or well beyond.