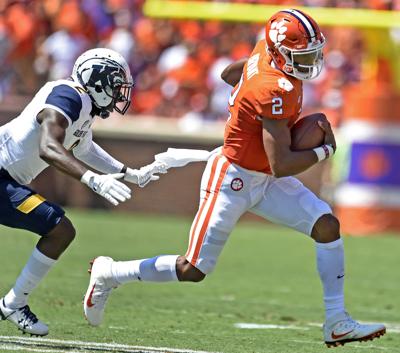 CLEMSON – As every football fan knows, a college marching band makes the most improvement between Week 1 and Week 2.
Which means Clemson's performance Saturday night should sizzle after the band at halftime of last week's Kent State game went into a "31-0" formation during its national championship salute. Just a little reminder of College Football Playoff dominance against Ohio State and head coach Urban Meyer, who refused to give Clemson much credit afterward.
Of course, band aid has been part of football for years.
The famous Stanford band's most recent infamous skit was an elaborate "Farmer's Only" rendition for Iowa fans at the 2016 Rose Bowl.
Clemson was on the victim end of the South Carolina band's "Old McDonald" routine at the 2013 rivalry game in Columbia – complete with a video board bit featuring a Clemson farmer struggling to spell out "E-I-E-I-O."
But just know that Ohio State – football program and famed band – might get another shot at Clemson soon. Maybe in a playoff game, maybe in an Orange Bowl.
You don't have to wait that long for Pigskin Picks redemption. Pickers had to be perfect to beat Warren Peper last week and while I plan to pick up the slack this week, it likely will take less than perfection for you to win a prize, pride and respect.
Just nine Week 2 games with a Hurricane Irma threat having postponed Charleston Southern at S.C. State:
Auburn at Clemson
The loser of this game remains in the playoff hunt but the winning quarterback gets a huge boost. Clemson's Kelly Bryant was untested by Kent State and let's see how Auburn's Jarrett Stidham reacts to Death Valley and a ferocious (if slightly beat up) defensive line.
Gene Sapakoff pick: Clemson, 27-24
Warren Peper pick: Clemson, 28-21
South Carolina at Missouri
How do the Gamecocks respond to success? Above-average, bowl-bound teams must win at least two big games in a row. South Carolina with a big sack or turnover must send Drew Lock a message early: We're not Missouri State.
Sapakoff pick: South Carolina, 45-35
Peper pick: South Carolina, 37-34
The Citadel at Presbyterian
The Bulldogs were supposed to play at home but are good at winning hastily arranged road games. Such hurricane adversity is also good for team bonding.
Sapakoff pick: The Citadel, 35-14
Peper pick: The Citadel, 27-19
Georgia at Notre Dame
Georgia's enormous talent edge should overcome jitters attached to freshman quarterback Jake Fromm's first start.
Sapakoff pick: Georgia, 27-17
Peper pick: Notre Dame, 27-24
Oklahoma at Ohio State
A giant game, not just for the Sooners but Oklahoma State and any other team hoping to argue for a playoff spot based on the suspect Big 12's respectability.
Sapakoff pick: Ohio State, 31-28
Peper pick: Ohio State, 34-28
Louisville at North Carolina
Lamar Jackson's life as an off-the-radar returning Heisman Trophy winner continues, at least until he gets a chance to change the narrative next week against Clemson.
Sapakoff pick: Louisville, 34-20
Peper pick: Louisville, 31-27
Pittsburgh at Penn State
The Panthers pulled the upset last year before quarterback Trace McSorley and Co. righted the Penn State ship and guided the Nittany Lions to the Rose Bowl.
Sapakoff pick: Penn State, 28-21
Peper pick: Penn State, 24-17
ECU at West Virginia
While ECU suffered a 34-14 loss to James Madison last week, West Virginia went toe-to-toe with Virginia Tech in a 31-24 loss. New Mountaineers quarterback Will Grier played well after a slow start and WVU is bringing back its "Gold Rush" uniforms.
Sapakoff pick: West Virginia, 45-14
Peper pick: West Virginia, 35-17
Nebraska at Oregon
Arkansas State threw for 415 yards on Nebraska last week and was throwing into the end zone as the game ended with the Huskers holding on to a 43-36 win.
Sapakoff pick: Oregon, 41-24
Peper pick: Oregon, 30-20
Last week
Warren Peper 9-1, Gene Sapakoff 7-3
Follow Gene Sapakoff on Twitter @sapakoff