Pigskin Picks: Texas A&M at South Carolina, Georgia at LSU, midseason highlights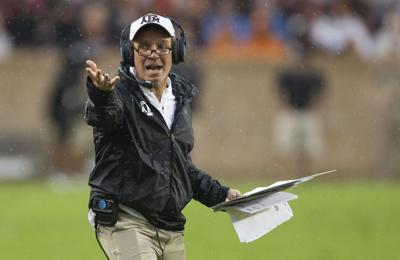 Can you believe the 2018 college football season is at halftime already?
First-half highlights:
Heisman Trophy contenders: 1. Tua Tagovailoa, quarterback, Alabama; 2. Will Grier, quarterback, West Virginia; 3. Dwayne Haskins, quarterback, Ohio State; 4. Travis Etienne, running back, Clemson.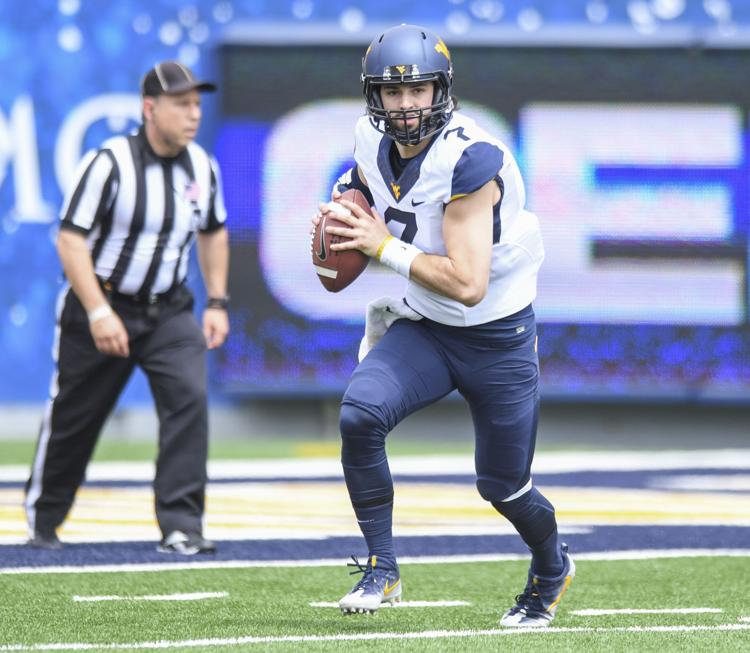 College Football Playoff forecast: 1. Alabama vs. No. 4 Notre Dame, Cotton Bowl; No. 2 Ohio State vs. No. 3 Clemson, Orange Bowl
Best games: 1. Texas 48, Oklahoma 45; 2. Ohio State 27, Penn State 26; 3. Stanford 38, Oregon 31
Biggest upsets: 1. Maryland 34, Texas 29; 2. BYU 24, Wisconsin 21; 3. Elon 27, James Madison 24
Best play: Easy. North Texas State's Keegan Brewer standing still before dashing 90 yards and faking Arkansas out with a punt return touchdown the Razorbacks thought started with a fair catch.
Biggest off-field story: Kelly Bryant bolts Clemson when Trevor Lawrence is named starting quarterback, perhaps starting a player leverage trend.
Hottest seats (Carolinas edition): 1. Larry Fedora, North Carolina; 2. Scottie Montgomery, East Carolina; 3. Brad Lambert, Charlotte
And I am on the hot seat after a 4-6 Pigskin Picks week.
A Week 7 full of slump-busting picks:
Texas A&M at South Carolina
Aggies quarterback Kellen Mond passed well in a 28-26 loss to Clemson (430 yards and three touchdowns) and ran well in a 45-23 loss at Alabama (18 carries for 98 yards). It will be interesting to see what Gamecocks defensive coordinator Travaris Robinson tries to take away.
Pick: Texas A&M, 27-24
East Tennessee St. at The Citadel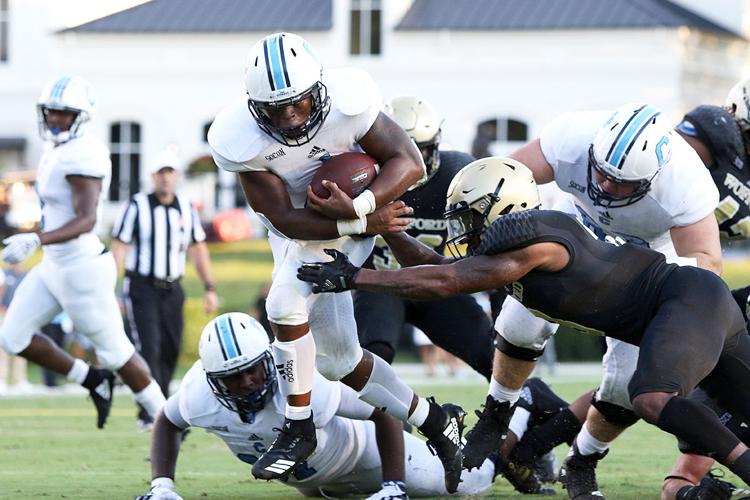 Junior Lorenzo Ward, the son of the current Louisville and former South Carolina assistant coach of the same name, rushed for 180 yards on 35 carries as The Citadel fell to 1-3 with a 44-27 loss at Towson.
Pick: The Citadel, 28-27
Virginia-Lynchburg at CSU
How embarrassing was Charleston Southern's 23-3 loss at Savannah State last week? The Tigers, 1-3 and still No. 234 on the USA Today Sagarin computer list of the 255 NCAA Division I teams, outrushed the Bucs 213 yards to 33. CSU (1-3) probably won't lose to Virginia-Lynchburg, 2-3 and one of 14 football-playing schools in the National Christian College Athletic Association.
Pick: Charleston Southern, 48-10
Bethune-Cookman at S.C. State
Running back Omar Cummings (Beaufort High School) caught the game-winning touchdown pass last week as S.C. State (1-4) won its first game of the season, 21-18 at Morgan State. Bethune-Cookman is 3-3.
Pick: S.C. State, 21-20
Wofford at Furman
Furman and Wofford agree on at least one thing, that they — not Georgia and Auburn — have the Deep South's Oldest Football Rivalry. The first Furman-Wofford game was 1889 in Spartanburg, the first Georgia-Auburn game not until 1892 in Atlanta.
Pick: Wofford, 35-21
Georgia at LSU
No. 13 LSU (5-1) is out of the College Football Playoff picture with a loss; No. 2 Georgia (6-0) isn't. The Bulldogs haven't lost the turnover battle in any game this season.
Pick: Georgia, 24-17
Tennessee at Auburn
No. 21 Auburn (4-2) went 3-for-14 on third down in its 23-9 loss at No. 24 Mississippi State last week. Tennessee in 2017 went winless in the SEC for the first time since the conference was born in 1933 and likely will go winless again.
Pick: Auburn, 34-14
Virginia Tech at North Carolina
Upset formula: The Hokies (3-2, 2-0 in the ACC) have a Notre Dame hangover after last week's big buildup to a 45-23 home loss; the Tar Heels (1-3, 1-1) regroup with the extra time since a 47-10 Thursday night loss at Miami.
Probably not.
Pick: Virginia Tech, 27-20
Louisville at Boston College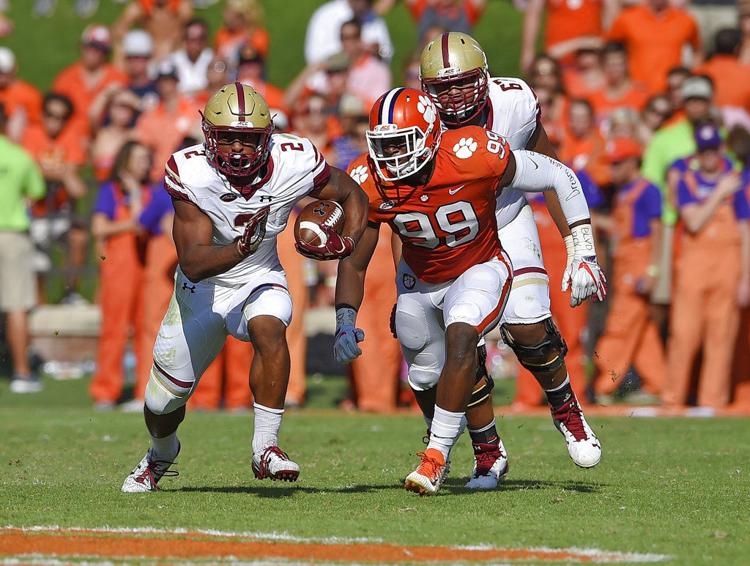 Running back AJ Dillon, the ACC's leading Player of the Year candidate, didn't play in BC's 28-23 loss at No. 20 N.C. State and is questionable for this one (ankle).
Pick: Boston College, 38-17
Pittsburgh at Notre Dame
Smart quarterback move by Brian Kelly, sitting Brandon Wimbush after a 3-0 start. Nine touchdown passes and one interception for Notre Dame's Ian Book, a junior from El Dorado Hills, Calif.
Pick: Notre Dame, 45-20
Last week record: 4-6
Season record: 37-18
Follow Gene Sapakoff on Twitter @sapakoff.