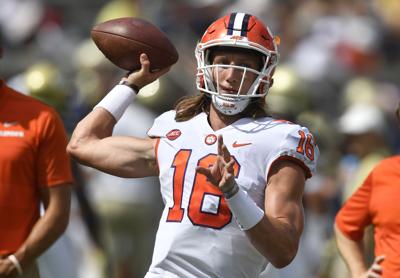 It's hard to win a college football game 63-3 with an extended bad start. But No. 3 Clemson managed last week at Wake Forest. The Tigers' first three possessions: three-and-out, Trevor Lawrence fumble, 14 yards and a punt.
Slow starts are such a nag.
Clemson is 6-0 but hasn't scored on its first drive in any game this season. Which is fine for late-arriving fans, not so good for a top team expecting better.
"I wish I knew the answer," offensive co-coordinator Tony Elliott said.
Lawrence says he knows.
"Little stuff that we can easily fix," the freshman quarterback said.
Dropped passes, bad passes, fumbles, a play that doesn't work, missed assignments.
Clemson lost six yards on its first possession at Texas A&M, gained just 13 yards on its first two possessions at Georgia Tech and lost a Lawrence fumble and had to punt on its first two drives against Syracuse.
It might not be so easy to bounce back against No. 16 N.C. State (5-0); the Wolfpack coincidentally is also No. 16 among FBS teams in total defense. Good thing for the sometimes late-to-the-party Clemson offense that the Tigers are No. 6 in total defense.
Here's hoping for a strong start — and finish — in Pigskin Picks Week 8:
N.C. State at Clemson
This is the ACC's marquee game of the season. And N.C. State, though pretty good, would be the seventh-best team in the SEC, at best.
Pick: Clemson, 31-20
The Citadel at VMI
The Military Classic of the South, aka the battle for the coveted Silver Shako. It's 11 straight wins for the Citadel, and counting, which means a lot of VMI cadets came in as a "Rat" — their name for first-year students — and left without witnessing a football victory over the Bulldogs.
Pick: The Citadel, 35-28
Presbyterian at CSU
Most misleading stats of the season: Charleston Southern and Presbyterian rank 1-2 among the 124 FCS teams in passing yards allowed. That's because you can run all day on these guys: CSU (2-3) is No. 84 in rushing defense, Presbyterian (2-3) is No. 113.
Pick: Charleston Southern, 34-24
Delaware State at S.C. State
The Bulldogs (1-5) lost a 28-26 heartbreaker to Bethune-Cookman last week that included the Wildcats scoring two points on a return after blocking an S.C. State extra point. Delaware State is 0-6.
Pick: S.C. State, 28-14
Auburn at Ole Miss
Interesting game for South Carolina fans. Ole Miss (5-2) has won two in a row with gaudy numbers for quarterback Jordan Ta'amu and Co.: 826 yards of offense in a 70-21 rout of Louisiana-Monroe followed last week by 611 yards in a 37-33 win at Arkansas. But star receiver D.K. Metcalf is out for the season with a neck injury.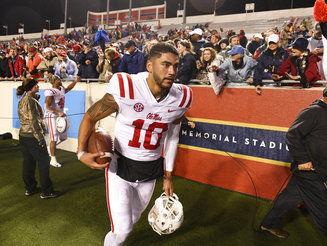 Ole Miss has an off week before the Gamecocks visit Nov. 3.
Pick: Auburn, 28-27
Mississippi State at LSU
What does LSU do for a splash between upsetting Georgia and taking two weeks to prepare for Alabama? Break out new color-changing chrome helmets, of course.
Uniforms designed for the future that pay respect to the past. #LSU125 pic.twitter.com/qmOmdRPlAF

— LSU Football (@LSUfootball) October 18, 2018
Mississippi State ranks first in FBS in scoring defense (12.7 points per game).
Pick: LSU, 17-14
North Carolina at Syracuse
Syracuse is 4-2, coming off an off week and gets tight end Ravian Pierce and wide receiver Devin Butler back from injuries. North Carolina (1-4) played its best game of the year last week in a 22-19 loss to Virginia Tech.
Pick: Syracuse, 27-24
Virginia at Duke
This key ACC Coastal Division tussle should be closer than the odds say (Duke by 7). Daniel Jones threw three touchdown passes as Duke (5-1, 1-1) beat Georgia Tech 28-14 last week but the Yellow Jackets lost three fumbles in just three minutes.
Virginia (4-2, 2-1) is coming off a 16-13 upset of Miami.
Pick: Duke, 20-17
Michigan at Michigan State
When in doubt with the Paul Bunyan Trophy at stake, always go with the team with the SEC transfer at quarterback. Shea Patterson, late of Ole Miss, has completed 68 percent of his passes with 10 touchdown passes and three interceptions.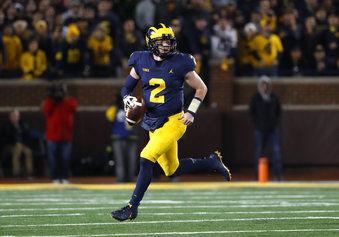 Pick: Michigan, 24-16
Oklahoma at TCU
The Sooners have had two weeks to stew about losing to Texas. The path to a rematch in the Big 12 Championship Game starts here.
Pick: Oklahoma, 34-14
Last week record: 5-5
Season record: 42-23
Follow Gene Sapakoff on Twitter @sapakoff