Georgia-Florida games are typically about tilting cocktail glasses, not the future of South Carolina Gamecocks football. But had Mark Richt's Bulldogs beat the Gators in Jacksonville instead of suffering an embarrassing 27-3 loss on Oct. 31, 2015, Kirby Smart would probably be coaching the Gameocks against his alma mater on Saturday.
South Carolina athletics director Ray Tanner had targeted Smart, Alabama's defensive coordinator, as a prime candidate for the Gamecocks' head coaching vacancy after Steve Spurrier abruptly quit. But Georgia moved quickly just after firing Richt following the regular season, making sure an SEC East rival didn't snag Smart.
South Carolina settled on Will Muschamp, another former Georgia defensive back and Nick Saban protégé. Both schools are happy with their head coaches — Smart led Georgia to the national championship game in his second season in Athens; Muschamp overachieved his way to a 9-4 season in Columbia.
But what if Jim McElwain's Gators didn't steamroll Georgia that Halloween Day?
And what if I maintain my perfect Pigskin Picks record throughout the 2018 season?
On to a much more rugged Week 2, with much better odds for Pigskin Pickers to win gift cards:
Georgia at South Carolina
The Gamecocks' offensive line was a fiery bunch in last week's rout of Coastal Carolina, and running back Rico Dowdle showed impressive second-level burst. The key against Georgia: Keep that going.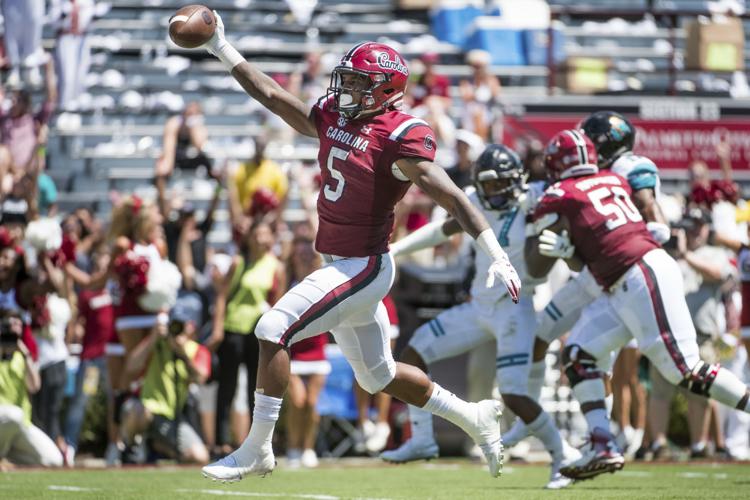 Pick: Georgia, 27-24
Clemson at Texas A&M
Dabo Swinney's first regular-season game west of the Mississippi as a head coach.
Tommy West and Tommy Bowden both went 0-1 (38-14 loss at Missouri in 1996 for West, 27-6 loss at Texas A&M in 2004 for Bowden).
But they didn't have Christian Wilkins and friends playing defense.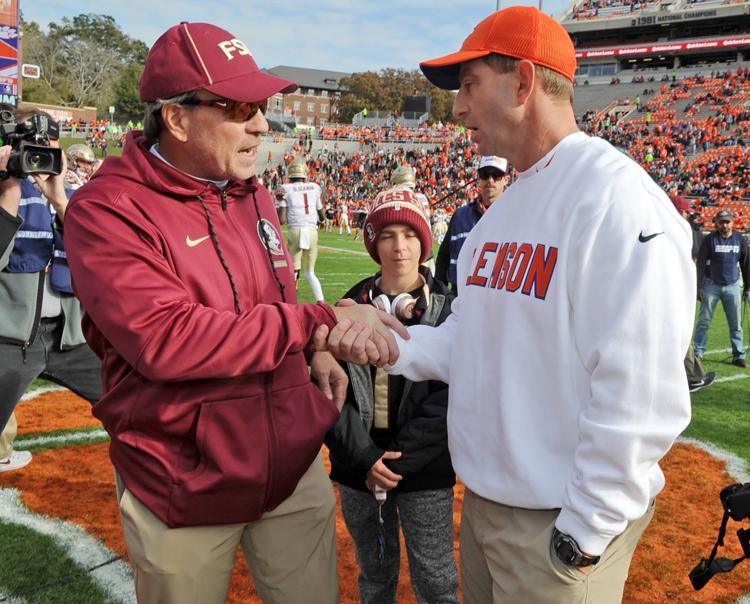 Pick: Clemson, 27-13
Chattanooga at The Citadel
Both teams owned the third quarter in their opening games, a 34-10 home win over Tennessee Tech for Chattanooga, a 28-21 loss at Wofford for The Citadel. Halftime adjustments are a beautiful thing.
Pick: The Citadel, 24-21
S.C. State at Central Florida
The Bulldogs went 2-of-10 passing in a season-opening 37-6 loss at Georgia Southern.
Pick: Central Florida, 56-7
Kentucky at Florida
Perhaps you read that Florida hasn't lost to Kentucky since … Bamberg's Mookie Wilson hit a little roller up along first that got through Bill Buckner in 1986.
Pick: Florida, 31-30
Mississippi State at Kansas State
K-State head coach Bill Snyder is 78 but just signed a new five-year contract extension. It didn't look like a good move in Manhattan last week while the Wildcats were forced to rally for 15 points in the fourth quarter to edge the mighty South Dakota Coyotes, 27-24.
Pick: Mississippi State, 38-21
Arkansas at Colorado State
What a ploy: Head coach Mike Bobo, the former Georgia quarterback and offensive coordinator, losses to Hawaii, Colorado and Arkansas to start the season only to surprise Florida, his former arch-rival, next week in Gainesville.
Pick: Arkansas, 42-24
Duke at Northwestern
Run-happy Army stunned Duke with 21 passes last week, completing 10 for 197 yards. The Blue Devils adjusted in a 34-14 win. Northwestern survived Rondale Moore's 313 all-purpose yards in a 31-27 win at Purdue.
Pick: Northwestern, 27-24
North Carolina at East Carolina
Bravo to North Carolina A&T for its latest FCS vs. FBS upset, 28-23 at East Carolina. And if North Carolina head coach Larry Fedora loses to ECU, he's fired.
Pick: North Carolina, 35-30
Penn State at Pittsburgh
The Nittany Lions survived Appalachian State's upset bid. Looks like Pitt has a good quarterback in sophomore Kenny Pickett.
Pick: Penn State, 28-24
Last week record: 10-0.
Season record: 10-0
Follow Gene Sapakoff on Twitter @sapakoff