Peper column: Man's best friend, also his life preserver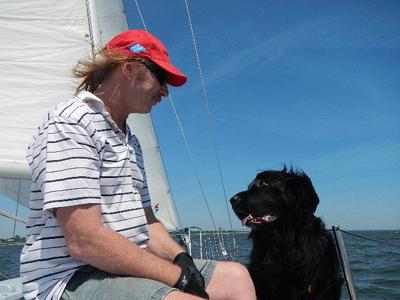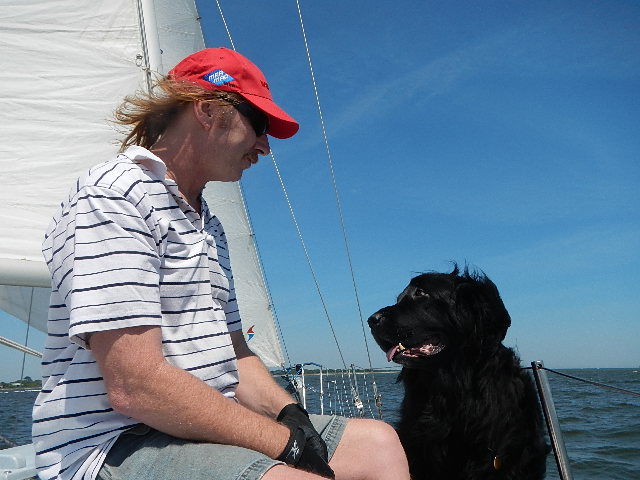 On most Sundays, the 45 or so congregants at Faith Lutheran Church on Johns Island recognize the regulars who gather to worship at the little sanctuary on Maybank Highway. A few years ago, a couple of strangers hesitantly stood at the back. Their names were Poney and Annie. Both needed a little grooming.
Sometimes, church folks can be a little judgmental. The faithful at Faith Lutheran, though, welcomed these two and now they're considered family. Poney is a former Army sniper who served in Desert Storm and Iraq. He's reluctant to discuss that part of his life and admits to fighting depression, along with PTSD. Ten years ago, Poney suffered a brain injury in an automobile accident. Since then, periodic seizures occur that can result in hospitalization if help doesn't arrive in time.
Nine years ago, Poney Maury, now 51, was given a Newfoundland puppy because the previous owner was not treating the little Newfie properly. Poney and Annie instantly liked each other. They also needed each other. Annie was a trained service dog. She was specifically trained to recognize a person experiencing a seizure.
For much of Poney's adult life, he'd been withdrawn and reluctant to engage. With Annie at his side, he now faces each day with hope and optimism — until those moments arrive when he can't.
Side by side
Poney and Annie don't go anywhere without each other. They're a team. There's one slight problem, though. Annie has such a calm demeanor and welcoming spirit that people are drawn to her. A service dog is not to be touched, unless permission is given by the owner. Many well-meaning people aren't aware.
Many businesses are also unintentionally ignorant that a service dog is entitled by law to go everywhere its owner ventures. Grocery stores, restaurants, malls, churches — the service dog has a legal place and purpose.
Annie is mellow, calm, sweet and friendly. But she's ever aware of Poney and his demeanor. If she senses an oncoming seizure, she immediately assumes the posture of a dog shaking hands. If no attention is given that signal, then the next trained response is barking. If those preliminary signals are ignored, the 135-pound companion will put Poney on the ground and protect him until help arrives.
"She's a beautiful dog and she brought me out of my shell," says Poney. "As far as I'm concerned, she's a gift from God."
Poney's also thankful that Sharon Hite noticed him and Annie at church and decided to help Poney in matters that he couldn't seem to help himself. Sharon helped Poney find the right doctors and discover the proper medicines to deal with his psychosis and seizures. "The good Lord put her in my life for a reason. She's like a miracle, like an angel," Poney believes.
Delivering blessings
"Annie is an awesome dog … more human than a lot of people I know," says Hite. Poney and Annie are only separated when Poney is hospitalized. When Annie is on her way to reunite with her best friend, her steps quicken as she approaches his room.
A lady in the church often pays to have Annie bathed and groomed. Area veterinarians have donated time and services to keep Annie in good shape.
"They have their pew, I know where to find Poney and Annie on Sunday mornings," says Pastor Tom Cassem.
On those occasions when communion is served, Annie comes forward with Poney and sits at the altar. After Pastor Tom presents the elements to Poney, a blessing is then offered to Annie as he says, "The Lord bless you and keep you always." They return to their pew together.
Poney has opened the eyes of many people, inside and outside the church, to the value of service dogs. The dog is responsible for helping Poney make wonderful connections to people. Somehow, this strong, courageous and intelligent animal shoulders the burden of Poney's problems … and she does it with such dignity.
This is no dog and Poney show; it's a friendship and a relationship that allows them both to face each day with hope.