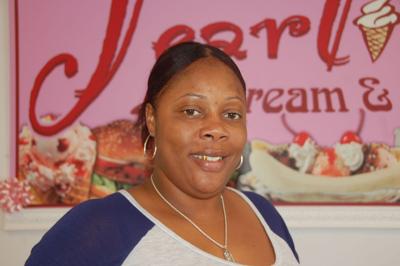 Just off Exit 187 on Interstate 26, there's a small community called Pringletown. Most folks wouldn't consider it a destination. There are a couple country churches, a gas station, a strip mall and a hair salon.
Jearlina Ravenell, now 41, has lived in Pringletown all her life. As a little girl, she remembers always having to go to Charleston to buy things. She also remembers telling anybody who would listen that she was going to own a business someday in Pringletown that would sell ice cream. In 2014, she opened Jearlina's Ice Cream and Café.
Sometimes dreams aren't always realized. But there are also occasions where good luck and good timing collide. Why would a little café serving breakfast, lunch and ice cream produce a successful business? A little more than a year after Jearlina decided to proceed with her ice cream dream another business decided to locate off that same exit: Volvo chose to place its first American manufacturing plant barely five miles from Jearlina's Ice Cream and Café.
Biscuits, grits and a banana split
Though the plant is still not operating at full capacity, construction workers headed to and from the plant have become quite fond of Jearlina's menu. Between 70 and 80 people eat each day at Jearlina's. Barely 30 can eat inside at one seating. There's a patio outside that accommodates 25 more.
Two years ago a decision was made to start serving breakfast too. Lilly Mae Mack, 65, the owner's mother, arrives early to start making the biscuits. "Do you serve real grits?" I ask. "We serve real everything," replies Jearlina. Momma Mae, it appears, has all the recipes in her head. Breakfast might be as simple as two eggs and bacon, or it might just as easily consist of salmon patties or shrimp and grits. It's all available — Monday through Saturday.
The customer base once embodied family and friends. The clientele these days is decidedly different, with one common denominator. They all seem to either be going to or leaving the Volvo plant.
"I've never seen so much traffic," says Jearlina, "and I've lived here all my life." How does she gauge the congestion? Once upon a time, coming to a full stop at a stop sign wasn't all that necessary. These days, one might have to wait at the stop sign 3 to 4 minutes before trying to merge into an opening.
Old timers and newcomers
Before we all order a giant milkshake with extra straws, be advised that not all the customers in Jearlina's are in favor of all the activity in what was once a quiet, rural corner of Berkeley County. They wonder if the widening of I-26 and the additional exits are going to bring too many people to Pringletown. "I just tell 'em the younger people need this. It means they won't have to leave to find jobs and make a living," says Jearlina.
Meanwhile, the burger and chili dog baskets continue to fly out of the kitchen. Ice cream sundaes and banana splits are consumed on the patio as they watch the traffic come and go from the nearby plant.
There are five employees on the payroll at Jearlina's, at the moment. She believes she may have to hire three or four more.
Who knew that little girl from Pringletown could wish upon all those stars that hung in that Lowcountry sky as she dared to conjure those giant ideas in her small head. Apparently, she wasn't the only business person who saw potential in Pringletown. Somewhere along the way, some folks in Sweden had some big ideas of their own.
Jearlina, there might be a few more stop signs in the area one day. Might even be a stop light, too? And just think, this all started with a dream and ice cream.
Reach Warren at peperwarren@gmail.com