It was a surreal sight indeed on live television Monday night.
Not in Little Rock, Ark., where WWE was holding court with its flagship Monday Night Raw show, but rather 10,000 miles away in Singapore, where an historic meeting was taking place between President Donald Trump and North Korean leader Kim Jong Un.
Pro wrestling and politics have always shared many similarities, and it wasn't difficult to make the connection at last week's summit — the first between a sitting president and a North Korean dictator.
Trump is a longtime mat fan who was inducted into the celebrity wing of WWE's Hall of Fame in 2013. His history with the wrestling juggernaut dates back several decades. Both Wrestlemanias IV and V were held at Trump Plaza in Atlantic City (the first and only time the mega-event was held in the same venue back-to-back years).
The billionaire real estate mogul and reality TV star also was a major player in the Battle of the Billionaires 10 years ago at Wrestlemania 23 in Detroit where he shaved WWE owner Vince McMahon's head following a hair vs. hair match. The event garnered the most PPV buys in company history at 1.2 million, breaking records for attendance and ticket sales.
Many claim Trump's wrestling background helped shape his politics. In addition to mastering the art of the deal, he also has mastered the art of taunting and trash-talking, requirements in the world of professional wrestling. His close ties to WWE have helped him hone his over-the-top persona. He's brought wrestling to the White House.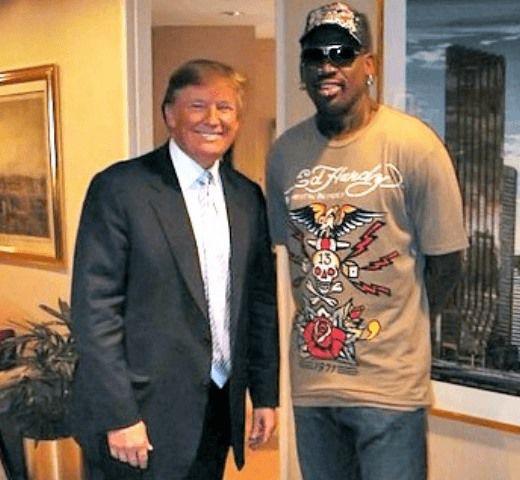 And it was pro basketball's Dennis Rodman, a one-time member of pro wrestling's nWo (New World Order) faction and one of the few westerners who can claim to have spent time with the reclusive leader of North Korea, whom many have credited with playing a unique role in the warming ties between the two countries.
The eccentric and outlandish former NBA star was no slouch during his brief foray into the wrestling world. He was a natural during his mat stint in 1997-98 with Ted Turner's now-defunct WCW.
"Dennis was an active player at the top of his game," then-WCW boss Eric Bischoff told Sports Illustrated. "And he was a natural-born wrestling character. He didn't have any clause in his contract that prevented him from wrestling in the off-season, but you would really have a hard time getting away with that now."
And quite obviously he is adept at bringing nations together.
Rodman, who goes back years with Trump and appeared on his "Celebrity Apprentice" show, is one of the few people to have a relationship with both world leaders, although he was not directly involved in the diplomacy between the U.S. and North Korea.
He even once took a team of retired basketball players to Pyongyang, the North's capital, to play before Kim, to whom he sang "Happy Birthday" in 2014.
While many blew off Rodman's journey to North Korea last year as a public relations stunt, the NBA Hall of Famer claims to have an understanding about how both leaders' minds work. Rodman also has discussed ways in which North Korea wanted to progress in their relationship with the United States and other countries. The results proved that he just might have been on to something.
Wrestling psychology
Rodman's made-for-TV moment Monday night on CNN was right out of the pro wrestling playbook. Emotional and bizarre at the same time, Rodman even managed to drop a "brother" in his spiel, which surely had to make his former nWo teammate Hulk Hogan proud.
It was a surreal sidelight to the serious summit, more entertaining and absurd theater than what viewers might have found had they switched channels to Monday Night Raw. After all, the goal of world peace and denuclearization carried much higher stakes than hype for this weekend's Money in the Bank pay-per-view.
Social media erupted with humorous post and memes.
"Once again the nWo has brought peace," one fan tweeted. "Who would have thought a guy named The Worm would have opened the door to North Korea and the USA coming together."
Tweeted another:
– Donald Trump is a WWE Hall of Famer.
– He just described the North Korea situation in the past as "War Games."
– Dennis Rodman was an honorary member of the nWo.
Also:
"Seems like an opportune time to remind Twitter that Dennis Rodman went nWo with Hollywood Hogan."
"nWo member Dennis Rodman has brought together a WWE Hall of Famer and the leader of North Korea."
"Dennis Rodman is, as far as I'm aware, the only man in wrestling history to be a member of the nWo and arrange peace talks between North Korea & the U.S."
"Dennis Rodman. Donald Trump. Kim Jong Un. Only one of these men has *not* headlined a major wrestling pay-per-view."
Wrestling has much more in common with politics than one might imagine. At least a dozen U.S. presidents are said to have displayed amazing scuffling skills during their prime.
These days, more than ever, pro wrestling and politics seem to go hand in hand. Don't believe it? Remember Jesse "The Body/The Brain" Ventura? Glenn Jacobs, better known in WWE circles as "The Big Red Monster" Kane, is six weeks away from possibly becoming "The Big Red Mayor" in Knox County, Tenn.
And, lest we forget, Linda McMahon, wife of WWE head honcho Vince McMahon, is one of President Trump's top lieutenants as head of the Small Business Administration. That makes her the first Cabinet secretary to ever take a "Stone Cold Stunner" on national television. But she's not alone. The man who would become commander in chief took one as well.
The American Dream really is alive and well.
Old School show
Old School Championship Wrestling will return to the Hanahan Rec Center on July 15.
Among those scheduled to appear are former WWE star Gangrel, OSCW champion Tracer X, Brady Pierce and John Skyler with his open challenge. E.N.D. will defend their OSCW tag-team belts against Logan Creed and Drew Adler, while The Ugly Ducklings will bring manager Coach Mikey to battle The Beautiful Bald Besties. "America's Sweetheart" Rebecca Reese will square off with OSCW women's champ Stormie Lee.
Doors open at 4:30 p.m. Action gets under way at 5.
Adult admission is $12 (cash only at the door); kids under 12 $7.
For more information, visit www.oscwonline.com or call 843-743-4800.
Reach Mike Mooneyham at bymikemooneyham@gmail.com, or follow him on Twitter at @ByMikeMooneyham and on Facebook at Facebook.com/MikeMooneyham.