I have followed and covered the pro wrestling business, in varying capacities, for more than 50 years. A month from now will mark 30 years of my wrestling column in the sports section of this newspaper.
And although I retired from The Post and Courier three years ago, after nearly 40 years at this paper, I have continued writing my weekly Sunday column.
"Why?" you might ask. One of the main reasons is a conversation I had many years ago with a wrestling friend named Tim Woods. Longtime old-school fans may remember Tim as the masked "Mr. Wrestling." A true legend in the business, Tim wore a white mask, white trunks and white boots and was a "good guy" behind a hood, a rarity during an era when most masked wrestlers were hated villains.
But the "Mr. Wrestling" mat moniker fit Tim to a tee. A decorated amateur and professional, no one was ever more tailor-made for the role than Tim. To a generation of fans, he epitomized wrestling. He was a good guy — make that a great guy — inside and outside the ring.
A faithful reader of my wrestling writings over the years, Tim once asked me, "Who's going to write my obituary once I'm gone?" I had to think long and hard about an answer. Tim and I had made it a habit of notifying one another when one of our mutual friends in the business had died, passing on the sad news years before the phenomenon of social media would routinely flash such somber news across computer screens worldwide.
Sadly, Tim passed away just a few years later, and, as promised, I gave him a befitting "send-off" the following week in my column. It was never easy saying that final goodbye to a friend, but it has become an exercise that I've felt obligated to fulfill over these many years. I've lost too many good friends in this business, many of whom were childhood heroes who made a lasting impression on myself and other fans.
It's also the reason behind my latest book. "Final Bell," which has been released by Evening Post Books. It's a compilation of some of my most well-read columns over the years, tributes to men and women who made their mark on the wrestling profession. It's an anthology of people stories, many of whom were extraordinary, that transcends generations. It's about talented athletes and their careers. It's about men and women who followed their dreams and lived by the credo "the show must go on."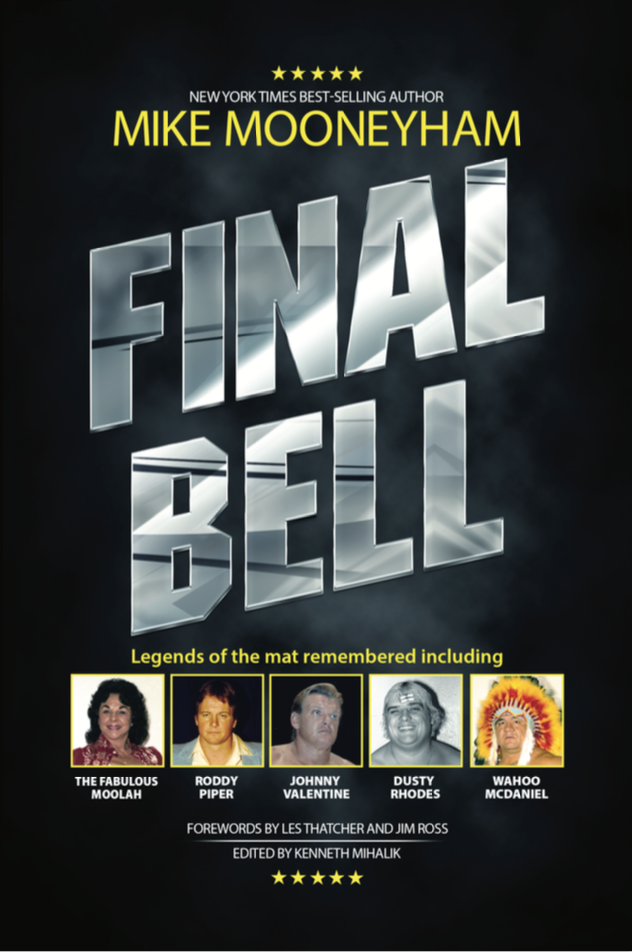 The 256-page book, with forewords by Jim Ross and Les Thatcher, includes more than 35 tribute columns dedicated to such legendary champions as Lou Thesz, Bruno Sammartino, Jack Brisco and Dusty Rhodes. There are stories on "originals" like Wahoo McDaniel, Johnny Valentine, Roddy Piper and Sputnik Monroe. A section on wrestling's "braintrust," personalities who made the "magic" happen, features columns on Gordon Solie, Lance Russell and Bobby Heenan. There are tributes to women who blazed trails such as The Fabulous Moolah, Mae Young, Penny Banner and Chyna. Two of my favorite columns are on South Carolina legends Henry Marcus, promoter extraordinaire, and Burrhead Jones, a black man who battled the odds in a business that mirrored a segregated society during that period of time.
A special section on Mid-Atlantic features tributes to such legends as Johnny Weaver, George and Sandy Scott, Rip Hawk, Swede Hanson and Jay Youngblood.
For some longtime fans, the book will reinforce treasured memories. For more current followers, the book will shape new discoveries. For myself, the book was a labor of love.
"Final Bell," edited by Kenneth Mihalik, can be purchased online through Evening Post Books at evepostbooks.com/product/final-bell-by-mike-mooneyham, via phone at 843-958-7367 or from the customer service desk in the front lobby of The Post and Courier, 134 Columbus St., downtown Charleston.
A book launch event has been scheduled for April 11 at Danny Jones Gym, 1455 Monitor St., North Charleston.
OSCW 'Back to the Beach'
Old School Championship Wrestling is heading back to the beach with a big show April 14.
OSCW will hold "Rock 'N Wrestling: Back to the Beach" at The Windjammer, 1008 Ocean Blvd., on the Isle of Palms.
ECW icon Tommy Dreamer, "The Innovator of Violence," will make his first OSCW appearance on the show.
Also scheduled on the bill are former WWE stars Gangrel and Kevin Thorn, Cheerleader Melissa from Lucha Underground, TNA's Caleb Konley and OSCW favorite John Skyler.
Rock 'n roll music will be provided by Spunjwurthi.
Action starts at 4 p.m. Gates open at 3 p.m.
Admission is $15 adults, $10 kids; cash only at the door.
To purchase tickets in advance, visit thewindjammer.com
Live music will be during intermission and will continue after the matches.
For more information, call 843-743-4800 or visit www.oscwonline.com.
Reach Mike Mooneyham at bymikemooneyham@gmail.com or follow him on Twitter at @ByMikeMooneyham and on Facebook at Facebook.com/MikeMooneyham. His newly released book — "Final Bell" — is now available at https://evepostbooks.com.