County Hall was always a magical place. At least for me and thousands of other folks who frequented the old building over half a century.
But when the storied structure fell into disrepair — a victim of leaky roofs, bad floors and balconies destroyed by termites — County Hall closed as an auditorium in 1985.
It also marked the end of an era for wrestling fans in the Lowcountry.
The culturally significant building had been brought back to life when a motion picture company bought it in 1988 and embarked on a $1.5 million renovation project. Complete with facelift and additional seating, the building was reopened as the King Street Palace.
Following Hurricane Hugo in 1989, Oprah Winfrey broadcast her show from the "new" venue, highlighting the devastated families in the area.
But it was a short-lived return, as the county regained ownership several years later, officially ending the aging building's era as a showplace.
In 2007 the familiar site at 1000 King Street was remodeled as an affordable housing complex known as The Palace apartments.
With its stuccoed walls rising from a stuccoed foundation, it was a rare example of Charleston's Art Deco style.
From its origins as a cotton mill built in 1902, home to the Royal Bag and Yarn Manufacturing Company, to its later extensive conversion to a community auditorium and gym that featured entertainment, sporting and political events, it was a Charleston landmark.
It became a popular venue for pro wrestling
County Hall hosted such diverse musical acts as Elvis Presley, James Brown, Count Basie and Tommy Dorsey, The Doors, The Byrds, Herman's Hermits, Jimi Hendrix, Grand Funk Railroad and Strawberry Alarm Clock, Chicago, The Beach Boys, George Jones, The Allman Brothers and Alice Cooper.
Dr. Martin Luther King Jr. made a visit to Charleston with a speech in 1967 at County Hall.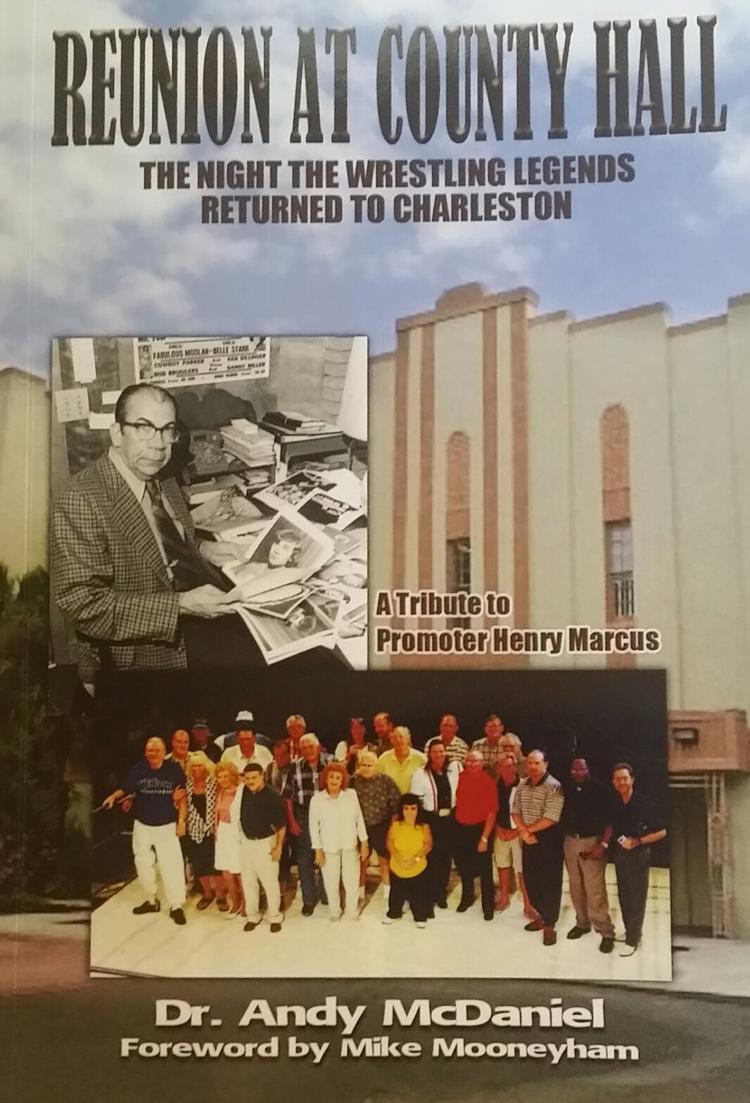 He spoke to an audience of approximately 3,000 who gathered on that sweltering day to see the iconic civil rights leader.
But County Hall was the place to be on Friday night. And the ringmaster was a newspaperman-turned-promoter named Henry Marcus.
The venerable matchmaker, whose "Hold your own ticket!" refrain always provided a familiar backdrop for the bustling County Hall throng, was as much part of the show as the wrestlers who performed and the fans who made Friday nights a staple at the old building.
Special memories
A number of former County Hall patrons recently recalled their special memories of the building.
Many remembered the County Hall as their favorite Friday night spot where they faithfully attended the weekly pro wrestling shows. Others recalled attending special musical concerts, sporting events and high school graduations there.
But all agreed that the hallowed hall held a special allure that would live forever in their memories.
Grayson Carter of Charleston remembers a hot July night at the hall many years ago:
"Closest place to hell, packed to the rafters and standing room only. Had to park on Rutledge Avenue down from College Park field and walk. It was Piper vs. Greg Valentine in a street fight/falls count anywhere. Piper stuck Valentine's head into the old plaster wall. Then the main event, which started after 10:30, was Flair vs Jimmy Snuka and they went an hour. That place was absolutely nuts. A year later we got a large timber order to replace the entire roof decking due to massive termite infestation. I thought to myself those damn termites were holding hands that night to keep that roof from falling in because it was quite a card."
"The first main event I witnessed there was Paul Jones, Masked Superstar and Ricky Steamboat vs. Ray Stevens, Jimmy Snuka and Gene Anderson," wrote Chris Wilkinson of Charleston. "(I remember) the mob of people at ringside getting autographs before every match! The matches started on time every week! I couldn't wait for Henry Marcus to ring that bell!"
"I attended the wrestling events and remember being able to go up to the ring to get autographs," recalled Wayne Rush of Columbia. "Everyone went to the faces' side so I decided to go to the heels' side. I also saw Joe Louis ref. I saw Deep Purple, the Harlem Globetrotters and a circus. I almost got to see Black Sabbath but the show was canceled because Ozzy had a sore throat. There was a small 'riot' because of this. And let's not forget Henry Marcus."
Thomas Bennett says he used to go every Friday night as a youngster after saving up grass-cutting money.
"Haystacks Calhoun, the Scott Brothers, the Anderson Brothers, Rip Hawk and Big Swede Hanson, Wahoo McDaniel. I could go on and on. And I believe there was a diner across the street that some of the wrestlers would frequent after the matches were over. As I got older I would go and see the bands that came there. The one I remember the best is ZZ Top before they had beards. Great times and memories growing up in Charleston."
Vicky Barton of Summerville has a favorite memory of County Hall that includes "Nature Boy" Ric Flair.
"Ever since I was 14 years old I never missed Ric Flair, the Nature Boy, at County Hall until it closed down! I had the honor of meeting him in person and becoming friends with him for so many years later. We are still friends to this day.
"I was at County Hall every Friday night for so many years. I loved Henry Marcus so much and became friends with him — had front-row tickets every Friday night. So much of my life was spent there. Wrestling is in my blood and will always be. My daughter went to her first live event when she was just 6 months old. It's in her blood, too."
An "Indian strap match" between Wahoo McDaniel and Ole Anderson was one of the first memories for Robert Ellington of Charleston.
"It was the first time I ever saw wrestlers bleeding," he writes. "I also have vivid memories of seeing Dillon native Rufus R. Jones brawling with Blackjack Mulligan. Fans would be stomping on those wooden floors and the place would be in a frenzy. Henry Marcus (the promoter/ring announcer) had a distinctive nasal delivery that sticks out in my mind. Those were some wonderful memories."
Stuart Monroe of Justin, Texas, will never forget one particular visit to the old auditorium after it was transformed into the King Street Palace.
"I knew it as the King Street Palace. This was where, as a 7 year-old kid at a WWF house show, I touched the leg of Andre The Giant. I also remember the wrestlers literally peeking through the curtain!"
Clyde Royal of Charleston recalled seeing old western motion picture stars there.
"I remember one occasion when I was 8 or 9 years old, and Dad took me to see Gene Autry and Champion. Remember Lash LaRue also but not the rest."
"My Dad and I attended wrestling at County Hall every Friday night. It will always be a special time in my life," wrote Dean Clack.
To veteran college athletic department administrator Andy Solomon of Charleston, that area of King Street offered a special one-two punch.
"I loved LaBrasca's. The chicken and spaghetti were fabulous. LaBrasca's-County Hall was a super combination. Italian food and rasslin!"
"I knew Henry Marcus well, one of the best promoters this side of P.T. Barnum," added Solomon. "I also remember being a copy boy at The News & Courier on Friday nights. Bill Greene, Jerry Norris and I would dine at LaBrasca's and then go across the street. We tried to get the results from Henry then, and it seems like I always took his call later that night."
Legends return
Before County Hall (by that time known as the King Street Palace) closed down for good, it would enjoy one last hurrah.
A truly memorable event was held on May 30, 1998, at the building. It would mark the end of an era for wrestling fans in the Lowcountry.
Some of the most colorful characters in the history of Mid-Atlantic Wrestling converged on Charleston for a special weekend that included a get-together, banquet and autograph signing, and culminated with a "Night of the Legends: A Tribute to Henry Marcus" program and awards ceremony that honored the veteran promoter and many of the stars who made Friday night wrestling a Lowcountry staple.
Putting the event together was a labor of love for Andy McDaniel, a longtime fan of Mid-Atlantic wrestling, and myself, who decades earlier had been introduced to pro wrestling in that very same grand old building. It was only fitting that the venerable venue serve as a site for the farewell festivities.
The reunion brought together greats from a bygone era. It seemed fitting that many of those grapplers, who had enjoyed their glory days entertaining the Friday night crowds, were on hand to say goodbye not only to longtime promoter Henry Marcus, who passed away several years later at the age of 93, but also to a grand old building.
McDaniel started going to wrestling shows at County Hall in 1974.
"Saw every major star there was, from Valentine to Flair to Wahoo and even Andre The giant. More memories than I can find words, but all of them special and ones that I cherish to this day."
"I will forever hold that weekend near to my heart," says McDaniel, who is now a pastor. "It was the end of wrestling at County Hall forever. I began my time as a fan in that building and would have never dreamed the final night of wrestling at County Hall I would be standing in the ring after having just been in a match with Tommy Young as the referee and Mr. Henry Marcus at ringside. What an ending! County Hall will forever be special to me."
A magical day
Sixteen years later, McDaniel revisited the reunion in words and photographs in a book on that special weekend in Charleston. "Reunion at County Hall: The Night the Wrestling Legends Returned to Charleston" was a look back at an event that respectfully paid homage to a beloved promoter, a storied structure and a group of performers who entertained fans for years.
The following is the foreword I wrote for that book:
"There are days in one's life that will never be forgotten. For me, Saturday, May 30, 1998, was one of them.
It was a magical day when legends came together to take an encore bow in a building where they had once entertained loyal fans every Friday night.
And like a fine wine, the memories had only grown better with age.
Billed as 'the greatest reunion in pro wrestling history,' for those in attendance, many would agree. Reunions and fan gatherings, especially one of this magnitude, were rare at the time.
This one would be special in so many ways.
The brainchild of Andy McDaniel, a lifelong friendship was formed the day he called and informed me of what at the time was only a dream. And that was to bring together many of his childhood heroes for one final hoorah at a building that had held many special memories over the years for the both of us.
Months later, that dream would become a reality. 'The Night the Legends Return: A Tribute to Henry Marcus' was a long-overdue tip of the hat to one of the sport's great promoters, along with a recognition of the past stars of the Mid-Atlantic area.
It seemed fitting that many of the legends, who had enjoyed their glory days entertaining those Friday night crowds, were on hand to say goodbye not only to a longtime promoter, but also to a grand old building.
On hot summer nights those spectators usually would sweat as much as the wrestlers in the ring, with the only form of cooling being a few fans and an occasional breeze from outside the building.
Wahoo McDaniel, who had wrestled in some of the hottest arenas around back in his native Texas, once told me that County Hall was the hottest of them all. 'This place is so hot that even the walls sweat,' he would joke.
Fortunately, though, for the fans, the action always seemed to be even hotter inside the squared circle on Friday nights.
For years County Hall, which was built as a cotton mill in 1902 and later converted to a community auditorium, was a gathering place for locals to enjoy entertainment acts ranging from Tommy Dorsey and Elvis Presley to James Brown, Bob Dylan and Herman's Hermits. The Charleston landmark also served as host to dances, graduations, sporting events, and even welcomed such American icons as Dr. Martin Luther King Jr. and the Harlem Globetrotters.
But wrestling was the ticket and Henry Marcus served as the ringmaster once a week when he would bring some of the biggest names in the business to town. From the original Gorgeous George to Lou Thesz to Ric Flair, the names of wrestling stars who graced the County Hall ring could fill up a who's who of mat greats.
To thousands of wrestling fans in these parts, Henry Marcus was as much the building as the mortar that held it together. He was a promoter extraordinaire who dabbled in everything from the Royal Canadian Ballet to the Ice Capades. But pro wrestling was his bread and butter. It's what endeared him to mat fans throughout the state for half a century, and his weekly Friday night shows at the storied structure on King Street were a staple for local mat fans for decades.
Quite appropriately, 'The Night the Legends Return' was one of the last events ever staged at the building, and Henry Marcus was there to see it for the final time. After all, as some reminisced, it was "the house that Marcus built."
Those who were lucky enough to be there that weekend were treated to moments they're not likely to ever forget.
'High Pockets' Henry Marcus, 87 at the time, taking the mic and reminding fans to 'hold their own tickets!'
George 'Two Ton' Harris doing his familiar strut in the ring, stroking his still wavy hair, turning to the crowd, and bellowing his familiar 'Shut up!'
'Blond Bombers' Rip Hawk and Swede Hanson reuniting for the first time in more than 15 years, sharing tears as well as cheers.
Johnny 'The Champ' Valentine, leaving his walker behind, only to drape Burrhead Jones against the top rope before delivering his trademark sledgehammer blow.
The referees for the evening's matches were handpicked to represent two of the greatest from the bygone era — Tommy Young and Ronnie West — along with two of the best from the current era — Charles Robinson and Mark Curtis (Brian Hildebrand).
Time marches on, and many of those who were there that special weekend are no longer with us.
But the memories will live forever."
Reach Mike Mooneyham at bymikemooneyham@gmail.com, or follow him on Twitter at @ByMikeMooneyham and on Facebook at Facebook.com/MikeMooneyham. His newly released book — "Final Bell" — is now available at https://evepostbooks.com.