Hicks column: Republicans should always ask themselves 'What would Tim Scott do?'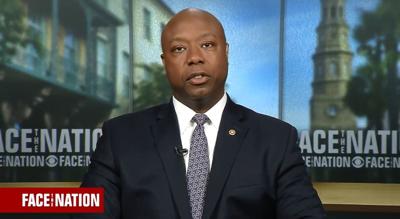 Tim Scott could save the Republican Party from itself.
All they have to do is listen to him ... and think every now and then.
Last week, South Carolina's junior senator nixed President Trump's latest nominee for a federal judgeship — the second one Scott has torpedoed this year.
The president nominated Thomas Farr on the recommendation of North Carolina's two Republican senators, so this isn't entirely on Trump. Although a little executive vetting would be nice.
See, Farr is a Raleigh lawyer who, over the years, has been linked to any number of suspect attempts to suppress minority voting in North Carolina — gerrymandering, curbing early balloting, and an insidious Jesse Helms campaign stunt back in the day.
Any one of which makes him unworthy of a lifetime appointment to the federal bench. But Republican Senate leadership tried to get Farr confirmed anyway, and shamelessly courted Scott for his vote.
He chose, conversely, to do his homework. Scott interviewed Department of Justice investigators who had looked into Farr's electoral tampering and finally concluded he couldn't, in good conscience, support the nominee.
There's a lesson here for the GOP. If they want to attract more African American voters, or change the widespread impression that they can only win by rigging elections, they should consider Scott's opinion before nominating potential bigots.
Otherwise, fold up the big-tent rhetoric.
A bold statement
A principled decision like this may look a little strange, seeing as how rare they are in the halls of Congress. But conservatives need not question Scott's allegiance.
When Democrats said Sen. Jeff Sessions' past was filled with too much racial controversy to be attorney general, Scott invited his then-colleague to Charleston and got to know him. Ultimately, he voted to confirm Sessions.
As he did Supreme Court nominee Brett Kavanaugh.
Scott, the only black Republican in the United States Senate, doesn't buck his party often, but he does his homework and simply isn't going to condone virulent racism.
He criticized the president's tone-death "both sides" remark after a rally of neo-Nazis ended with a woman's death in in Charlottesville, Virgina. And he's spoken the truth about discrimination to his colleagues on the Senate floor.
Scott is doing his best to drag his party into the 21st century, and it would do well to pay attention.
Because Scott isn't that rare an outlier. Many African Americans are fundamentally conservative, but have a hard time casting a ballot for a party that so frequently panders to racists.
Farr is a prime example. He's the lawyer who defended North Carolina's voter ID law that a federal appeals court said targeted African Americans "with almost surgical precision."
He also defended legislative districts that federal courts declared too gerrymandered to meet Voting Rights Act standards.
And he was an attorney for Sen. Jesse Helms' campaign when it was investigated for sending intimidating postcards to black voters warning they might be arrested if they tried to cast ballots.
Farr denied any part in that scheme, even called it appalling. But given his historical track record, it's easy to see why Scott derailed his appointment.
Look away (from the past)
Back in the summer, Scott opposed a Trump judicial nominee who had published a number of racist screeds in college.
Which was also the right call on Scott's part.
Look, this isn't difficult. There's no shortage of conservative lawyers and state judges out there, so why do the Republicans keep tripping over themselves to nominate numbskulls to the federal bench?
It's almost like they do it on purpose, "best people" be damned.
If the party simply wants to pander to deplorable people, it's going to need more than a rigged electoral map to survive. As Scott said in his most diplomatic way.
"I am ready and willing to support strong candidates for our judicial vacancies that do not have lingering concerns about issues that could affect their decision-making process as a federal judge, and I am proud that Senate Republicans have confirmed judges at an historical rate over the past two years," Scott said.
Know what happened after Scott released that statement? Other GOP senators suddenly grew a spine and said they had re-thought their support for Farr.
If they'd simply considered how Farr's track record might look to Scott and others in the first place, they could've saved the GOP much embarrassment.
And perhaps its future.