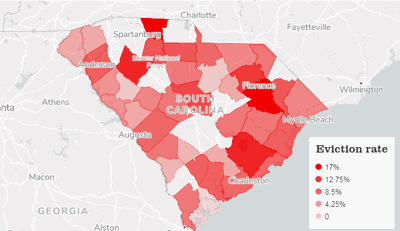 Marvin Pendarvis doesn't want to make it legal for people to avoid paying rent.
And he isn't suggesting that it should be illegal for landlords to evict bad tenants.
The North Charleston state representative has simply proposed some changes to the state's Residential Landlord and Tenant Act.
And they make perfect sense.
As Hannah Alani reported in The Post and Courier, Pendarvis wants to amend the 1986 state law to level the playing field between landlords and tenants. He's proposed a creating special court for such cases and giving renters the ability to deduct repair costs from their bills if the owner refuses to address concerns.
This is a major issue in North Charleston, which ranks No. 1 in the nation for eviction rates — 16.5 percent. That's double the statewide eviction rate, which is even worse than it sounds since South Carolina's rate is four times the national average.
This is a problem, but Pendarvis isn't attempting to put anyone out of business.
"This is not intended to give anyone a free pass," Rep. Pendarvis says. "There are a lot of landlords out there who do the right thing."
Some don't, however, and renters often have no recourse but to sue.
And if they don't have money for the rent, they probably can't afford a lawsuit.
Ground zero
The Lowcountry is in the eye of a perfect storm for evictions.
A rapidly growing population is driving housing demand, which inflates rents sometimes astronomically. But local wages are not keeping up, not by a long shot.
In North Charleston, the average rent is about $1,000 a month. By most economic calculators, that is affordable only to households with at least a $36,000 annual income.
Throw in some of the highest utility costs in the nation and it's simply impossible for many people to keep up.
A starting teacher in Charleston County schools might be able to swing that rent, but the average food-and-beverage worker makes only $22,500 a year. And municipal workers in North Charleston start at $27,500 a year (which is more than many cities pay).
North Charleston's eviction rate is particularly staggering not because it is filled with absentee landlords, which it is, but due to simple statistics. It is the most reasonable place to live in an increasingly unaffordable community, and it has the most rental property.
The Post and Courier found that thousands of eviction cases flow through North Charleston's magistrate courts every year. Even if many are just "legal late notices," a fair number end up in eviction.
"Most landlords do the right thing, or they have property managers who handle things," he says. "But a few of them ignore mold infestation and leaky roofs and don't care about it. I dealt with it through the first three years of my law practice."
This, of course, has a snowball effect that puts more and more people on the street.
Another bad list
Pendarvis says the state hasn't touched its landlord/tenant laws since 1986, and they are weighted heavily in favor of property owners.
As usual, the problem doesn't simply lie on one side of this issue. There are some people who simply can't — or won't — pay their bills. Other times, housing authorities aren't making timely payments to help subsidize low-income renters. Landlords get stiffed often.
But then there are those times when renters get in a dispute with a landlord who won't make needed repairs.
Pendarvis believes these cases shouldn't be thrown into courtrooms overburdened with misdemeanors and traffic violations, but given a dedicated court. And he's modeled part of his legislation on a Texas law that allows renters to deduct the cost of repairs they make to a property.
Of course, there is documentation and court mediation involved — there's no room for fraud. But such legal rights are necessary because in many cases, as Pendarvis says, "people are not getting what they bargained for."
That is a matter of simple fairness and not, as rumors flew in the real estate community this week, a way to legalize squatting or strip landlords of their property rights.
Pendarvis only wants to streamline the process and make it less expensive for both tenants and landlords to settle disputes.
The ultimate goal, however, is to cut down on evictions — and that's why this is important. Because "worst eviction rates in the country" is yet another list South Carolina doesn't want to sit atop.