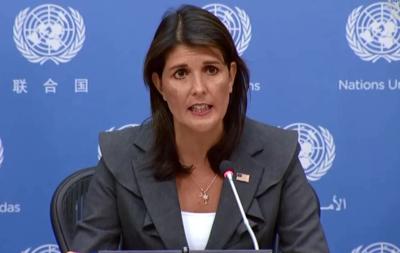 Nikki Haley has the perfect poker face, so never bet against her.
You will lose.
This week, our former governor and current U.N. ambassador was on "Fox & Friends" telling the faithful — with a straight face — that the United Nations did not laugh in President Trump's face.
"They love how honest he is," Haley said on national TV.
She didn't even break a smile when she made this absurd statement. That's what you call a pro.
In fairness, the collective U.N. did not outright laugh at the moment the self-aggrandizing Tweeter-in-chief declared his administration perhaps the most successful in history. They merely gasped and chuckled.
They laughed when he was surprised by their less-than-obsequious reaction.
So, once again, Haley was threading the needle. And she's very, very good at it.
Maybe it's home-state bias, but Haley is probably the most skillful politician operating in the country today. And make no mistake, she's operating.
After months of media neglect (other than a not-completely-fair story about a set of curtains that cost about as much as the median family income), the U.N. ambassador has been back with a vengeance.
Better get used to it. The day is coming, sooner rather than later, when Haley is going to be on a national ballot. And she will win.
On that, you can safely bet.
A star is born
Trump's appearance at the U.N. headquarters this week was bound to cast a little reflected light on Haley.
The Washington Post even took the opportunity to mention her lower profile in recent months, all the while reminding everyone that she is one of the few Cabinet-level officials with unfettered access to the Oval Office — a tidbit that no doubt came from one of those unnamed sources she so carefully disparaged upon the release of Bob Woodward's new book about the dysfunctional Trump administration.
Fact is, Haley isn't going to let anyone forget her. When The New York Times published an anonymous op-ed from an administration staffer who claimed they keep the president away from sharp objects and documents that dissolve treaties, Haley felt compelled to pen her own "It wasn't me" piece in The Post.
Not that anyone seriously thought it was — but no harm in polishing the brand.
It was funny to see the national media characterize Haley's appearance on "Fox & Friends" as a bit of brown-nosing the boss (because you know he was watching). Sorry, but anyone who knows her realizes she wasn't playing to Trump.
She was buttering up future Republican Party voters.
See, when Haley was South Carolina's governor, everyone underestimated her. Around the Statehouse, jealous lawmakers considered her long on charm and short on policy. As if that ever hurt a politician.
What no one fully appreciated was that Haley was clever and cunning, and never really had the opportunity to reach her full potential in such a constitutionally limited role.
Now the world is her stage, and Haley is clearly a star.
Building her resume
Nearly two years into this sideshow, it is abundantly clear that Haley is the only person who will emerge with her dignity and reputation intact.
While others have groveled, fallen on the sword or shamelessly taken bullets for their wildly unpredictable leader, Haley has held her ground.
Last spring, Haley announced new sanctions on Russia only to have the White House later deny it. Administration officials, who clearly pulled the rug from under her, claimed she was confused.
"With all due respect, I don't get confused," Haley said.
For perhaps the only time in two years, the bullies backed down.
Haley is tough, shrewd and a better leader than anyone in the GOP right now. Admittedly, there's not much competition. But she's making her most of this new gig, collecting allies and markers, expanding her influence and support.
Haley will walk away from this train wreck with an attractive resume of foreign policy and executive-level experience. Next to the rest of these bozos, she looks like Winston Churchill. And when — not if — she decides to run for president, the national press will swoon.
Whether it's in 2024, or even 2020, Haley will be a candidate in the Republican presidential primaries. And who can beat her? She'd mop the floor with our church-lady vice president.
So sure, she can go on Fox and offer surreal excuses about the chuckle heard 'round the world leaders this week.
But Nikki Haley is laughing all the way to the White House.
Reach Brian Hicks at bhicks@postandcourier.com.