Hicks column: Moving to South Carolina? Consider these alternatives. Please...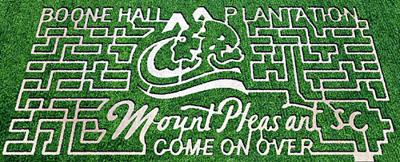 So that explains all this traffic.
United Van Lines says South Carolina is the seventh most popular state in the country for people looking to relocate, as per Post and Courier business writer Warren Wise.
Last year, U-Haul ranked us No. 4 — a 10 percent increase over 2016.
This is working out great for developers but not so much for anyone who has to, say, commute. And since the state isn't keeping up with the infrastructure, it's time to take matters into our own hands.
We need a plan, something cheap yet effective to steer these folks elsewhere. We need to start promoting other states.
Don't scoff, there's ample proof this works.
About a decade ago, Mount Pleasant rebranded itself with a new slogan — "Come on Over." Since then, the town has been one of the fastest-growing in the nation, its population rising from 58,000 to 85,000.
It only feels like a million.
Obviously, all that growth is the result of a slogan, which only cost the town $100,000.
For less than the price of widening a linear foot of Highway 41 we could plaster U-Hauls and billboards with hundreds of advertisements ... for other states.
Anything to get people thinking about anywhere other than South Carolina.
Y'all come back now
Here are a few examples:
Vermont (No. 1, United): We don't need no stinkin' air conditioning, or Year-round skiing!
Oregon (No. 2, United): Government standoff-free for four years!
Texas (No. 1, U-Haul): Big skies, non-permeable surfaces!
Florida (No. 2, U-Haul): Our sunny beaches are everywhere, not just on the coast!
Arkansas (No. 3, U-Haul): From the people who brought you Walmart.
Nevada (No. 4, United): It's a dry heat.
South Dakota (No. 5, United): No traffic jams — promise!
Washington (No. 6, United and U-Haul): "Get lost in our lush forests." — Sasquatch.
Tennessee (No. 5, U-Haul): Not everyone here is Elvis or Dolly; most of us are somewhere in between.
Colorado (No. 9, United and U-Haul): Legal weed. 'Nuff said.
Alabama (No. 10 United, No. 11 U-Haul): More than 51 percent of us don't support politicians who date underage girls.
Room at the inn
All those states are already popular with retirees, of course, so maybe they don't need as much help.
If we're going to reverse this trend, we need to get those folks looking at places that are losing population, as per United's top 10 "outbound states."
Illinois (No 1, United): If you like Missouri, you'll love most of Illinois.
New Jersey (No. 2): Live near the place where that guy got killed on The Sopranos.
New York (No. 3): Our traffic isn't as bad as Charleston's.
Kansas (No. 5): If we're good enough for Dorothy and Superman ...
Massachusetts (No. 6): Finally, a plausible excuse to root for the Patriots.
Utah (No. 9): Breathtaking natural formations, from Monument Valley to Mitt Romney's hair.
Wisconsin (No. 10): Want to go back to "Happy Days?" This is where the show was set.
Of course, no matter what we do, some people are still going to prefer the Palmetto State. Can't blame 'em.
So, perhaps we save some of our budget for our own ad blitz, something that sums up the attitude of locals and serves as a message to potential newcomers.
How about this?
South Carolina: No vacancy.