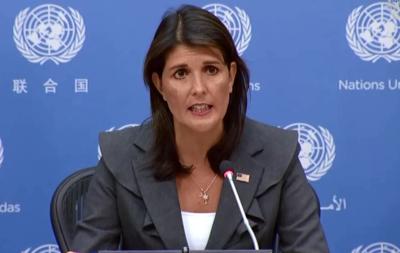 Nikki Haley, U.S. ambassador to the United Nations, earlier this week hinted she's bringing the U.N. Security Council to visit Charleston in September.
This is reportedly an advance copy of her first remarks.
Members of the Security Council, I want to welcome you to my home state of South Carolina, where it's always a great day.
Feels good to say that again.
I was proud to serve as governor here for six years before I got my current gig … and a swanky Manhattan address. But this is still home and, even though we're spending most of our weekend in Charleston, I've asked the pilot to fly over some other parts of South Carolina before we land.
I want to try to explain the South to you. Then perhaps you'll understand why President Donald Trump got elected.
But first, there are some things that I just have to show off.
Down there to your right, you'll see an open-air structure bigger than the Colosseum in Rome. That's Memorial Stadium or, as we call it, Death Valley. It's where my 2016 National Championship Clemson Tigers play football.
No, Mr. French ambassador, you guys play soccer. This is real football.
Beyond the stadium, you'll see the grand campus of Clemson University, my alma mater. Oh — you see those knuckleheads on the side of the road, waving those flags? Those are called Confederate battle flags, 150-year-old relics of the American Civil War.
When I was governor, we took that flag off Statehouse grounds after a neo-Confederate killed nine people in a Charleston church.
Since then, these guys have been roaming the state, waving those flags in everyone's face. As if we stand outside their house with Nike banners.
These folks say we don't understand the war, which is hilarious coming from a bunch of guys who obviously never read the Declaration of the Immediate Causes Which Induce and Justify the Secession of South Carolina from the Federal Union.
It's in our Department of Archives and History, a wonderful repository just outside Columbia.
There's Columbia up ahead now. In the center of town, you'll see the Statehouse — where I used to work. It's sort of like the UN, filled with the haves and the have-nots.
Wave to Gov. Henry McMaster as we go by. He works in there when he's not walking his dog.
No, his real dog — not a Democrat. Whoops, Henry!
We are now passing just north of Bamberg, where I grew up. When I was governor, they put my picture on the county limits sign!
One day, I hope it's hanging in the Post Office … and all other government buildings around the country. And not as Security Council president.
Alas, maybe in 2024. Or 2020 at the rate the swamp is backing up.
Anyway, we are now on final approach to the Lowcountry. If you look out the windows to the left, you'll see Berkeley County. Mr. Swedish ambassador, that's where we're going to build your Volvos!
Berkeley County is also the home of one of Google's biggest headquarters. Mr. Russian ambassador, I'm sure you're familiar with our internet technology. That's where much of it is housed.
As if you didn't know.
And this is Charleston International Airport, which is actually in North Charleston. This is the economic heart of South Carolina, where we build Boeings that all your countries can buy cheap — because we don't let in those nasty ol' unions.
We're going to motorcade into downtown Charleston, perhaps our most beautiful city. I'm sure many of your citizens have visited Charleston, as we keep winning all the international awards for best tourist destination in the world.
Too bad the Italian ambassador rotated off the Security Council this year. If it rains this afternoon — and it always does — Charleston would no doubt remind him of his own Venice.
Charleston has a long and proud history dating back to 1670, although we're best known for being invaded during the Civil War. Mr. Kuwaiti ambassador, I'm sure you can relate.
The difference is we brought that one on ourselves.
And now, finally, welcome to downtown Charleston. Madam Ambassador, I'm sure anyone from Britain would recognize the Old Exchange and Provost Dungeon. You should remember, your troops occupied it for a while back in 1780.
Well, we haven't forgotten. As you may have noticed, we never forget anything in South Carolina.
It's a good lesson for why worldwide diplomacy is so important.
Reach Brian Hicks at bhicks@postandcourier.com.