Hicks column: Good grief. S.C. Democrats optimistic they can finally overcome the math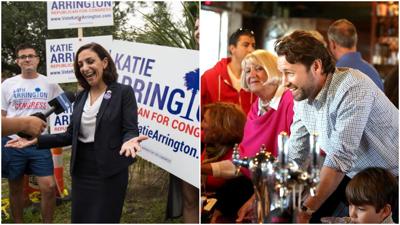 Poor South Carolina Democrats.
They've got this Charlie Brown-like optimism — or naivete — that one day they'll actually kick that football … or win an election.
Last week, the Democratic Congressional Campaign Committee announced it would put resources (money) into Joe Cunningham's race to win the 1st District congressional seat. They say the lawyer, small business owner and ocean engineer is their best shot to win the 1st in decades.
Which is what the Democrats always say. And then the Republicans always laugh and pull the football away come November.
This year will likely be no different.
Sure, the DCCC has some reason for optimism. The Republican mayors of towns along the coast have rushed to endorse Cunningham because his opponent, GOP state Rep. Katie Arrington, said she supported offshore drilling (but later said that she didn't necessarily mean here).
And Arrington's attack on Cunningham last week seemed sort of desperate for July.
Then there's that fabled blue wave, which has washed over several special congressional elections in the past year, flipping seats as Democrats outperformed traditional turnout by 10 or 20 percent. The 1st District only has an 11-point GOP advantage.
Finally, the district's demographics are slowly changing.
If the Democrats can flip any congressional seat in South Carolina, it's the 1st District.
Just don't bet on it.
Numbers don't add up
Admittedly, it's hard to gauge the 1st District.
Since it was redrawn to include Beaufort County after the 2010 Census, there has been no serious contest in a non-presidential year. Congressman Mark Sanford ran unopposed in 2014.
In 2016, however, Sanford carried more than 58 percent of the vote. But that was a presidential election, which generates higher turnout — and he was running against a Democrat who said we need to colonize another planet.
That guy got 37 percent, so you'd figure a, well, less interstellar candidate like Cunningham would fare better.
Still, in 2016 the Dems would have had to flip more than 35,000 votes between Beaufort, Berkeley, Charleston and Dorchester counties (a sliver of the district is in Colleton County). That's a tall order, which is why South Carolina politicos are skeptical.
"I would imagine Arrington will win fairly handily," says veteran South Carolina political scientist Neal Thigpen. "Cunningham will paint her as a clone of Trump, but there are enough Trumpites and hardcore Republicans who will vote for any Republican nominee."
Thigpen says the offshore drilling issue plays well, as does independence, but neither are probably enough to push Cunningham over the top.
There is some question about the effect of all the new residents of the district, particularly in Bluffton and southern Berkeley County. Those communities are drawing a lot of retirees, as recent Census numbers confirmed, and many of them come from the North and Midwest — places not so solidly in lockstep with Republican politics.
But are there 35,000 of them?
A decided disadvantage
Some of this is just insurance.
A Cunningham win is only improbable, not impossible, and the Democrats don't want to get caught napping like they did in 2014 — when Sanford got a free pass. After the filing deadline, Sanford went on an embarrassing Facebook confessional. Most people think he would've been toast if he'd had an opponent. Any opponent.
So, it's like the lottery. You can't win if you don't play.
That's part of this. Of course, the Democrats also know that any money they put into turning out Cunningham's voters will likely help gubernatorial candidate James Smith. And they have similar hopes about his race against Gov. Henry McMaster.
Anything can happen in an election, but the bottom line is the congressional districts in this state are drawn by a GOP-dominated Legislature. Lawmakers have spread the 6th District across 18 counties to soak up as many Democratic precincts as possible, leaving the half-dozen other districts safely in GOP hands. It's a pretty foolproof blueprint.
When Beaufort, Dorchester and Berkeley typically go higher than 60 percent for the Republican candidate, there's not a lot of room for a Democrat to make up that deficit in Charleston.
If Cunningham is going to win, a mere wave won't do it. He's gonna need a tsunami.
Reach Brian Hicks at bhicks@postandcourier.com.