Hicks column: Don't let the door hit you on the way out, 2018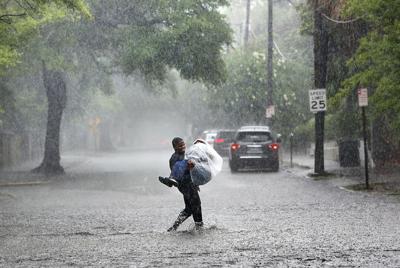 Few people will mourn the passing of 2018, hereafter known as the Year of the Water.
You know, sort of like China has the Year of the Dog, Dragon or Rat. Which is pretty much every year in Washington.
South Carolina, and Charleston in particular, spent much of 2018 trying to protect our offshore water — and make sure it stayed there. As opposed to, say, Bee Street.
We saw some surprises — a Democrat actually won an election — but mostly endured the status quo. Highway 41 still hasn't been widened, and the final leg of Interstate 526 remains a line on a map.
The contradictory nature of 2018 was evident from the start.
In January, Charleston residents were still trying to save the Folly Boat, a Hugo-era monument that washed away from its roadside perch in another hurricane. At the same time, others tried to topple a post-Reconstruction-era monument to John C. Calhoun, erected in similarly stormy times.
A year later, the Folly Boat is still gone and Calhoun is still there.
On Feb. 6, Accuweather issued a tsunami warning for Charleston, which caused quite a stir until the forecasting service announced its mistake.
Turns out they weren't completely wrong about a massive amount of water headed our way, just six months early.
Following a mass murder at a Florida high school, by March some state legislators were suggesting South Carolina buy guns for all teachers. Which was pretty generous, considering teachers usually have to buy classroom supplies out of their own pocket.
The proposal, thankfully, went nowhere.
Speaking of unrest, in April, South Carolina suffered one of the worst prison riots in a quarter-century at Lee Correctional Institution. Seven people died in the melee, after which state officials admitted prisons are understaffed, largely because guards are underpaid.
Perhaps the state could save money by using Charleston County's old Naval Hospital as a prison. Because the county can't seem to get out of that place without paying its debt ... and somebody else's.
In May, a broken cable forced the state Department of Transportation to close the westbound 526 bridge over the Wando River. Which nearly caused another riot.
Mount Pleasant commuters spent two hours each morning getting to work — about the same amount of time it takes McClellanville High-schoolers to ride the bus to Wando since their school was closed.
Then, in June, congressman Mark Sanford lost his first political campaign. After years of fighting off credible challengers, Sanford ironically succumbed to someone who turned out to be un-electable in November.
Travel + Leisure magazine ranked Charleston the No. 1 city for the sixth consecutive year in July, sparking a new influx of carpetbaggers from Ohio. Everyone complained except Democrats, who hoped these new voters might help them finally win an election.
Tourism officials grew worried in August, when the city lost a lawsuit to prevent unlicensed tour guides from peddling unvetted history on public streets.
It was the biggest blow to Charleston since Abraham Lincoln declared war on us via Twitter.
By September, however, most of the city — and state — was more concerned about the coming invasion of Hurricane Florence.
Showing an overabundance of caution, the state evacuated three weeks before the scheduled landfall. But Florence went to North Carolina, then looped around and drenched the rest of the state.
Charleston had to suffice with its regularly scheduled flooding.
In October, former Gov. Nikki Haley announced she was resigning as U.N. ambassador, leading to speculation she would become the United States' first female president.
Assuming the job doesn't fall to Nancy Pelosi before the next election.
And in November, South Carolina's 1st Congressional District elected a Democrat for the first time in 40 years, in part over fears of offshore drilling ruining our environment and tourism economy.
The next day, NORAD announced it was tracking hordes of Republican wagon trains headed for the coast with plans to run for the seat in 2020.
Heavy rains throughout December helped Charleston reach another milestone. As The Post and Courier's Bo Petersen reported, only 24 high tides have exceeded 8 feet in the past century — three of them within the month. Usually at rush hour.
Some downtown residents blamed this on Charleston not spending billions to improve drainage decades ago, when non-storm tides flooded peninsula streets a mere four times a year.
Of course, some people also contend the jury is still out on climate change and sea level rise.
Hopefully, 2019 will be a tad drier. Happy New Year.