Hicks column: Charleston Sheriff's Office will train deputies to avoid cultural bias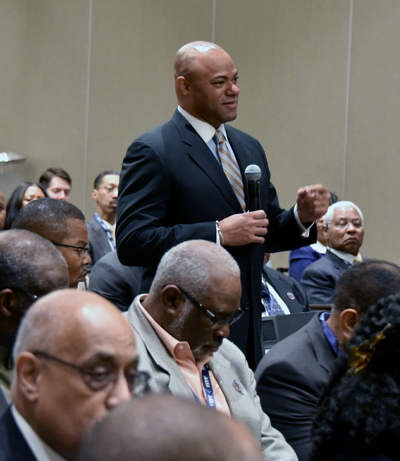 Police officers have to ask themselves the same question every time they draw their gun: Take the shot, and ensure they go home that night, or risk killing an innocent, unarmed person?
There's no margin for error.
This is the dilemma that haunts police departments across the country, and it's exacerbated every time an unarmed black man anywhere is shot under questionable circumstances.
That hit home for the Charleston County Sheriff's Office when Walter Scott was gunned down by a North Charleston police officer in 2015. Although sheriff's deputies had nothing to do with the incident, they felt the aftershocks in the community.
"The folks who need us the most trust us the least," says Chief Deputy Eric Watson.
To combat this national problem, the Sheriff's Office is bringing in a criminal justice expert to update its training for what Watson calls 21st century policing.
The nonprofit Dedication to Community — led by Quentin Williams, an attorney, former FBI agent and federal prosecutor — will train deputies, supervisors and jail staff to avoid implicit bias, increase cultural awareness and improve deescalation practices among its ranks.
Williams says this partnership has the potential to become a national model.
"A lot of people want to ignore the problem, hope it goes away," he says. "The Sheriff's Office in Charleston County wants to become the leader in this. It's really incredible."
A long history
The idea is to build trust, primarily in the black community, where controversial killings have made people perhaps more wary than ever of police.
That is something Williams, and Watson, know quite a bit about.
Both Watson and Williams have observed the chasm between police and community from both sides. As young men, they were frequently stopped and questioned by the police; it's just the way of the world.
Since then, both have risen through the ranks of law enforcement. So they understand what happened last month when a Florence County constable shot a black man trying to drive away from a traffic stop.
For many African-Americans, no good has ever come from an encounter with the police. People who haven't lived it often don't understand — including some cops.
Williams understands, but doesn't recommend it. After all, he wrote "A Survival Guide: How NOT to Get Killed by the Police." But he says the burden is on both civilians and law enforcement.
"It is the most relevant domestic issue of our day," Williams says. "Police officers are leaders. They have to understand and accept cultural differences. It starts with listening — really listening. This has become a runaway train. What the Sheriff's Office is doing is the way to stop that cycle."
Watson says the key is educating deputies to protect and serve in a changing world, and build bridges between the community and the men and women who find themselves under ever-increasing scrutiny.
He doesn't even like to use the term "sides."
"It's not us and them, it's we," Watson said. "We have to have more of a guardian than warrior mentality."
Effects of stress
Williams hopes to expand the Dedication to Community outreach to local ministers, community leaders and eventually residents, allowing law enforcement to learn from them and vice versa.
In that way, it's similar to Charleston's Illumination Project. But Williams says starting internally at the Sheriff's Office is the best first step to improving community relations.
It is a noble goal, and already has broad support from local officials.
"I've seen Mr. Williams' program and I'm excited by this partnership," says state Rep. David Mack.
The stakes are high here. Law enforcement officers have perhaps the toughest job in the country. They are constantly thrown into potentially dangerous situations for less-than-stellar pay, and often see people at their worst.
It's difficult to not become cynical and suspicious of nearly everyone. But Watson says police cannot assume everyone in one community is a criminal. It is only a small segment of the population that commits that vast majority of the crime.
Recognizing the difference is the challenge. The only way to change the perceptions that create tension between police and community today is better relations, better training — and weeding out the small number of officers who cast a pall on law enforcement.
Today, there's no room for incidents like the shooting of Philando Castile — an innocent man killed by a Minnesota cop the second he said he had a permitted gun in his car. In truth, there never was an excuse.
The Sheriff's Office is taking a progressive, proactive step in that direction — and more law enforcement agencies should follow suit. Because in their business, human error is the difference between life and death.
"We can't afford to make mistakes," Watson said.