Hicks column: Charleston accepts its bigliest award yet, and it's yuge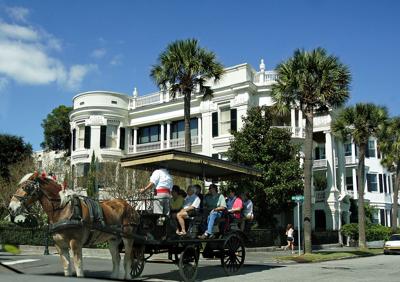 So much winning.
Our friends at Travel + Leisure magazine have named us the No. 1 U.S. city in the world for the sixth time in a row. It's great, isn't it?
Just great.
They know all the best cities, and we beat every one of them. Hands down.
Nathan Lump, the magazine's editor, said that's because we're the most beautiful city, the best preserved. And we've got the best history, too.
Our history is yuge.
We've got the Civil War — there's some great history. We have the South Carolina Aquarium, which is all about the history of fish. Then there's the war between the states. The baseball stadium, they've got some statues — lot of history there. And don't forget the war of northern aggression.
Just so much history.
Everything in Charleston is the best. That's why we win. We've got the best restaurants. There's the FIG, Magnolia's, McDonald's — we've got 'em all.
But we don't brag. We're humble. We don't have to brag. Everybody just knows it.
We're the best.
The best tourists
This is big, people, believe me.
We were on the Today Show. You think they put Asheville on the TV? No way, you gotta be yuge to get on NBC.
But you knew this was gonna happen, you knew it because the Convention and Visitors Bureau said so. They said we were going to win so much we'd get sick of winning.
Like physically sick, like norovirus on a cruise ship sick.
Six times. That's a record. Some people say that's a record, like Elton John makes. And we're still standing. We're still standing, better than we ever did.
And I guess that's why they call it the blues, you know, in New Orleans. Because they're SAD that we keep winning. That's nice.
Better luck next time, New Orleans.
We'll still win. We'll win next year, I promise you.
That's because we have the best tourists, the absolute best. They're so much better than those tourists in Savannah. Those tourists are losers. They wish they were in Charleston.
But they can't fit, that's why they don't come here. We're booked — all the hotels are full. That's why we have to build more. When you're the best, it's good for business. Just great.
And, believe me, they'll be back. They'll come. Probably they will move here, like everyone else.
Because they know we're the best.
The best traffic
These magazine rankings are very scientific — they look at everything.
We've got the best houses. That's why they're so expensive. They're good. And many of them are old. Not condemned building old, like where bums live, but like nice old — classy.
And we have the best beaches. That's why we have to keep replacing them. Because people are carrying them off.
If you look in every car that leaves Charleston, you'll find sand. Believe me, they're carrying our sand back to Ohio and Michigan and West Virginia in their cars and their trucks and their wherevers. They just can't get enough of it.
Charleston even has the best traffic. Nobody has more traffic than Charleston.
Maybe Los Angeles, but that's not in this country, so they don't count. We don't count them.
We sit in traffic because everyone wants to be here, and because all the tourists are here. And we don't pay for roads. We make Georgia tourists pay for our roads.
But we know we're the best because of those tourists and because Travel + Leisure magazine says we are. Now everyone else will know it, too. Six times in a row.
So even more people will come, and they'll eat in our restaurants and buy our houses and take our history. But that's OK. We'll just keep winning.
Thank you for making Charleston great again and again.