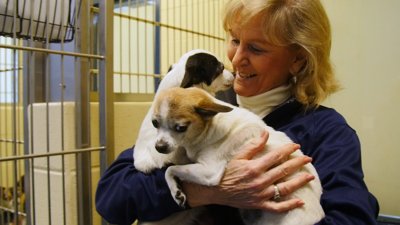 A few weeks ago, Carol Linville picked up an injured baby deer on Folly Beach and took it home for the night.
The fawn was limping, apparently hit by a car, and some people had corralled it in a little red wagon. Linville got the deer into a dog crate and called Bob, her husband, to let him know they were having company.
The only surprising thing about this story is the fact that there are still deer on Folly. Anyone who knows Carol realizes that, of course, she'd take the deer home with her.
Linville doesn't turn away animals.
For more than 40 years, the president and founder of Pet Helpers has been rescuing critters all over the Lowcountry. She modestly jokes, "It wasn't my life's plan," but Linville has made a tremendous impact on animal welfare.
She literally wrote the first county ordinance to protect animals, established a shelter that finds homes for hundreds of dogs and cats each year, and spays or neuters thousands more.
But, most importantly, Linville is a pioneer of the no-kill movement. She was protesting euthanasia long before it was in fashion.
Today, an increasing number of animal welfare agencies around the Lowcountry, and the nation, are strictly no-kill shelters.
Carol deserves a lot of the credit.
Agent of change
Thursday is the 10th anniversary of Pet Helpers' current James Island clinic and adoption center, and it is a world away from where Linville started.
Back in the 1970s, she wrote a pet column for community newspapers — mostly to increase awareness of animal cruelty, criticize irresponsible pet owners and decry the thousands of dogs and cats put to sleep annually at local shelters.
One day, someone called her about a stray kitten under the Wappoo Cut bridge. She rescued it, and a movement began.
Pet Helpers started as a strictly volunteer organization, and Linville became a full-fledged activist. She was everywhere — at county council meetings, on television — protesting pet abuse and lobbying for stringent animal welfare statutes.
"She inspired me to fight for stronger animal protection laws," said former state Sen. Glenn McConnell, now president of the College of Charleston. "Carol has stood up for animals that couldn't stand up for themselves, and she brought change."
Of course, it wasn't always easy. Linville ruffled feathers along the way, even in animal welfare circles. She shamed other organizations by declaring Pet Helpers would not euthanize animals, it would find them homes.
And it did. In its first 15 years, Pet Helpers rescued and found families for 5,000 animals.
Slowly, a lot of other organizations came around to her way of thinking. They began to offer discounted spaying and neutering services, and established their own no-kill policies.
"I've always been willing to challenge the status quo if it was wrong," Linville said.
A lasting legacy
Most of Linville's admirers say they appreciate her heart, her devotion to animals — and her tenacity.
Which is a really nice way of saying Linville fought until she changed the playing field.
"She was relentless in shining a spotlight on things that people did not want to deal with — like animal cruelty and torture," said Nancy McGinley, the former Charleston schools superintendent and a Pet Helpers board member. "Carol was, and is, a fearless crusader. What is unique about her and what sets her apart from others is that she never gave up and never stopped fighting."
Pet Helpers now has 28 employees, a full-time spay and neuter clinic and usually about 120 animals up for adoption. It's a busy organization — and they still have half the building to complete (hint: donations are accepted).
Pet Helpers takes in hurricane rescues, fosters abandoned animals and even builds fences for dogs who would otherwise spend most of their time chained up in a backyard.
Linville also rescues the occasional deer … raccoon, pelican and squirrel.
If she did nothing else, it would be more than enough that Linville built the model for a nonprofit pet adoption center.
But she has also saved thousands of animals and led by example. She has steered the conversation on animal welfare for nearly five decades.
That, ultimately, is her greatest legacy — her voice.