Hicks column: Bernie Sanders is coming to SC. Democrats are apathetic at best.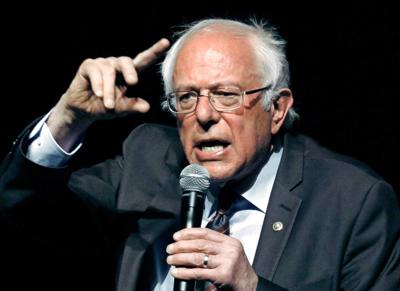 Usually, the idea in politics is to court old white men — not run screaming from them.
But South Carolina Democrats obviously didn't get the memo.
U.S. Sen. Bernie Sanders has graciously offered to campaign for Palmetto State Dems just before the midterm elections, and … crickets.
You'd think a high-profile United States senator and former presidential candidate, who some believe was slighted in the 2016 presidential primaries, would be embraced with open arms.
In a scarlet state, Dems need all the help they can get. Right?
Uh, nope. Based on the Democratic reaction, Sanders would probably be more welcome at a Trump rally or pro wrestling show. Which are kind of the same thing.
Amanda Loveday, former executive director of the state Democratic Party, called it "selfish" for Sanders to show up in South Carolina right now, and predicted no legitimate Democrat would share the stage with him.
And that wasn't even the nastiest thing said.
"He'd be doing us a favor if he just got lost," former state Rep. Boyd Brown suggested.
Talk about curbing your enthusiasm.
Perhaps this has something to do with Sanders calling himself a democratic socialist — a phrase that strikes terror in the hearts of Southern moderates.
Must be hard to run for office when you're running scared.
The boogeyman
On Wednesday, South Carolina got word Sanders would appear Oct. 20 at a Columbia rally hosted by Our Revolution.
Which apparently isn't that great band from "Purple Rain," but a Sanders outfit.
The group has endorsed Democratic gubernatorial candidate James Smith, but it seems he won't attend the rally. Nor will any of the state's Democratic congressional candidates.
In fact, the only local Dem listed on the program is state Rep. Justin Bamberg.
The rest wish Bernie would stick to "Saturday Night Live" instead of a Saturday night in Columbia.
Charleston Democrats say that's because Sanders won't help them. His platform includes almost doubling the minimum wage, free college and Medicare for everyone, which everyone knows is just code for socialism.
Dems here say their voters don't support such radical ideas, as evidenced by the trouncing Sanders took in the 2016 primary. And honestly, Sanders is really just campaigning for himself.
But truth is, they're worried about guilt by association.
Republicans are masterful at sticking labels on Democrats and have turned them into monolithic boogeymen in the eyes of people who get their policy positions from bumper stickers and memes.
That's why GOP campaign signs include the word "Republican" but Democrats seldom mention party affiliation. Instead they talk about compromise — which apparently isn't winning anything these days — and swear they would never, ever vote for Nancy Pelosi.
Fair enough, but Democrats need to grow a spine and quit allowing the other side to constantly frame the debate. Point out that they don't favor socialism. Well, other than Social Security and the like.
Otherwise, they will continue to feel the burn on election night.
Moonlight from Vermont
To be fair, there's one person absolutely thrilled that Sanders is coming to town.
That would be Gov. Henry McMaster.
His campaign spread the word about the scheduled appearance more quickly than Our Revolution, along with a digital ad that announced Smith was bringing Bernie Sanders to South Carolina. Well, his policies anyway.
Which isn't exactly right. While Smith accepted the endorsement of Our Revolution, he's not part of the rally. But he's not really hiding, either.
"We have and we welcome the support of citizens who voted for Bernie Sanders as well as those who voted for Donald Trump, and everyone in between," Smith campaign spokesman Brad Warthen said.
That's the right approach. Dems can't claim to be a big tent and then fold it up when their crazy uncle comes to town.
It's true that a party's more extreme figures are often unwelcome in contentious battlegrounds, but candidates trying to play the middle need to remember that the edges sometimes wrap around. Back in 2016, some Trump voters said they might have gone for Sanders had he been the Democratic nominee.
The truth is, people of all stripes have a lot more in common than many politicians give them credit for — and not just a shared disdain for Hillary Clinton.
If Dems ever want to win, they need to tell people how they differ from the Republicans, and quit sweating a weekend with Bernie.
Reach Brian Hicks at bhicks@postandcourier.com.