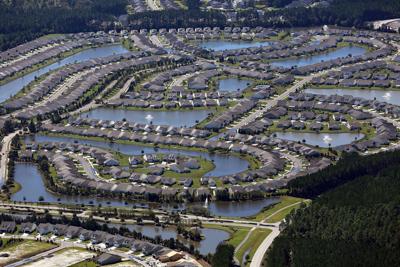 Berkeley County grew by 8,000 people this past year, and a lot of them settled in Cane Bay Plantation.
Cane Bay is one of the fastest-growing neighborhoods in the country, a nice place with three schools, nearby shopping, restaurants and winding nature trails.
But the brochures don't mention this unfortunate selling point: Cane Bay homes come with the most expensive fire insurance rating in the nation.
And that's the result of some pretty poor planning.
Developers have declared rural Berkeley County the new frontier – Nexton is going up across the street from Cane Bay, and both may eventually house 30,000 residents. Down the road, Carnes Crossroads is expected to hold another 15,000 souls.
That's 75,000 people … and the closest fire hall is nearly 10 miles away.
See, all these developments have been built in the unincorporated county on the fringe of the metro area where land is cheapest. But counties don't provide fire service; instead they subsidize volunteer stations. To a degree.
Most of the folks at those places don't get paid, much less have the money to build new fire stations all over new suburbia.
So Cane Bay residents have been selling bricks and holding bake sales to raise money for their own fire station.
And that's ridiculous.
Putting out fires?
For several years now, the Whitesville Volunteer Fire Department has been trying to build a new station on the main road through Cane Bay.
The developer donated the land, and a local company cleared it for free.
But the fire department has been hamstrung by one thing after another: a debate over neighborhood design standards, county permitting, and the ongoing struggle to secure enough money to actually build the station.
As this dragged on, the cost of the fire hall more than doubled. The most recent estimate says it's going to run about $2.4 million.
The developer has said the average response time from the fire department is around six-and-a-half minutes – an optimistic estimate. Even if it's true, that doesn't help the pocketbooks of Cane Bay residents.
Insurance rates are based on how close the nearest fire station is. Ten miles results in the worst classification in the ISO system.
Whitesville Fire Chief Tim Stephenson is doing everything he can here, but he's battling a raging bureaucracy. Because the county doesn't give the department enough money to build a new station outright, he's trying to get a federal loan.
But that takes time, and comes with even more red tape.
"They really need a fire station out there," Stephenson says. "We hope to have it built in 2018."
Which means another year of bad fire ratings. And high insurance premiums.
Now entering suburbia
Berkeley County Council is about to commission a fire protection study that could help this situation.
If they move quickly enough.
County officials are trying to decide between several options. They could raise fire fees to boost volunteer departments.
Right now the county assesses $75 per home in the county. Cane Bay residents, pointing to Dorchester County's $175 fee, say that for $135 per resident the county could pay full-time staffs at those volunteer departments.
Many of them support that idea, seeing as how an extra $60 a year looks a whole lot better than paying double what others pay for home insurance.
The county study, which is already out for bid, will also look into the cost of running a countywide fire department.
That may be an even better idea, seeing as how there are more people living in rural Berkeley County than in the town of Summerville. And there are a lot of businesses and industries moving in, like Volvo and Roper – and that only adds to the need for more emergency services.
Councilman Jack Schurlknight, who for years has been pushing county officials to do something about the Cane Bay situation, says hopefully the study will get things moving.
"It's a complicated issue, but we have to improve the situation for those residents," Schurlknight says.
He's right. Past councils complicated this when they didn't plan for the future. As some residents say, you can grow yourself right into bankruptcy.
So it's time for Berkeley County to quit thinking of itself as the country and pony up for adequate fire, police and EMS services in one of the fastest-growing communities in the nation.
We aren't in the hinterlands anymore, Dorothy.