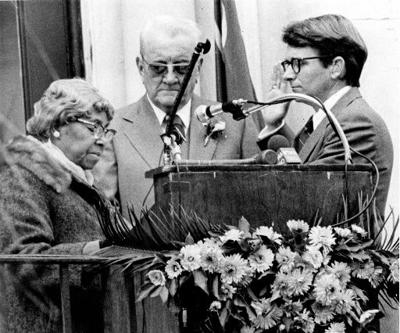 Septima Clark wouldn't want anyone to make a fuss over her.
For someone who Martin Luther King Jr. famously called the mother of the civil rights movement, she was an extremely modest woman.
In fact, when they named the Crosstown after her 40 years ago, they practically had to drag her to the ceremony.
By then, her legacy was set. She'd been an activist for African-Americans, women — and human rights — going back 60 years.
"Septima was the most colorblind person I ever met," says Steve Hoffius, a magazine writer who befriended her in the 1970s.
For all her life she simply fought for what was right, beginning with a petition drive urging the state to simply hire black teachers for the city's black schools.
Which was actually controversial in her time.
Today, everyone knows her name — thanks to the Septima P. Clark Parkway — but most have no idea of all she did to influence the course of 20th century America. Some of that may be the result of her own modesty. Clark always said she was just a teacher.
Not that "just" ever belongs in that sentence.
On Thursday, which is the 120th anniversary of her birth, the College of Charleston will dedicate a historical marker at 105 Wentworth St., where Septima Poinsette Clark began her extraordinary life. The ceremony is at 10 a.m.
It is an honor that corrects a historical oversight, and it's long overdue.
A resume of community service
Clark's most enduring legacy is the citizenship schools that she developed on Johns Island and at the Highlander Folk School in Tennessee.
King's Southern Christian Leadership Conference took her citizenship schools national in the 1960s. They were designed not only to promote adult literacy but to educate people about civics and get them involved in their communities.
And get around state laws that required a person to be able to read before they could vote. Which was the civil rights era version of voter ID laws.
But Clark did so much more than create citizens schools.
• She taught for 40 years, mostly in Charleston and Columbia, educating thousands of children.
• She recruited a teacher for the NAACP lawsuit that demanded equal pay for black teachers in South Carolina. In the mid-1940s, black teachers were paid about 60 percent as much as white teachers.
Which, perhaps not coincidentally works out to three-fifths — which was how slaves were counted toward a state's population in the Constitution.
• In 1955, a young woman in Montgomery, Alabama, turned a harsh spotlight on segregation when she refused to give up her seat to a white man. Rosa Parks learned to resist in Clark's classroom at Highlander.
• As a result of the Supreme Court ruling in Brown v. Board of Education, which ordered integration in public schools, South Carolina banned government employees from membership in the NAACP, which was a naked ploy to retaliate against these "agitators."
Clark refused to resign from the civil rights group, and lost her job — and her pension.
That is just a small sample of Clark's life work. Everything she did belied an unerring moral compass that is far too uncommon these days.
Just teach
The College of Charleston should be commended for recognizing Clark.
The idea for this historical marker came when College of Charleston teacher education professor Jon Hale mentioned to his students that Clark's birthplace was now part of the campus.
Two of those students, Ally Lain and Ridgeland Welch, began a year-long effort with Hale and visiting professor Mary Ann Hartshorn to secure a state historical marker.
The Department of Teacher Education could not find a more ideal candidate to promote the importance of teachers.
"She exemplifies the legacy of education and teacher activism," Hale says. "She's really a model for us to follow today."
That is absolutely right.
Her citizenship schools influenced King, made her the first woman on the SCLC board and is credited with helping three-quarters of a million African-Americans register to vote by the end of the 1960s.
That is an amazing legacy. But from her first job teaching school on Johns Island, when you had to take a boat to get there, education meant everything to Septima Clark.
She did more than her fair share to change this country, and she did it by simply teaching. What a profoundly appropriate thing for the College of Charleston, and everyone, to celebrate.
Make a fuss, indeed.