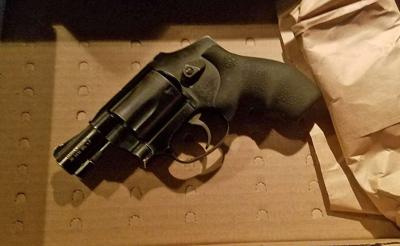 Two teenagers were shot and killed at a Charleston apartment complex last Sunday, a tragedy that capped a week of crime in the city's largest suburb.
On Monday, police and public officials will meet with the community to discuss the homicides and a recent rash of break-ins in local subdivisions. Here's one thing they need to stress:
Quit leaving guns in unlocked cars.
Actually, that's a message that needs to be broadcast across South Carolina.
Talekuz Williams, 15, and Juquel Young, 17, were gunned down on July 15 during a basketball court argument at the Ashley Oaks Apartments. At least one of them was killed with a 9 mm semiautomatic stolen from a car in the complex parking lot just last month.
That is an alarmingly common occurrence. Charleston police say 71 guns have been taken from unlocked cars this year. In 2017, 157 firearms were stolen from cars that weren't locked.
This isn't a problem unique to Charleston. More than 44,000 guns were stolen in South Carolina between 2012 and 2015, according to the Center for American Progress.
While most of that theft was the result of burglary, a shocking number of people leave handguns in their cars — and either forget or don't bother to lock their doors.
That isn't responsible gun ownership. It's a good way to get someone killed.
Check your guns.
At a news conference last week, Mayor John Tecklenburg urged people to lock up their guns.
Which should go without saying, but police have preached the same gospel until they're blue in the face.
Law enforcement agencies across the country started a campaign to curb this habit last year. It's called the #9PMROUTINE, a nightly reminder sent out on social media to prompt people to make sure their cars are locked come nightfall.
Capt. Roger Antonio with the Charleston County Sheriff's Office says it's frustrating to see the number of reports that come in from people who've had guns stolen from their cars, many of them not locked.
"People get comfortable in their neighborhoods, especially when they aren't used to crime," Antonio says. "But thieves target those neighborhoods, because they know there's a higher likelihood of finding unlocked cars."
And, as Antonio points out, every gun stolen by definition ends up in the hands of criminals — after all, they are breaking into cars.
Sometimes thieves sell the guns or trade them for drugs, but eventually many of them are used for nefarious purposes. Various studies have found that between 200,000 and 400,000 guns are stolen from Americans every year, two-thirds of them in the South.
One of the most common factors? People who leave guns in their cars.
Lock your doors
This should be a no-brainer.
Aside from the obvious danger they pose in the wrong hands, guns are not cheap. Why would anyone leave something worth $300 to $1,500 just lying around?
But Thom Berry, spokesman for the State Law Enforcement Division, says this has become more prevalent with the proliferation of SUVs, which don't have a secure trunk to lock up valuables. Still, some people don't even bother to take the slightest precautions.
In 2015 alone, SLED recorded 2,953 thefts from an automobile where at least one gun was stolen. But in 2,475 of those incidents — nearly 84 percent — the victim said the car wasn't locked.
That is ridiculous, and deadly. No one should leave a gun in their car, locked or not. That is flirting with disaster.
The National Rifle Association has brainwashed an entire generation into believing that even the most modest safeguards, like background checks, are an infringement on rights established when men were carrying muskets.
The least these people could do for all that freedom is take care with their deadly weapons. Don't leave them in cars, particularly with the doors unlocked.
You'd assume anyone carrying a gun around in their car would have a heightened awareness of crime. But through either carelessness or neglect, they leave their own firearms completely unprotected. And, as happened last week, a child died.
This story has become all too common, and in a staggering number of cases it is completely avoidable.
That is, if everyone just lived up to their claims to be responsible gun owners.
Reach Brian Hicks at bhicks@postandcourier.com.