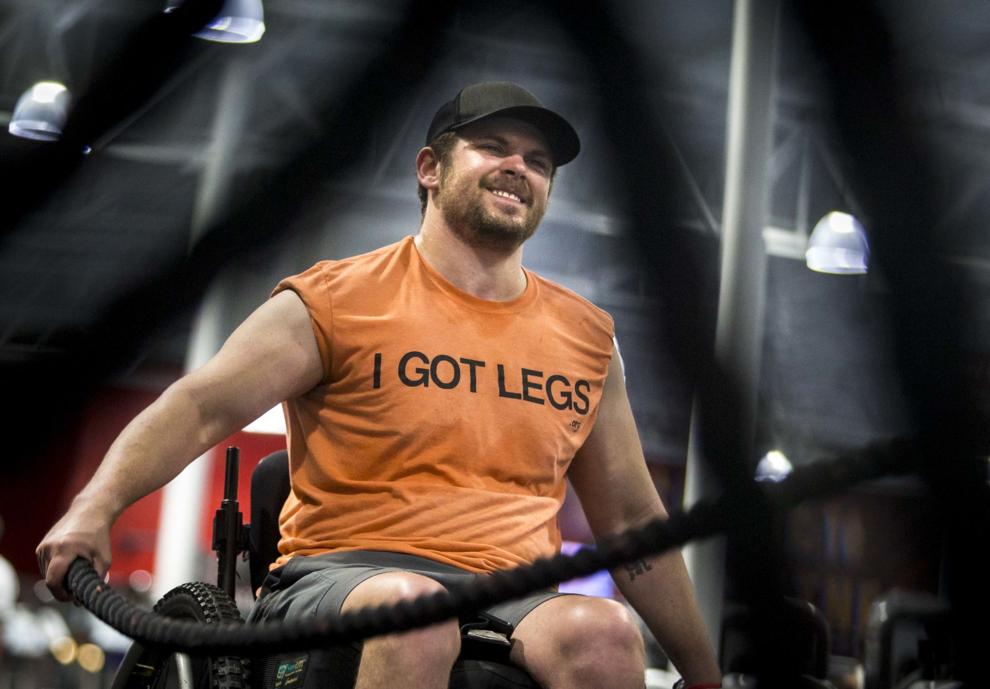 Surely, other father and son scenes play out all over Mount Pleasant on a sunny Saturday morning in March. Boats slide off trailers into brackish water. Batting cages fill with tattered baseballs. Fairways glisten with dew as thick as follow-through advice.
But in the parking lot closest to the Mount Pleasant Pier,  curious onlookers can't help but notice paralyzed Adam Gorlitsky and his proud father Stan. They are changing the world.
It's not enough that Adam, 32, completed the 2016 Cooper River Bridge Run in a ReWalk Robotic Exoskeleton with much fanfare not long after the cutting-edge device allowed him to walk for the first time since a 2005 auto accident.
He's training for the Los Angeles Marathon that starts on March 24 at Dodger Stadium and ends aside the Santa Monica Pier. An Emmy-nominated production team plans to capture every step for a full-feature documentary titled "EXO Rising."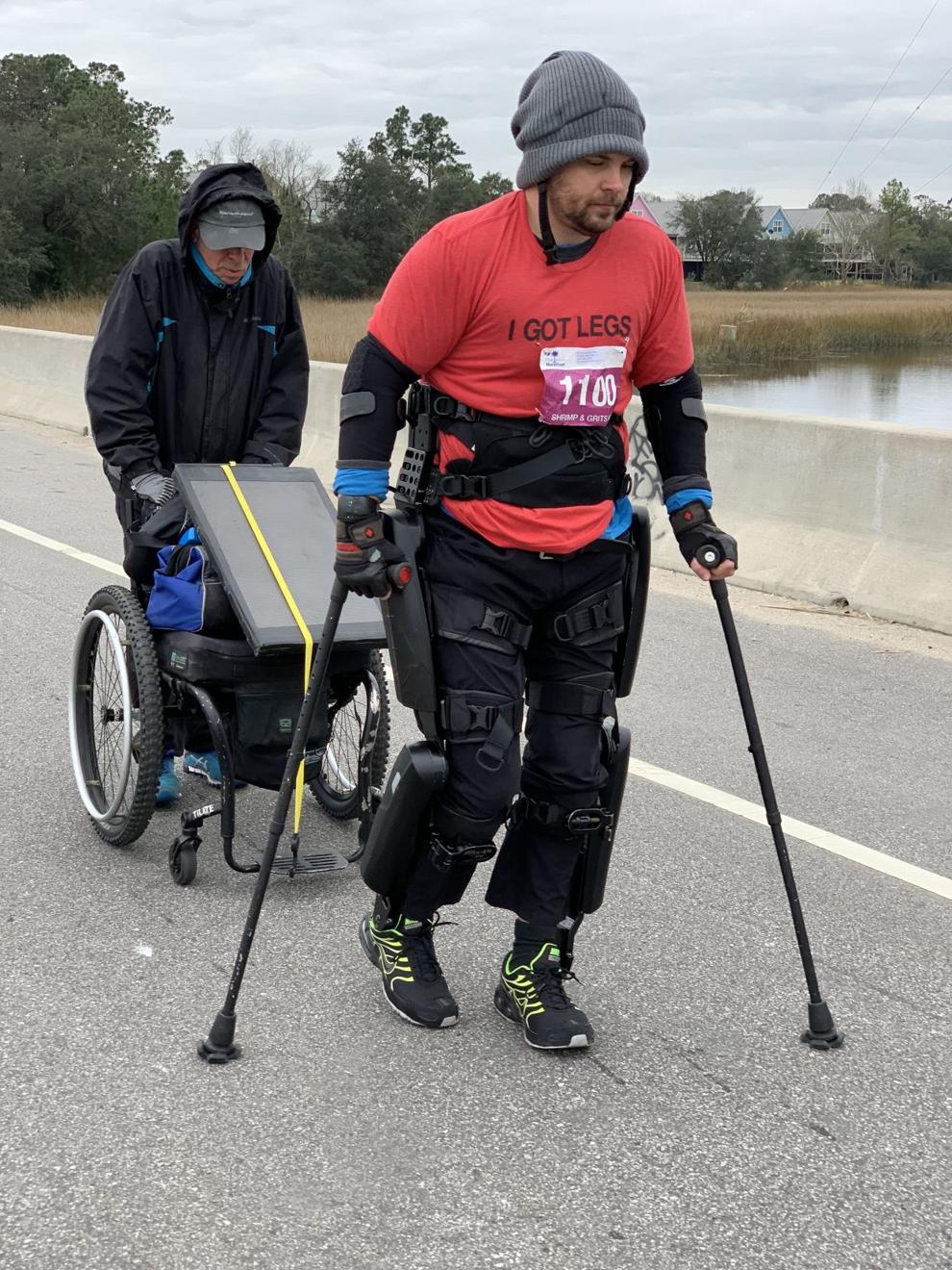 "There's nothing he can't do. I learned that a long time ago," says 70-year-old Stan Gorlitsky, aka Super Dad to Adam's friends. 
Degree of difficulty?
Too hard to measure.
A marathon — 26.2 miles and in Los Angeles laced with hills — is a monstrous task for anyone. It requires many months of preparation, strategy, diet tweaks. A "back of the pack" runner with zero interest in pursuing a Boston Marathon qualifying time might walk some of the way and finish in a respectable five hours.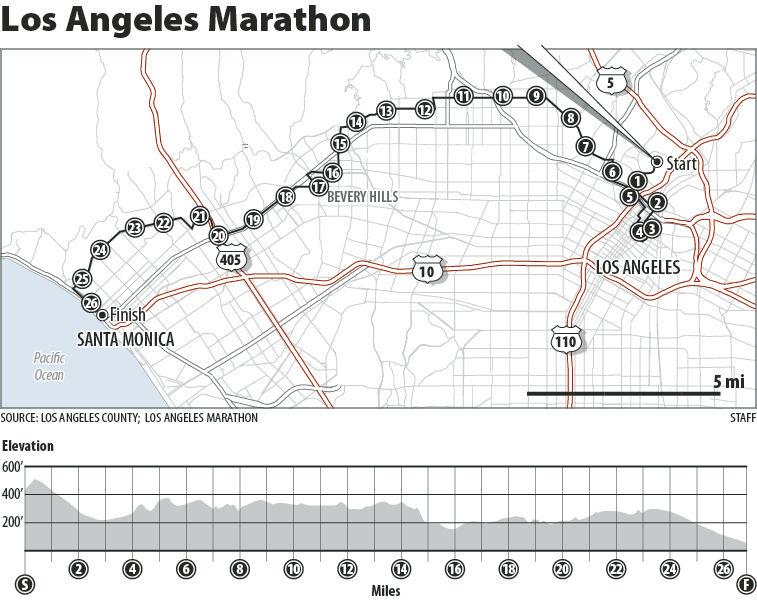 Adam's goal: 30 hours or so, with a specially-arranged Saturday night head start.
The Exoskeleton provides powered hip and knee motion; most of Gorlitsky's power comes from relentless arm and abdominal exercises. And a will fed by the cause.
The mission has grown greater than one gregarious guy. It includes the I Got Legs foundation Gorlitsky founded "to support improvements to life-changing technology for the physically challenged" through grants, sponsorships and programs.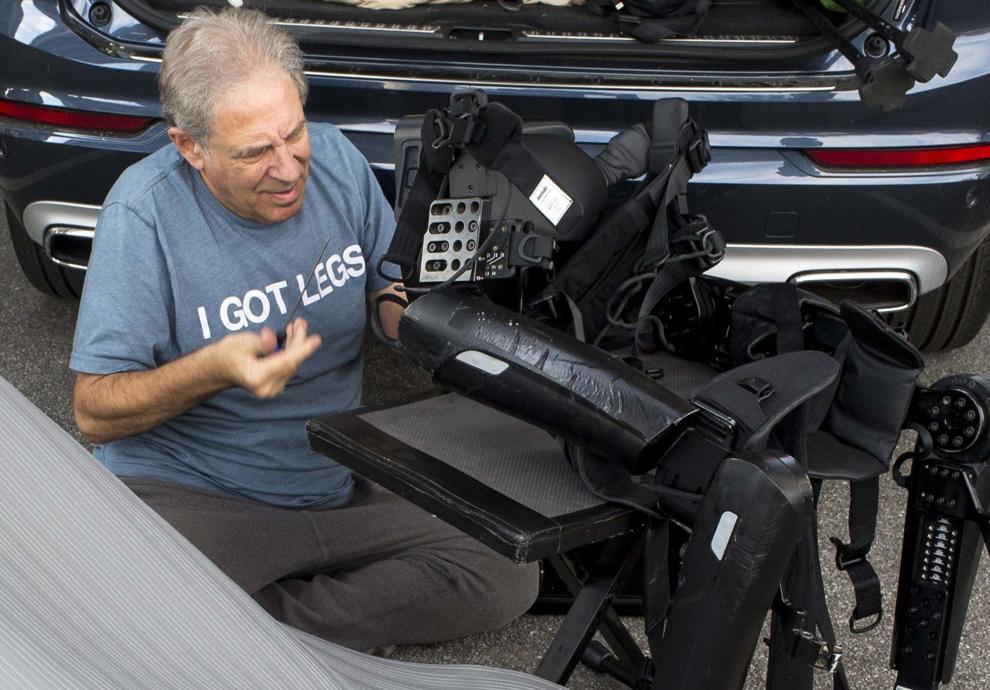 "My gosh, his will and determination are second to none," says John Osborne, a Charleston entrepreneur, business executive and I Got Legs board member. "He wants to help people become as active as he is. He has an absolute raging inferno in his core."
The Gorlitsky team aims to "re-enable people."
"The term re-enabled comes from how I feel when I'm in my Exoskeleton," Gorlitsky explains. "I don't feel disabled and don't feel able-bodied. I feel re-enabled."
A high-tech revolution comes at a high price.
And just about now Adam and Stan Gorlitsky could use a good Exoskeleton repair expert among the many folks passing by on a walk or run. The malfunctioning battery on the $82,000 pair of legs is keeping Adam from L.A. Marathon practice.
"It doesn't look good, Adam," Stan Gorlitsky says as he fiddles with the Exoskeleton lying in the back of an SUV.
Adam strokes his thick brown beard.
He has that same mischievous grin his old Wando High School cross country teammates recall, as if Adam knows something the rest of us don't. As if a little battery is going to get between Adam and a significant impact on spinal cord injury science.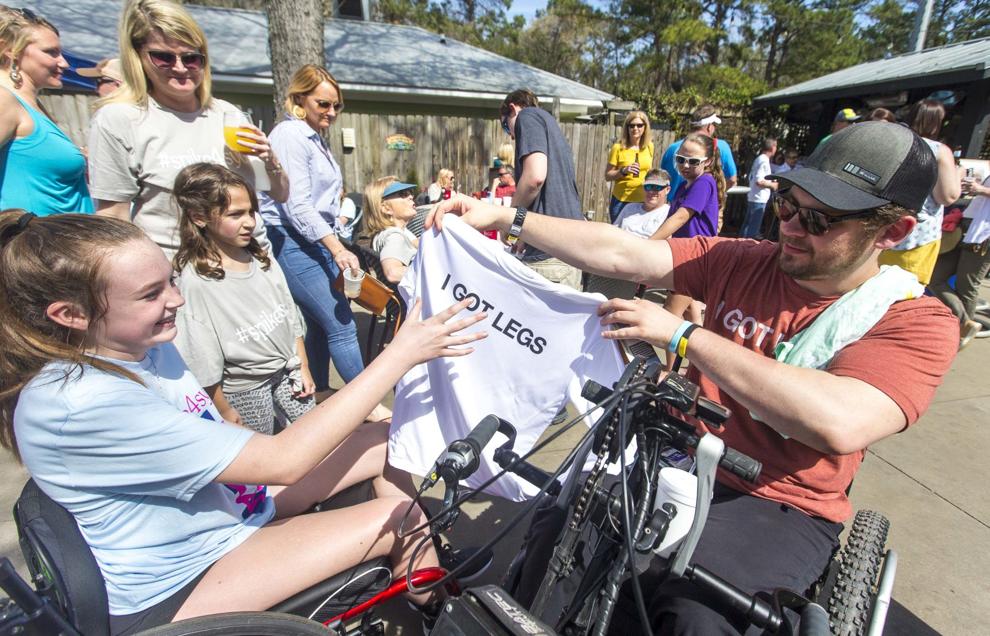 "At the end of the day," he says with a shrug, "it's a machine."
The accident
Adam Gorlitsky precisely recalls the evening of Dec. 30, 2005.
He was a sophomore at the University of South Carolina. He woke up at 4:30 a.m. to load furniture into the back of his dad's dark blue 2000 Chevy Tahoe for transfer to a new Columbia apartment. Driving home alone, Gorlitsky dozed off at approximately 8:30 p.m.
He wasn't wearing a seat belt when he woke up to find the vehicle veering off the road. Gorlitsky over-corrected, spun 180 degrees and plowed into trees on an I-26 median just north of Summerville. He was launched into the back seat.
"It was pretty much survival mode," Gorlitsky said. "I remember screaming, 'I can't move my legs!' I tried to get out of the car. I smelled smoke."
Stan and Suzanne Gorlitsky rushed to MUSC, where they found the third of their four close-knit sons in a critical care room.
"There was a whole bunch of doctors and other people in the room," Stan said. "But Adam was awake. He was laughing. He was happy. Not in pain. But I happened to look over my shoulder at this one X-ray."
A retired veterinarian, Stan Gorlitsky had seen thousands of X-rays.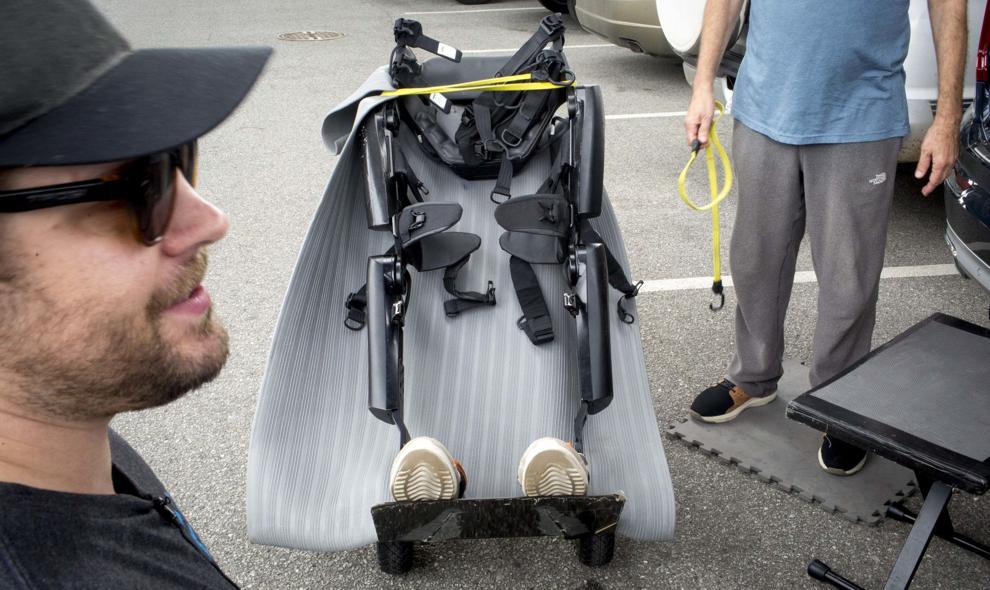 "And I knew immediately it was all over," Stan said. "In that room, only me and the doctors knew. Not my wife. Not Adam."
A complete T9 spinal cord injury means Gorlitsky has no feeling or movement from the belly button down.
Reality smoldered at a rehab center during an introductory meeting for a group of recently paralyzed people. Eighty-five percent of you are going to wind up on welfare and miserable with the shades down, a therapist said.
Adam vowed before the meeting ended to become part of that other 15 percent. He went back to South Carolina for a Retail Business degree. Later, he took film production classes at Trident Tech and dabbled as a freelance filmmaker.
He hopes to get married someday and have kids. For now, he lives by himself in a one-story Mount Pleasant home, which doubles as I Got Legs headquarters.
The enthusiasm is infectious.
"To just walk up to anyone and just start having a friendship is difficult but the minute I met Adam, I was taken with how sincere and dedicated he is," said longtime Mount Pleasant realtor Jackie Kelly, another I Got Legs board member. "He's just such an adorable and genuine person."
But Gorlitsky didn't go straight from the emergency room to triumphant, innovative, fundraising hero-warrior.
There was much darkness.
"We didn't realize how far down Adam got until almost eight years later," his father said. "He was trying to stay strong for us and for his friends. We found out about the tears. He let loose and let us know."
Big ideas kept Gorlitsky going. Then came the Exoskeleton and its price tag, prohibitive for most people. He approached Osborne for advice on how to kick start I Got Legs in an effort to raise millions of dollars to reach millions of people.
Osborne's advice: Make your initial pitch all about walking the Cooper River Bridge Run and use that platform to start telling your story.
Gorlitsky's 2016 Cooper River Bridge Run conquest went viral. Encouragement came from close friends and cyber strangers from all over the world. Crossing the finish line, he said, "was the best moment of my life."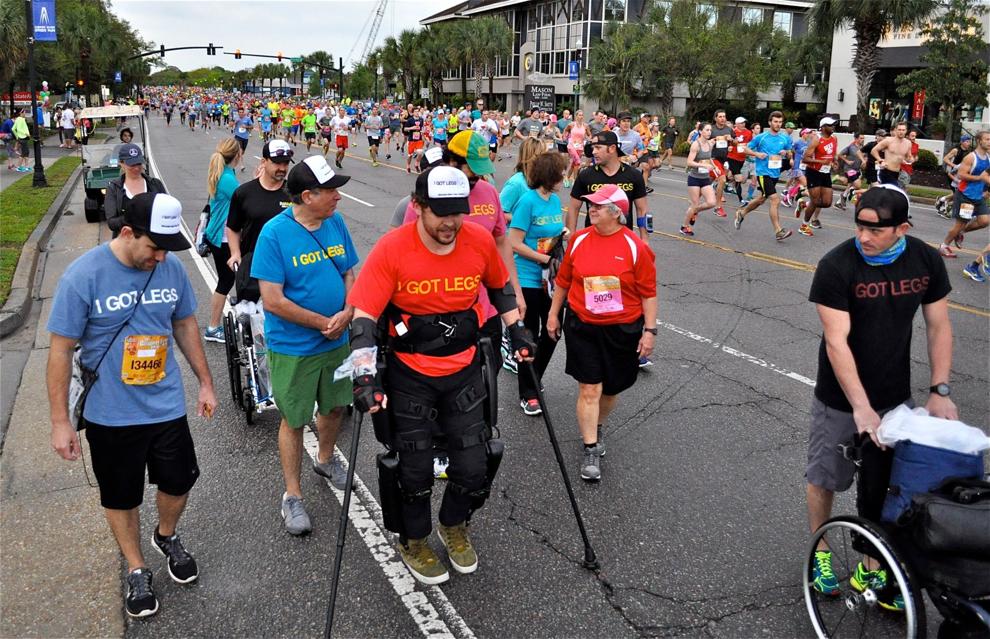 Next best?
Crossing the finish line last October at the Portlandathon Half-Marathon in Oregon. Gorlitsky altered his diet to get ready, cutting out bread and gobbling up a lot of protein, using fruits and vegetables for carbohydrates. While the other Portland half-marathoners started Sunday morning, Gorlitsky set out at 6:30 p.m. Saturday.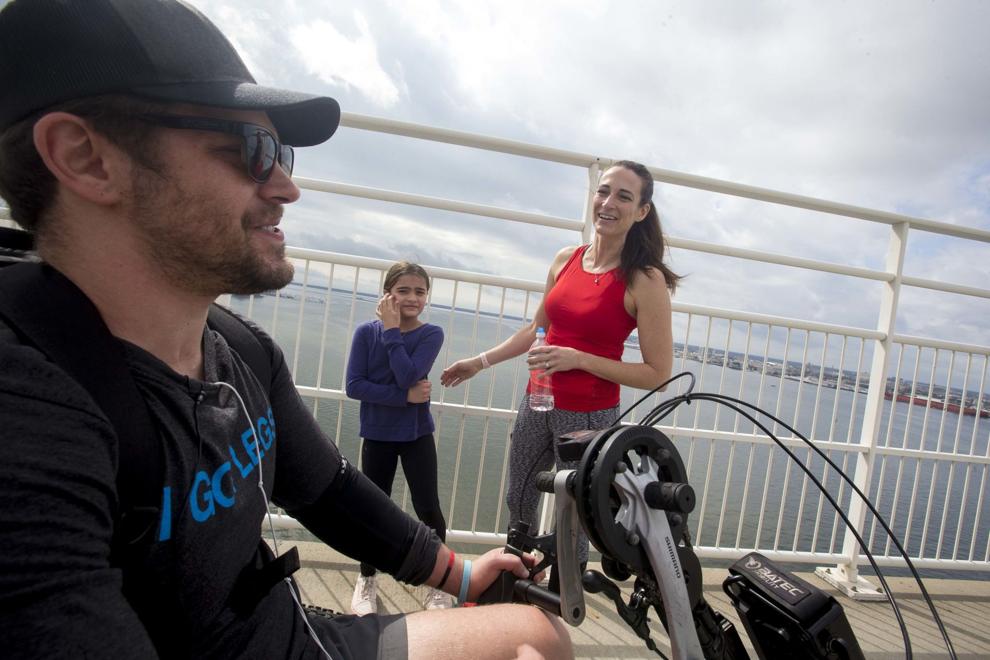 He breezed through the first few miles.
Sleep deprivation kicked in at mile 6.
The Exoskeleton needed a 90-minute repair at mile 8.
A cold rain fell as temperatures plunged into the 40s.
"I said, 'This is going to be tough,'" Gorlitsky said.
It took 20 hours. At 2:30 p.m. on Sunday, he finished with aching hands, wrists and abdominal muscles but flashing that Adam smile.
'Everybody has a disability'
Have you seen the video clip of New England Patriots wide receiver Julian Edelman yelling at quarterback Tom Brady on the sideline of the last AFC Championship Game, the one in which the 41-year-old Brady guided his team to an overtime victory in Kansas City?
"You're too old!" Edelman shouts.
A marathon?
It's one thing to do a "mini-marathon" as Gorlitsky has done before, starting at mile-marker 20 for events at Kiawah Island, Disney World and Washington, D.C., and Orange County, Calif.
He successfully completed a half-marathon, too, in Portland, Oregon, last October.
Or a half-marathon.
But the full 26.2 miles?
Gorlitsky has seen the looks of doubt among strangers, the lowered eyebrows among friends. He's heard a mock rant from a reporter.
You're too handicapped!
You're nuts!
"You know, in a way, you're right," Gorlitsky said, nodding as if someone just pointed out that dogs sometimes bark. "It's almost not real. I'm a paralyzed man walking. It's an oxymoron, right? But that in itself gives me motivation."
Gorlitsky hopes to beat the 36-hour world record for a marathon completed in an Exoskeleton that England's Simon Kindleysides set last year at the London Marathon. He preps for practice walks by watching basketball highlight videos on youtube. He favors Michael Jordan, Kobe Bryant and mostly Zion Williamson, Duke's freshman phenom from Spartanburg.
"Man, Zion," Gorlitsky said. "That guy's electric."
This is what you do when you want more people using Exoskeletons and want to drive technology toward more affordable things for people with spinal cord injuries.
Caitlin Patricia Weiler wants that to happen, too. A 33-year-old actress and producer based in Los Angeles, Weiler grew up as the daughter of a quadriplegic, the late William Weiler Jr., who was injured in an ocean swimming accident before she was born. She was looking for the right documentary project to benefit those with spinal cord injuries when Gorlitsky stumbled upon her Instagram posts.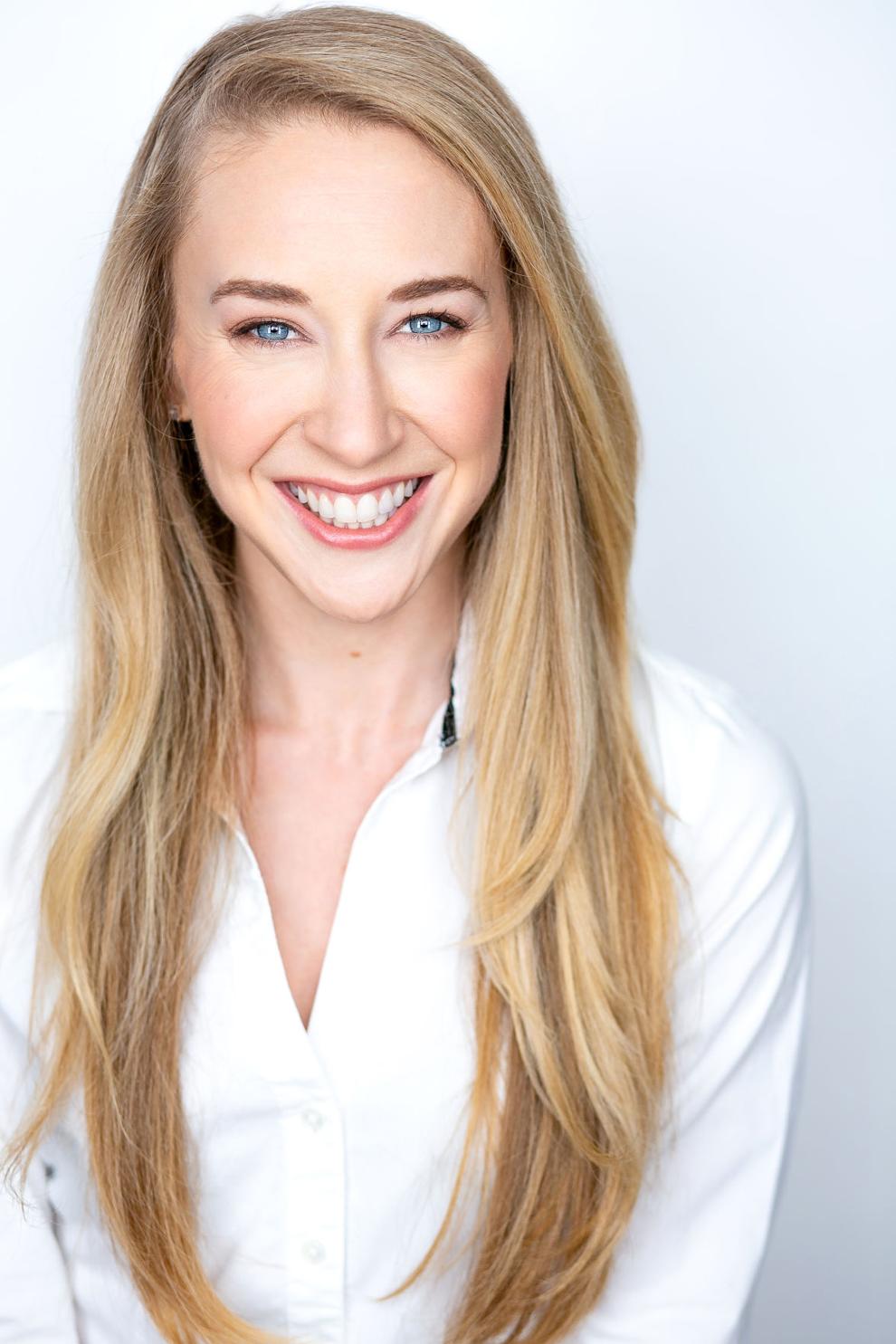 "Wow," Weiler told Gortlitsky after they shared their stories. "I can't believe you're telling me I'm inspiring when you're the inspiring one."
Weiler's Los Angeles Marathon documentary team for "EXO Rising" (www.EXOrising.com) includes Emmy-nominated co-producers Richard Joel and Adam Matalon. She was busy this week scrambling for permits and crowdfunding (www.SeedandSpark.com).
Gorlitsky recently spent three hours going over the race course on Google Earth. He carefully noted the path that goes down Sunset Boulevard, through Beverly Hills and past iconic L.A. landmarks.
Of course, Stan Gortlitsky will be there, too. He will adjust the Exoskeleton as necessary and soak up all the double-takes.
"You see, everybody has a disability — their own, self-made or whatever," Stan Gorlitsky said. "And everybody is impacted by a disability, if not their own than someday close to them. So many people have disabilities 10 times worse than Adam's. The worst is the guys my age who come to me and say, 'You got it lucky. I lost my kid.'"
The sweet father and son interaction reminds Osborne of "the village it takes to create a movement and all the people involved."
And a pair of Gorlitskys in motion always attracts a lot of people.
Follow Gene Sapakoff on Twitter @sapakoff.