Now is a rare opportunity to truly grasp the vast and varied work of artist Romare Bearden, the subject of a new exhibition at the Gibbes Museum of Art. 
Some might know that Bearden was born in Charlotte and raised in New York City and Pittsburgh after his family moved to escape the Jim Crow South. His home became a hub of the Harlem Renaissance. Bearden then ran with a crowd that was a who's who of 1950s and '60s artists, crossing disciplines and upending narratives to illuminate the Black experience. 
As part of that cultural groundswell, he parsed words with literary greats like James Baldwin, Ralph Ellison, Langston Hughes and Toni Morrison, and was a wordsmith in his own right, publishing many books and essays. He designed sets and costumes for choreographer Alvin Ailey. He could artistically carry a tune, too, penning songs for Dizzy Gillespie. And he traded painterly perspectives with Jacob Lawrence and Faith Ringgold.
Others know his collage work, which is widely recognized and included in public collections at museums such as the Metropolitan Museum of Art and the Whitney Museum of American Art.
But even with his prolific creative output and integral role among the mid-century avant-garde A-list, many contend that Bearden has yet to receive full due. An entire portion of his work has been excised from the discourse on Bearden, and that work represents a significant contribution to 20th century art.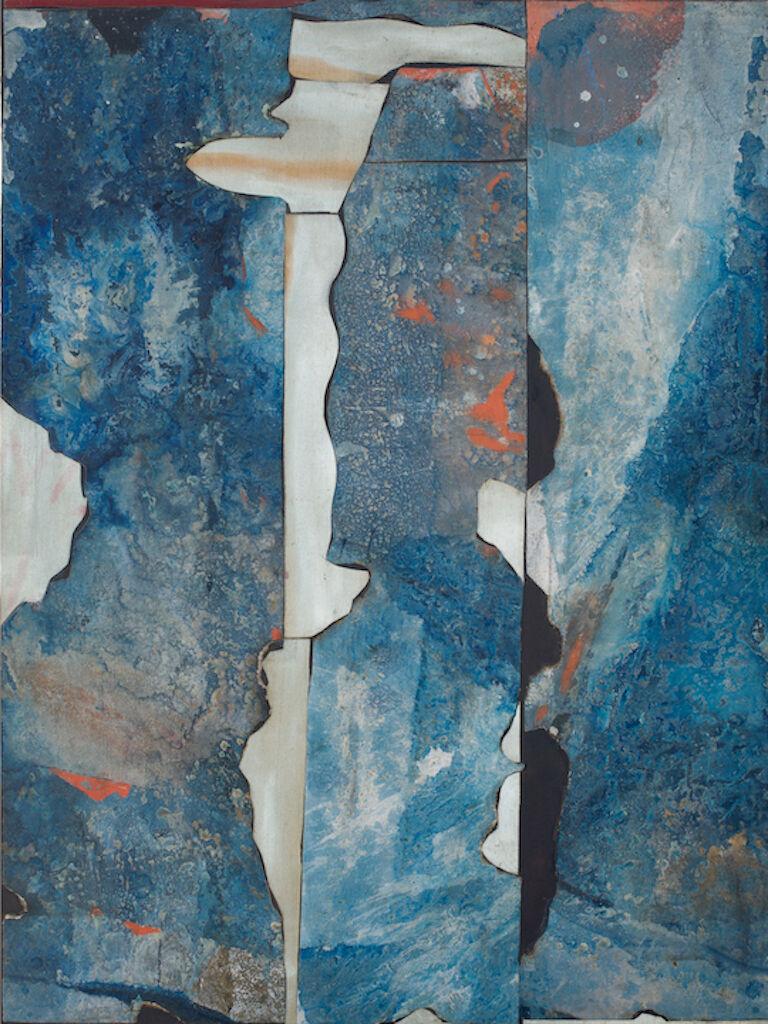 His abstractions, among them energized paintings in oil and casein or kinetic works of mixed media on painted board, appear to have first enjoyed a long-overdue 15 minutes of fame as recently as 2017. That's when Tracy Fitzpatrick, director of the Neuberger Museum of Art at Purchase College, SUNY, in Harrison, N.Y., first put together "Romare Bearden Abstraction." 
In 2020, when the abstract works he made from 1958 to approximately 1962 appeared at DC Moore Gallery, Roberta Smith of The New York Times wrote, "These paintings should startle. They are elegant, gritty works, alive with spontaneous splashes, pours and rivulets of paint, and they effortlessly claim a place in the history of American postwar abstraction, stain painting division."
The Gibbes from the get-go
And it all starts at the Gibbes.
The exhibition, "Romare Bearden: Abstraction," launches its national tour there on Oct. 15, where it will remain through Jan. 9, 2022.  It is the only museum in the South to show it.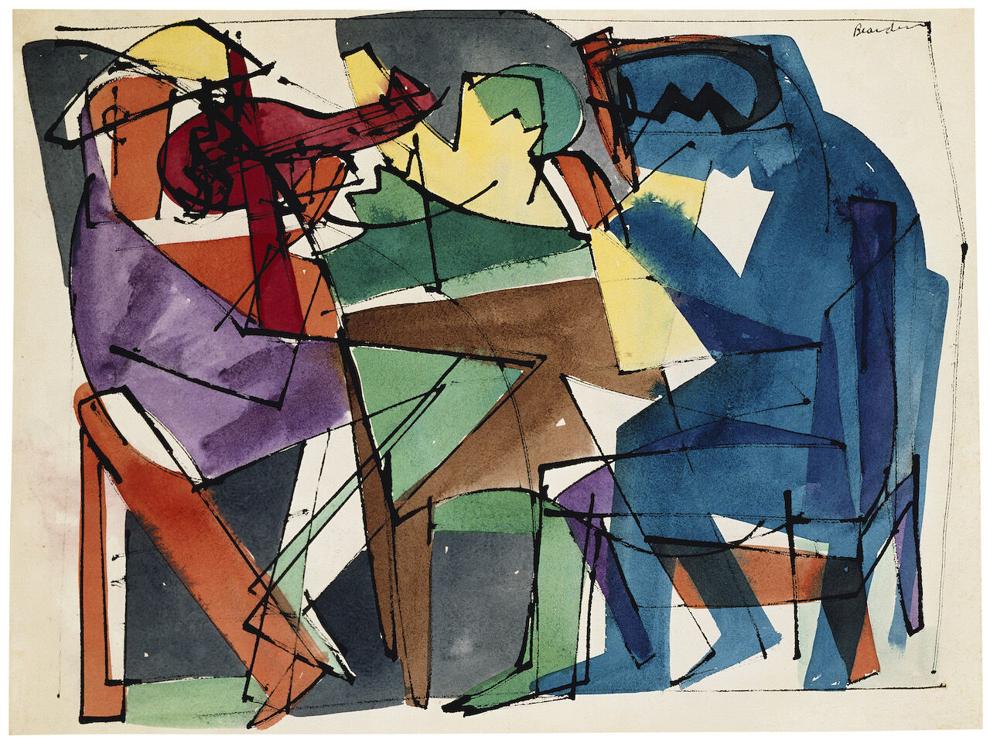 It was organized by the American Federation of Arts, a nonprofit touring organization dedicated to raising public awareness of visual arts, and the Neuberger Museum of Art.
For Gibbes Museum of Art Executive Director and Chief Curator Angela Mack, the exhibition furthers a trajectory at the museum, one that has in the past involved the curation of shows of Black artists. It also moves forward a partnership with the American Federation of Arts, which in 2019 joined with the Gibbes in the exhibition "Black Refractions: Highlights from The Studio Museum in Harlem."  
"It takes the conversation a step further in terms of no longer looking necessarily at who the artist is, but the quality of their work and how they contribute to the entire conversation of American art," Mack said. 
When it comes to press-worthy moments, she observes that this new look at Bearden, who died in 1988, warrants its place in the current conversation. She cites the swell of press surrounding the Jasper Johns retrospective that recently opened simultaneously at the Whitney Museum of American Art and the Philadelphia Museum of Art. 
The current exhibition may change that.
"Nobody has really focused on Romare Bearden in this way before. He was an incredible abstract artist, and yet do you ever see him listed with regards to the great abstract artists of our times? This is an opportunity to right that conversation."
Rarely seen works on a national tour
That first 2017 volley over the unbudging fence of the abstract canon is now aimed for a further push against previous assumptions with this ambitious national initiative. And it may have the force to correct the longstanding Bearden lapse.
"Romare Bearden: Abstraction" is set to tour 55 paintings, works on paper and collages representing the artist's abstract works, many of which are held in private collections that are seldom seen hung on museum walls. 
"Romare Bearden is one of the 20th century's great American artists," Pauline Willis, director and CEO of the American Federation of Arts said in a statement. "While Bearden's significance is recognized by the public and art establishment alike, the many layers of innovation within his body of work are relatively unknown."
Getting abstract
Bearden is most known for the collages he began in the 1960s that layer fragments of memory in bits of paper, snipped from magazines, which piece together in striking forms and figures the collective Black experience beyond the the propaganda Bearden expressed encountering.
But right before he fully engaged in the collages, he divested from specific regional and cultural references, instead entering the realm of the abstract. Such a departure was the direct precursor to the works for which he is most associated, largely eclipsing them.
Sara Arnold, director of curatorial affairs of the Gibbes, said that the goal is to show how influential this period of abstract painting was to the rest of his career that many are much more familiar with.
"The curators have tried to draw those connections." 
According to Fitzpatrick, who curated the exhibition, scant substantive scholarly attention has previously been paid to this body of work. The exhibition corrects that omission.
"The project contributes to the development of alternate storylines around the dominant narrative of post-war abstraction while at the same time revealing, for the first time, the roots of the body of work for which Bearden is best known," she said in a statement.
An opening weekend deep-dive
As the launching museum of the exhibition, its opening weekend is particularly robust, with partners and sponsors converging in Charleston at the Gibbes to delve deep into this period of Bearden's career.
On Oct. 15 at noon, "The Spaces Between" conversation with Fitzpatrick and Bearden Exhibition Curator and Diedra Harris Harris-Kelley, co-director of the Romare Bearden Foundation, centers on the artist's abstractions, what they offer our understanding of his overall body of work, and their relevance today.
On Oct. 16 at 11 a.m., collector Walter O. Evans will join the Gibbes for an in-person presentation on his extensive collection of works by such major American masters, including Bearden, Elizabeth Catlett, Aaron Douglas and Jacob Lawrence.
"Having Walter with us is really going to be amazing because Walter knew him well. We're having Romare come to life through him," Mack said.
More events will take place over the course of the exhibition. Through the works and the exchange surrounding them, the Gibbes is poised to further the conversation and forge vital new narratives. For more information, go to gibbesmuseum.org.