If you want to test the strength of your marriage, do a project together. Tile the bathroom or paint a bedroom. If you're still smiling when it's over, take the challenge to the next level. Do an outside project in July.
It's hard to enjoy the Lowcountry summer. It's the heat. It's the mosquitoes. Tempers flare, but my wife and I are still up for the challenge in a house we've owned for 20 years. Here's how a summer day in the yard looks:
We get out early in the morning to avoid the sun but differ on ways to stay cool. I prefer long-sleeved Columbia PFG shirts, which are vented and breathable. It keeps the mosquitoes and sun off me. I don't need a tan. I'm 52 years old and more concerned about skin cancer than my profile picture.
My wife mows the lawn. St. Augustinegrass is our primary turf because it's the most shade tolerant in the Lowcountry and we have plenty of shade. We actually plugged it several years ago with just a few pieces of sod. If you have the patience, this is a super economical way to establish a lawn.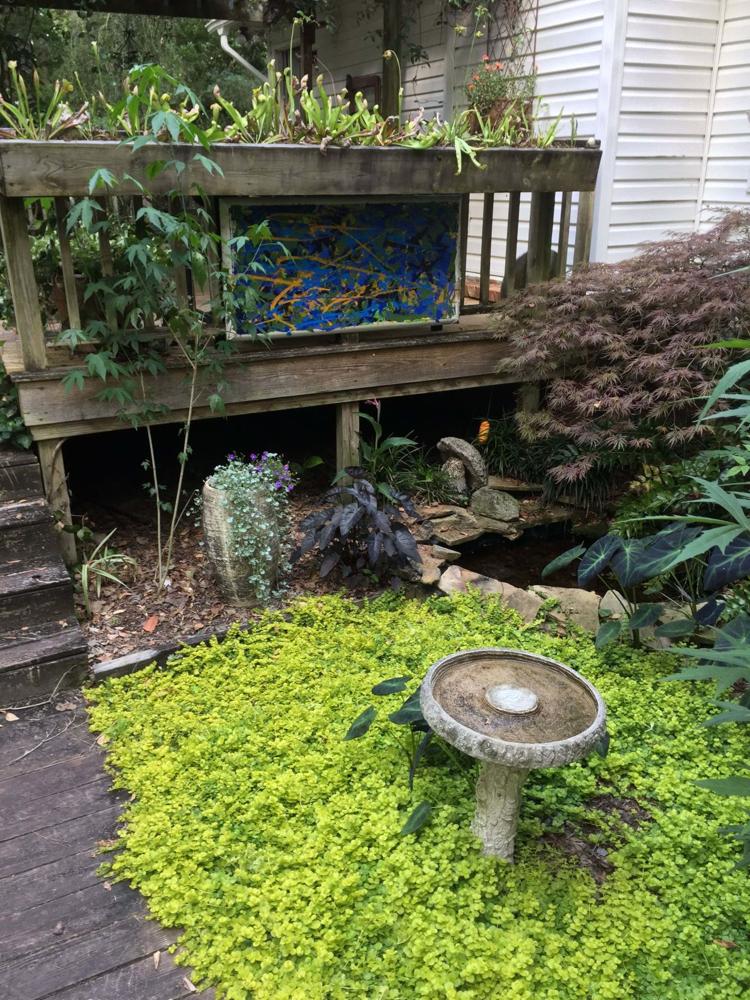 St. Augustinegrass is an aggressive spreader via aboveground stolons, especially in shady conditions where it's more adapted than any other turf or weed. To assist its survival, we don't fertilize and rarely use pesticides. Reducing stress is the best way to keep shaded turf healthy. It also helps a marriage.
We set the mower as high as it will go, which is 3.5 inches. Higher mowing heights provide more foliage and deeper roots and, therefore, reduce summer stress.
By the way, consider cordless mowers for your next purchase. You can mow at the crack of dawn and not wake up your neighbors. Gas won't go stale, either. We've been successfully using a cordless mower at the horticulture program at Trident Technical College for years.
While my wife is mowing, I do the pruning. In the summer, light pruning is acceptable. However, you want to be careful on shrubs that have already set next year's flower buds. For example, azaleas and many hydrangeas will flower sporadically next year or not at all if they're pruned heavily after June.
Most pruning can be accomplished with hand pruners or loppers. A quality pruning saw will do quick work on larger limbs.
Recently, however, I've had a few tree removals that required a chainsaw. Nowadays, homeowners can do most large cuts with a cordless chainsaw. It lacks the lumberjack appeal, but has real advantages for the homeowner. Infrequent usage won't have fuel clogging up a carburetor, for instance. You can store it in the garage for the occasional hurricane clean-up without having problems starting it. Just pull the trigger and let the wood chips fly.
That said, a fuel-powered chainsaw still provides the most power. It's also the most dangerous tool in horticulture. More injuries result from chainsaw accidents after a hurricane than from the actual storm. Keep the cutting teeth on the chain sharp. A dull chain will result in fine sawdust instead of wood chips. A round file and a YouTube video is all you need to sharpen it.
Always wear ear and eye protection. Get in the habit of engaging the chain lock after every cut. Also, consider investing in a pair of chaps. The majority of injuries occur on the legs.