My wife and I spent an enjoyable summer afternoon at the North Carolina Arboretum just south of Asheville in August 2017.
The weather was warm but pleasant as we strolled around the many different garden rooms that make up the arboretum. As with the J.C. Raulston Arboretum in Raleigh, the North Carolina Arboretum is more botanical garden, with a large variety of plants, than a traditional arboretum that focuses only on trees.
One of the unique collections at the North Carolina Arboretum is the bonsai collection. Due to the mild climate, these miniature trees are displayed outdoors from May to October along an inclined pathway.
Several bonsai specimens are miniature versions of native Appalachian trees, like American hornbeam and eastern white pine. Lowcountry plants, such as bald cypress and bougainvillea, are also part of the 50-plant miniaturized collection.
Several other spots around the Arboretum feature local arts and crafts. An elevated promenade provides the perfect viewing area for a large bed of annuals arranged like quilt blocks in a traditional triangular, basket design. Plants grown for fabric dyes are displayed nearby. Whimsical reconstructions of farm outbuildings, planters made from discarded farm implements and a wattle fence decorate other garden rooms.
As many modern botanical gardens now do, the North Carolina Arboretum cultivates many native plants. The website includes a photo montage of blooming native plants with color-coded labels for the season when the flowers are at their peak.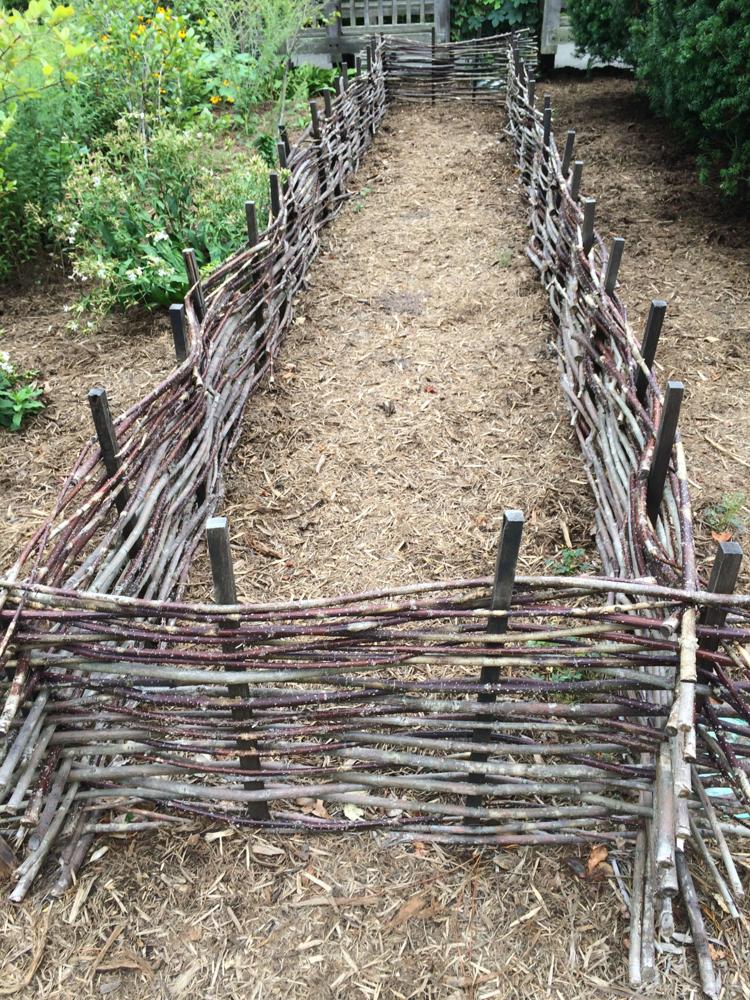 A large rain garden is near the main building, designed to catch run-off from the circular driveway and parking lot. The secret to an attractive rain garden is to include plants that look good when the rain garden is dry as well as when it is wet. In this rain garden, all of the plants prefer moist to wet soil but tolerate dry periods between rains.
When we were there, the weather was dry, and dwarf blazing star (Liatris microcephala) was in glorious full bloom. This attractive native plant is 2 feet high and forms clumps of blooming spikes in summer.
The irises, Virginia dayflower (Iris virginica) and miniature tall bearded iris (Iris fulva), however, looked like they were waiting for rain. Virginia dayflower is also called southern blue flag because of its light blue to lavender flowers. Iris fulva is also known as copper iris due to the red-orange flowers. Both irises are native to the southeastern coastal plain, although copper iris is found inland as far as Missouri. They were used in the rain garden because they tolerate standing water, a characteristic that also is useful in Charleston gardens.
Behind these short plants stood an ornamental variety of switch grass (Panicum virgatum 'Prairie Sky'). This variety is noted for its blue-green leaves and upright growth. Common rush (Juncus effuses), which grows in my drainage easement, also was included.
The taller plants swamp hibiscus (Hibiscus moscheutos) and arrowwood viburnum (southern arrowwood) (Viburnum dentatum) filled the back of the rain garden. Swamp hibiscus, or swamp mallow, is commonly seen blooming in June at the edges of Lowcountry swamps. The showy flowers are 4 to 6 inches wide. Of the six residents in this rain garden, arrowwood viburnum, planted at the highest point, is most tolerant of dry soil. The dark-blue berries of this native shrub attract songbirds.
The overall impression the rain garden gave was a large bed of native perennials. The five herbaceous plants are all recommended for USDA Growing Zones 6 to 9, which include all of North and South Carolina. According to the Missouri Botanical Garden, arrowwood viburnum is adapted to USDA Growing Zones 2 to 8, so the Lowcountry may be a bit too hot for optimal growth.
The North Carolina Arboretum does not operate just for visitors. Its Germplasm Repository maintains and propagates more than 2,000 samples of plants and fungi native to the region, which is renowned for its biological diversity. Scientists looking for new sources of antibiotics, drugs and nutraceuticals use the repository as a reference.
Visitors to the Asheville region should plan to spend time at the North Carolina Arboretum to see the native flora of this unique geographical and ecological region.