Trees are one of the most important aspects of our local ecosystem. I recently discussed the importance of certain native trees and encourage not only the planting of trees, but the use of native trees in particular.
Trees provide a tremendous amount of benefit for the wildlife and shade for other plants, but also provides aesthetic improvements to landscapes, as well as naturally cooling down areas and helping us survive the heat of the Lowcountry. Yet this is not all about what other native trees to incorporate into your home garden.
There are trees that one could consider "bad." While this is a relative term, I wanted to make everyone aware that though these specific trees still provide much of the same benefits as others we have discussed, there are also issues to be aware of in regard to invasiveness and threats to local plant life.
Invasive plants are non-native plants that can cause many different problems in areas and are considered the leading cause of native wildlife decline. These plants are often plants we as humans intentionally introduced to the area in order for the plant to provide a specific function. Kudzu, for example, was introduced for erosion control and soil improvements.
The main issue surrounding invasive plant species is their ability to spread aggressively and choke out native species. In some cases, these plants actually change the soil chemistry and restrict the growth of other plants to reduce competition. The list of invasive plants can be extensive, and even the list of invasive trees is fairly long. There are a couple in particular though that seem to be much more common in the Lowcountry and are definitely ones to avoid cultivating.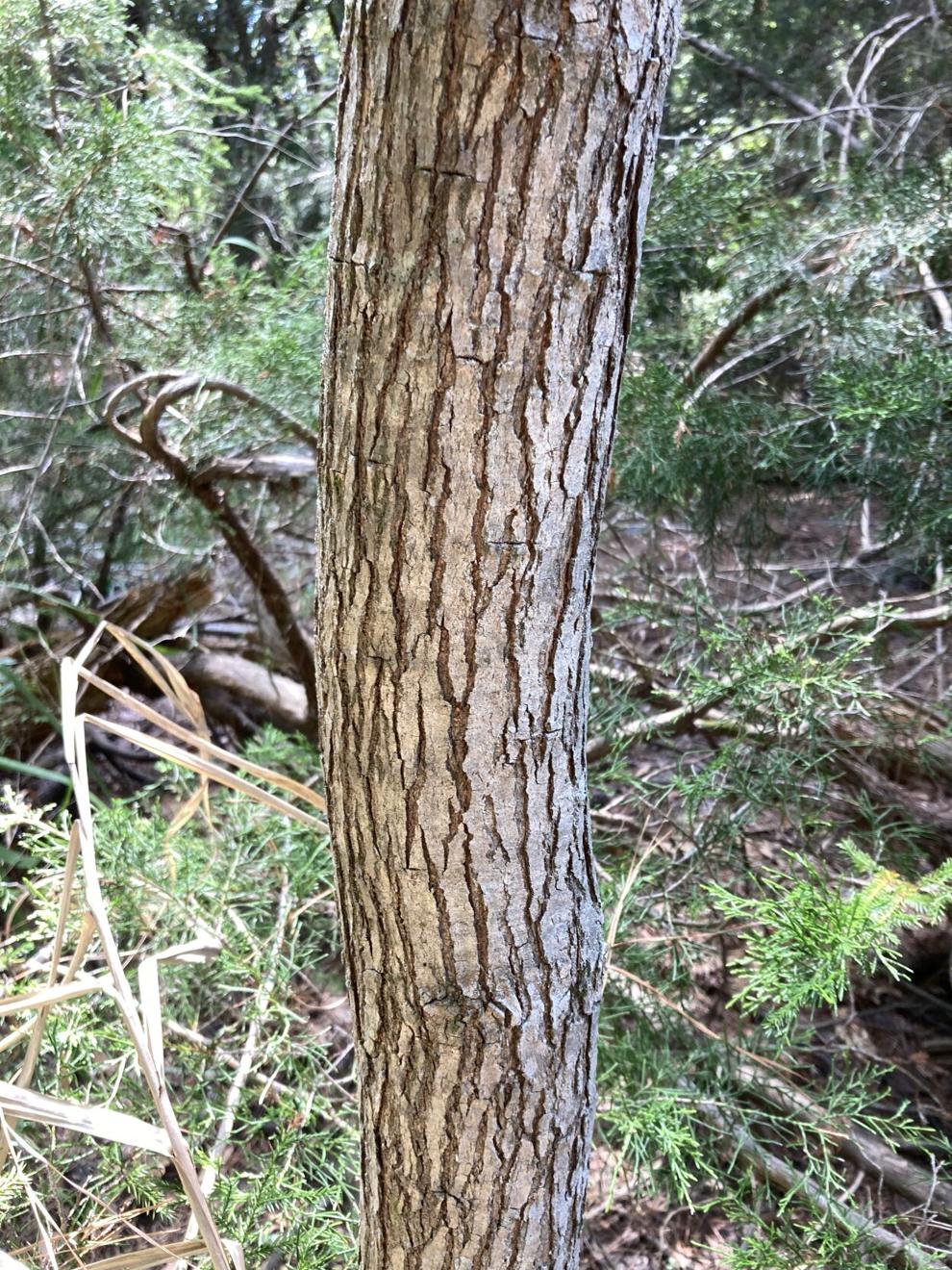 There is one tree that has been popping up everywhere and unfortunately is seen often as good shade trees in many areas. This of course is the infamous popcorn tree, also known as the Chinese tallow tree. The Chinese tallow tree, Triadica sebifera, is a deciduous tree in the Euphorbiaceae family. It is a medium-sized tree growing about 40 to 50 feet tall with a similar width. It is a relatively attractive tree that was originally introduced in the 18th century for both ornamental uses as well as a source of oil to make soap from the seeds. This tree has cordate leaves, or heart-shaped, kind of like a redbud but smaller and brighter in color. The tallow tree also has a fairly decent autumnal display on occasion, though like most of our other trees in this area, it is not consistent.
All that being said, this is not a tree one should plant in your home garden. Or, in more likelihood, allow it to grow after it sprouts up in the landscape. The Chinese tallow tree is exceptionally invasive as it is spread by birds and can grow in just about any situation it is dropped into. They prefer plenty of sun but are tolerant of shade and overcrowding, making it a prime culprit in spreading throughout the forested areas.
It is also known to change the soil chemistry, particularly through the tannins from the fallen leaves. There is some evidence that these trees also put out allelopathic chemicals inhibiting the growth of other plant species around it, though this may only be minor. That being said, there are issues with the spread of this species and the reduction of native plant species which in turn will hurt native wildlife.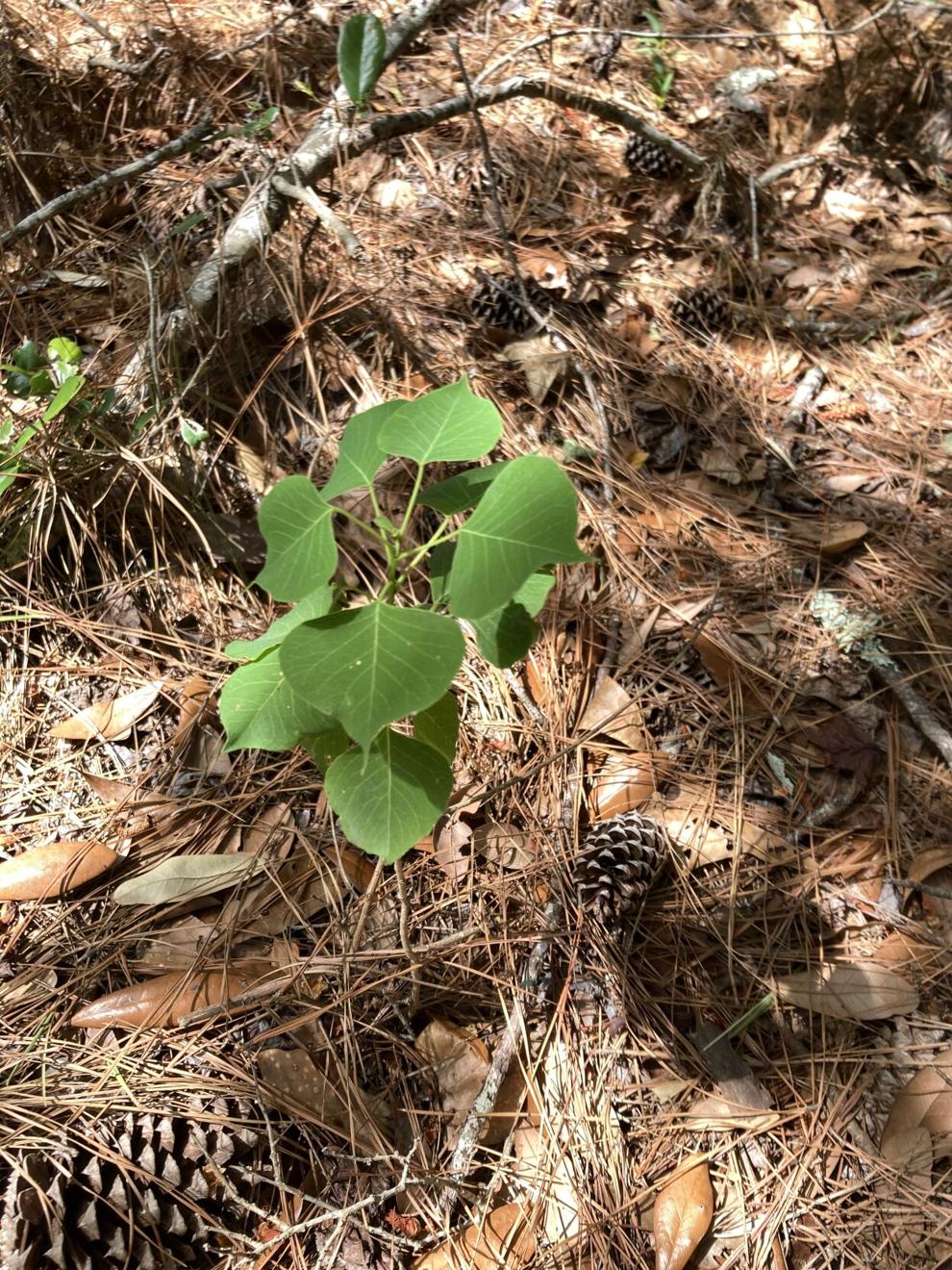 The main reason I am bringing up this known invasive species is the fact that many times the source of the spread into the surrounding areas is stemming from an established tree within someone's home landscape. These trees pop up, excuse the pun, far and wide and grow fast in a garden. Once they reach a certain size, they make for an easy-to-grow and attractive tree. Thus, many times these weeds are left alone to grow to maturity where they are forgotten.
This is an issue since these trees reproduce every year and their saplings appear in gardens and forested areas alike for miles around. I have saplings emerging in my own landscape and have yet to see a specimen walking around my neighborhood, which means that these are coming from farther out.
This is one of those trees I encourage everyone to keep an eye out for. If you have it in your own landscape, it would be the first tree I would take down, but obviously the earlier you catch them the better. Though these trees may provide some benefit, keep in mind the significant downsides of this unfortunate species. So when you see one of these, try and remove it if you can.
For help in identifying a possible invasive species, contact your local extension agent. For more information about invasive species, visit the Department of Plant Industry's website about invasive plant species at clemson.edu/public/regulatory/plant-industry/invasive.