Three floods in as many years.
It's something hundreds of Lowcountry homeowners have experienced since 2015, with varying degrees of frustration and cost.
And this year's hurricane season begins next week.
The recent storms, which weren't even direct hits, and growing realization that seas are only going to get higher in the coming decades have many rethinking how best to safeguard their largest investment, their home.
The concerns spread far beyond Charleston's historic district, which has many oft-flooded streets, but they resonate there even more because privately owned and maintained homes form the backbone of the region's tourism industry.
So Historic Charleston Foundation recently gathered some experts for a "Low Land vs. High Water" conference to offer free advice to homeowners about steps they can take to reduce their vulnerability to future floods.
A lot of their advice could be classified as common sense, and the experts also sounded cautionary notes about how rules continue to evolve in some areas, such as elevating homes. And many stressed the importance of being neighborly, whether it's working out logistics for raising a house or ensuring that your new landscaping work doesn't shunt stormwaters next door.
There are three ways to plan for future floods: armoring, adapting and abandoning. The forum focused on the first two, because no one wants to think much about the last option.
Minimizing damage
When it comes to a building drying out after a flood, not all construction is the same.
Richard "Moby" Marks, who has worked as a Lowcountry restoration contractor for 35 years, says flooding always has been on his mind as a homeowner, businessman and contractor, but he's trying to be even more pro-active these days.
He notes homeowners can take common-sense steps, such as moving their valuables to upper levels, having pumps and a generator on hand as well as fans to help flooded areas dry out faster.
For any rooms or floors likely to flood, avoid drywall, plywood and carpet. Hardwood floors might cup after a good soaking, but if they're allowed to dry out, many gradually will return to their original state, particularly ones where floorboards are thicker.
Anyone remodeling should consider using flood-resistant materials such as blue duct, UF electrical wire and cement board.
Marks says homeowners should avoid encapsulating their crawl spaces, and instead should do what they can to improve ventilation there. Stagnant, moist air can lead to lingering damp and mold and related problems.
Air conditioning equipment and electrical boxes should be positioned as high above the base flood elevation as possible. 
Going up 
Since last year, dozens of Charleston homeowners are looking into taking the more drastic step of elevating their homes to keep the water out.
The city's Board of Architectural Review and its active preservation community would have laughed off such moves five years ago, but they are coming to realize that elevating certain historic homes might be the only way to save them. The city is expected to produce a set of guidelines later this year.
Winslow Hastie, CEO of Historic Charleston Foundation, asked how homeowners can determine how high they should elevate their home. He got no single helpful answer, but experts says the number can vary, depending on federal flood rules and city codes, insurance considerations and aesthetics, particularly how the newly elevated house would appear from the street.
Architect Virginia Lane outlined some examples of urban and rural properties she has worked on elevating.
"It's very complicated," she says. "It's a very sensitive case-by-case situation."
"No one wants us to have that beach house-look with a boat underneath," she adds, particularly not downtown.
Mike Blake of Wolfe House Movers had one simple but important piece of advice: Anyone contracting with a company to elevate their house must ensure the contractor has cargo or rigger's insurance.
The question of raising a house can be further complicated by whether a raised house can be lowered onto a modified version of its existing foundation or needs a brand-new one. (Charleston recently has seen both; the historic house at 42 Rutledge was placed on a new set of 75 piers sunk 80 feet down; the house at 78 Murray Blvd. was elevated but placed back on top of its original foundation.)
And for homes on small urban lots, another complicating factor is to what extent a neighbor might be willing to help with allowing equipment on their property temporarily.
"Your neighbors are a large consideration," Blake says. "It's a tough situation because everything is expensive."
The good news is the technology exists to move or elevate almost any building: Blake showed a slide of moving the Bellview-Biltmore Hotel in Florida, an enormous building 180 feet long and 80 feet wide, weighing 1,750 tons.
Don't forget the yard (or garden)
Anyone planning to redo their lawn and garden should be mindful of how much flooding it received in recent years, including whether the water was fresh or salt or somewhere in between.
Landscape architect Glen Gardner has seen instances where floods killed off new gardens, and he says homeowners should think more in terms of preparing for the everyday or occasional floods and be more stoic about the epic ones.
"All bets are off the table when you have two feet of floodwater," he says. "We do what we can to accommodate floodwater, but sometimes your best is not enough."
Elevation changes, even subtle ones, can help guide the heaviest rainfalls off your property and into the nearest storm drain, but that should be done with care.
"You cannot legally shed water onto your neighbor," he says. "You can't inflict your water on other people."
More dramatic elevation changes, such as planters and coping walls, can make it smart to use different plantings than those in lower spots more likely to flood. In those spots, consider native plants such as dwarf palmettos, Mexican sage, Japanese ewe and yaupon holly.
"There are no salt-proof plants," he says. "They're salt tolerant."
In one particularly vulnerable spot, Gardner even created an outdoor chessboard with stone and artificial turf.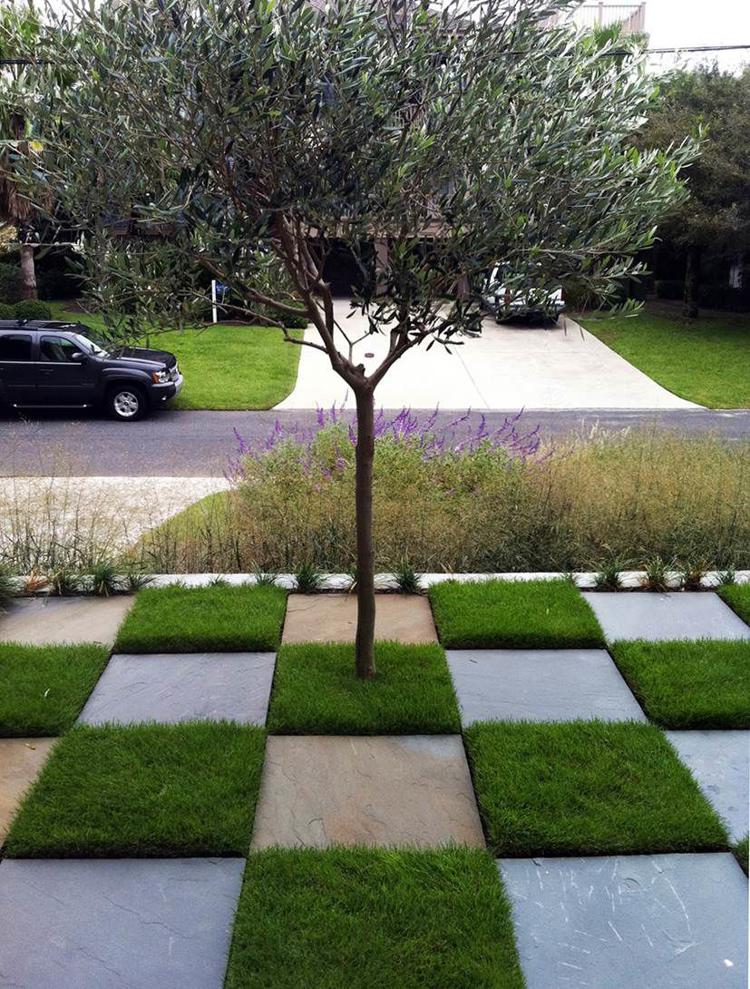 Those covering areas with a hardscape should consider how pervious it would be — how easily a rainfall could pass through it into the soil.
It's even possible for homeowners to use pumps to remove water from their property, and if they have drains running from their yards to the city's stormwater system, it might be wise to install a backflow preventer to keep the highest tides and heaviest floods from pushing water backward.