CLEMSON — Dabo Swinney's white whistle hung low over a long-sleeved purple shirt preaching the constant Clemson message: "Passionate About Winning" it read, with the PAW letters in bright orange and the rest in meaningful white.
But even with two national championship trophies won over the last two seasons — and the last one awarded after a 44-16 beat down of No. 1 Alabama less than two months ago — there was a double-take as spring practice commenced Wednesday with a padless workout.
"I looked out at that first group defensive line today and Holy Cow," Swinney said.
No more Christian Wilkins, Clelin Ferrell, Dexter Lawrence or Austin Bryant. All the members of Clemson's "Power Rangers" front four are gone to prepare for the NFL draft.
"It was pretty neat," Swinney said. "I told (the new players) they did a good job."
An early priority minus the likes of Wilkins, Ferrell, wide receiver Hunter Renfrow, linebacker Kendall Joseph and others is finding new leadership.
"It's critical," Swinney said. "I think the two most underrated things on any team are chemistry and leadership. It's as simple as that. It's easy to look at a roster and see talent, experience and all those things but leadership and chemistry, it's not as easy to see that. It's nurtured, it's taught and a lot of things have to go in it."
Established leaders include offensive lineman Gage Cervenka and most of the secondary — veteran defensive backs Tanner Muse, A.J. Terrell and K'von Wallace. Swinney also mentioned linebackers Isaiah Simmons and Shaq Smith, wide receiver Amari Rodgers, running back Tavien Feaster and guards Sean Pollard and John Simpson (Fort Dorchester High School).
"We have it (leadership) in a lot of areas but we have to grow some guys in those areas in the defensive line," Swinney said.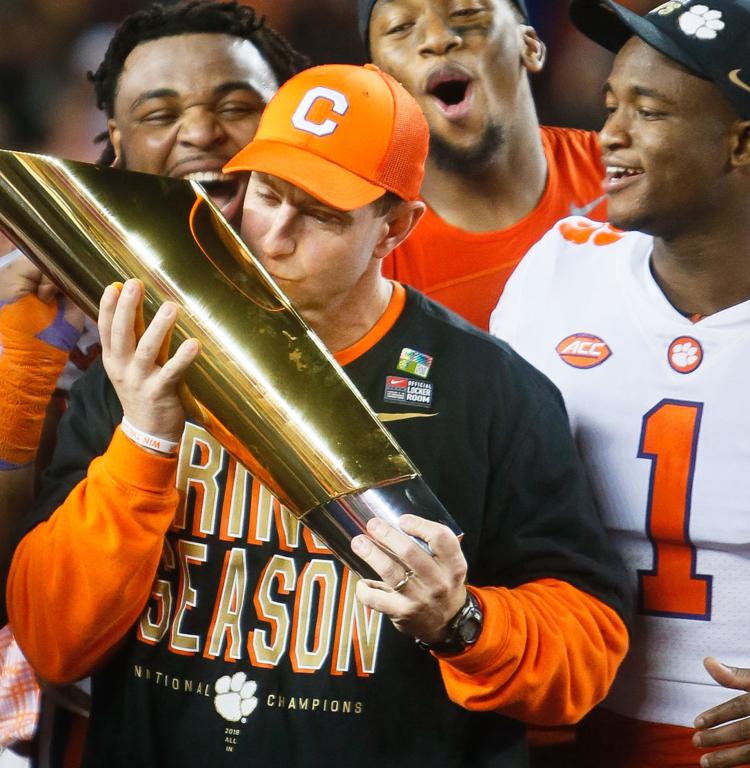 Lawrence vs. Brice, sort of
Swinney insisted the depth chart at quarterback isn't set, though rising sophomore Trevor Lawrence is an All-America candidate coming off back-to-back tremendous College Football Playoff games against Notre Dame and Alabama.
"You have to come out and prove every day that you have to be the guy, no matter who it is," Swinney said. "(Former Clemson quarterback) Deshaun (Watson) had to prove it every year, every day. That's the kind of urgency we keep and the guys, they love that. That's why we're good."
Backup quarterback Chase Brice, Swinney said, "is a great player."
But, Swinney confirmed, "We're in a great spot at quarterback. I feel great about those two guys."
Next up
Clemson's next practice is Friday with another set for Saturday. The players have Sunday off. The annual spring game is April 6.
Follow Gene Sapakoff on Twitter @sapakoff