Understanding classical architecture is sort of like playing the guitar: It's easy enough to start but can take a lifetime to master.
And the folks at the Institute of Classical Architecture & Art would like to see more people start what they hope will be a lifelong journey toward appreciating a style of building that goes back millennia.
To that end, the ICAA and local teachers and architects held a sort of classicism crash course in Charleston recently.
Edith Platten, the ICAA's director of education, said the two-day school was intended for students, including those at the College of Charleston, Clemson and the American College of Building Arts, who want to learn more. But professors and others were welcome, too.
Peter Lyden, president of the ICAA, noted that this sort of teaching has disappeared from many schools. Those who have their appetites whetted can consider enrolling at the ICAA's longer program in New York during the summer, an intense, month-long course.
"We're filling a void in the academy," he noted.
The goal of the recent two-day course was not so much to create a level of expertise but to introduce the basics, and to demystify something that can get lost in a dense forest of vocabulary, with words such as "entablature," "architrave," and "tympanum," words only experts say and words I still need to look up occasionally even after writing on this topic for more than 20 years.
Had you attended the two-day school the course, here are some lessons you might have learned.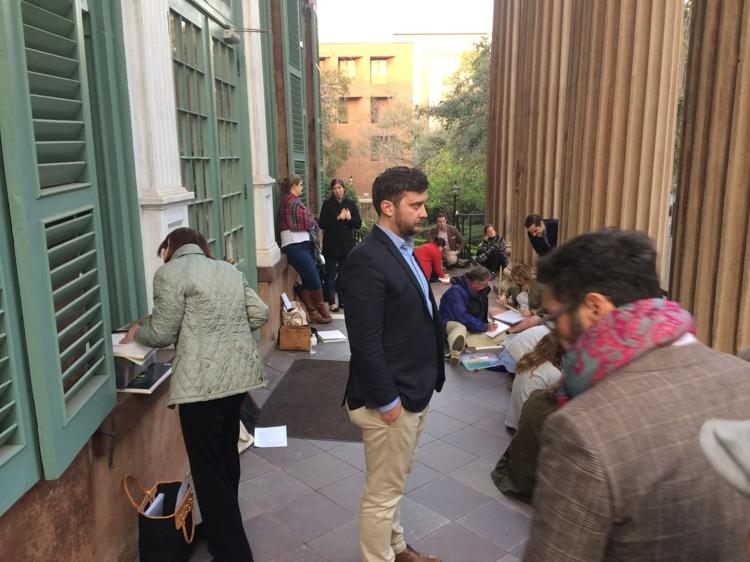 A hierarchy of detail and use
The grandeur of the architecture reflects what the building is used for, says architect and instructor Michael Mesko, who serves on the ICAA board.
This point was actually a pretty easy lesson to get across at the recent workshop because it was held at the College of Charleston, and nearby examples abounded.
The sheer massiveness of the six-column portico of Randolph Hall, the college's main building where students made sketches, makes a statement that it's the most important building.
"It says, 'Thank you for looking at me,' " says Nathaniel Walker, an assistant professor of architectural history with the college and a faculty host for the recent course. "It's an important civic building, and we're bigger for stepping into it."
Mesko says the classical language is applied in varying degrees depending on the purpose of the building and its civic role in a larger setting of neighboring buildings. It can be appropriate either to increase scale, add complexity of forms and detail, such as "fluting" or parallel recesses on columns, such as found at Randolph Hall, or to simplify and strip away, as was done with the secondary Porters Lodge building at the Cistern's other end.
Aside from level of detail, different orders can signal a building's role. Grander buildings can feature the more ornate Ionic or Corinthian orders, while secondary ones, such as the Porters Lodge (where the college's original caretaker lived), might be detailed with the simpler Tuscan order.
And both detail and order can be used within the building, too. For instance, the grand single house at 51 East Bay St. has exactly the same hierarchy of column capitals (Doric, Ionic, then Corinthean on top) as the Roman Colosseum.
And they can differentiate the front door from the back, which is why Charleston architect Albert Simons used the Ionic order for his grand remake of Randolph Hall's rear entrance. Grand, but not as grand as the front door.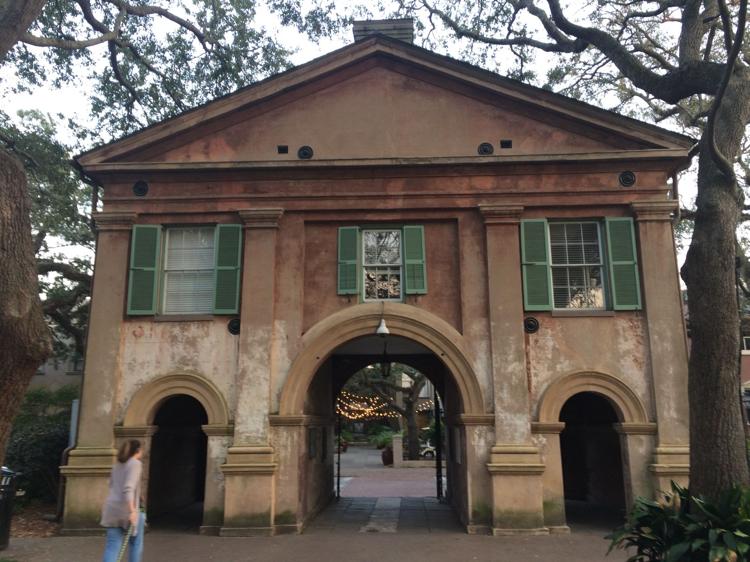 One language, many accents
During the course, Mesko explained how the different orders each share a sort of symmetry of proportion. For instance, whether it's Tuscan or Corinthian, all parts of a column are a particular proportion of a common unit of measure, the lower diameter of the column shaft, and are shaped and sized for the purpose they serve.
"It's not an arbitrary assemblage of things thrown up in a haphazard way," he says.
But while some rules of classicism are more or less absolute, the architecture itself varies based on the particular place, especially in what materials are available and how hot or cold (or wet or dry) it is.
"It's a common language of different accents," says Walker.
The architectural language partly reveals a building's structure, or tectonics, as well as poetry.
"The column capital is not a fancy doo-dad. It's an expression of negotiation between one force and another force," Walker says. "It expresses acceptance and negotiation."
And column shafts themselves often are not of equal diameter but slightly narrow toward the top, an often-difficult-to-discern feature known as entasis. It makes stability perceptible, an expression of the physical loads of a building.
There's also a handcrafted nature to it, one reason why the recent course included a session on measured drawing.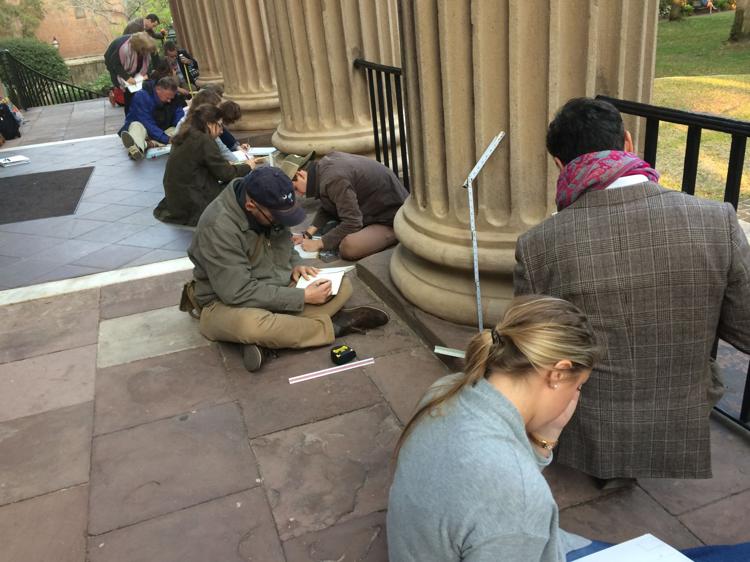 What's old can be new, too
While most everyone understands the importance that classical architecture played throughout history, some might not understand that there's still a demand for it.
True, today's architectural styles run the gamut, from the brazenly new to the far more traditional. Some of the more traditional new examples might not even be seen or understood as new.
The school involved an overview of some new classical work, and Charleston's larger downtown is replete with examples, too, particularly the newly remodeled Gaillard Center or the new Grand Bohemian Hotel at 55 Wentworth St. or a series of new homes along the Septima Clark Parkway.
Mesko notes classicism, while based on past traditions, still can take on new narratives, such as the treble clefs and palmettos in the Gaillard's capitals. 
The ICAA knows all this instruction won't turn everyone involved in designing and maintaining our buildings into the architectural equivalent of Carlos Santana, but it also believes the deeper people understand the tradition, the longer it will continue to live and to give.
"Our idea is not to intimidate," Lyden says. "It's to welcome everyone."
The big idea, Mesko says, is to help more people become literate with the vocabulary and principles of classical architecture, so that they, along with examples existing in cities like Charleston, can inspire new buildings and places.