SANTA CLARA, Calif. — It could have been worse.
It could have been raining during the game.
Clemson and Alabama football fans who had to put up with dreary Bay Area weather over the weekend got a dry Monday night and temperatures in the low 60s and high 50s for the College Football Playoff National Championship game at Levi's Stadium.
But a West Coast venue for a matchup of Southern powers eroded the secondary ticket market, a plus for late-buyers and disappointing for others.
It rained some of Saturday and almost all Sunday from San Francisco to San Jose, 40 miles south, as fans did their best to enjoy their latest big game weekend.
"Any place can have bad weather," Bill Hancock, executive director of the College Football Playoff, told The Post and Courier. "I was at the Orange Bowl one year and it was 36 degrees. In January, weather is weather. We made the right decision to bring the game here."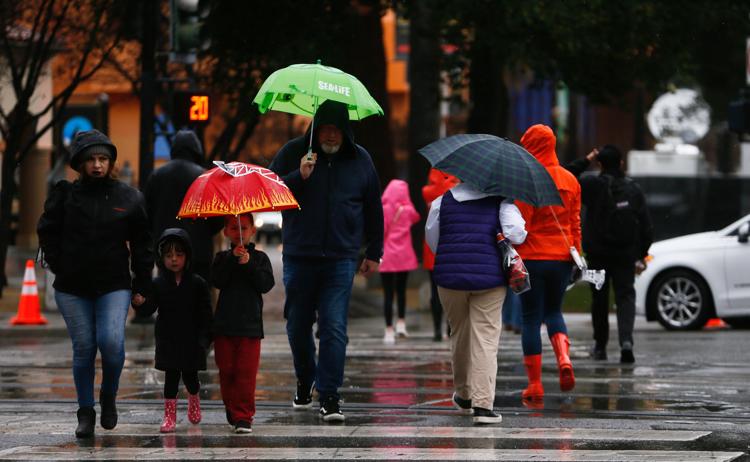 Picking a Northern California site came with a weather risk. The other four College Football Playoff national title games have been played in Arlington, Texas; Glendale, Ariz.; Tampa and Atlanta. All those venues but Tampa are indoors.
Future sites include New Orleans in January of 2020, Miami in 2021, Indianapolis in 2022, Los Angeles in 2023 and Houston in 2024.
"We want to move the game around," Hancock said. "We want to share it with different parts of the country. That's the right thing to do. I don't have any doubt about that."
A ticket to the Alabama-Clemson game at Levi's Stadium with a face value of $475 plummeted to $125 on secondary markets last week, though it made a late rally.
The cheapest tickets were listed at $170 on StubHub on Sunday afternoon and nudged up to $220 Monday afternoon.
"It's the schools being so far away," Hancock said. "It's interesting that last year in Atlanta people were complaining that the price was so high. And this year, it's so low. C'mon. The fact is, no one can control the secondary market."
The secondary-market ticket price for the Alabama-Georgia national title game in Atlanta last year shot up to more than $1,700.
Clemson President Dr. James P. Clements made a good point about venue and ticket price questions.
"Every other university in the country wishes they were having this discussion," Clements said. "I'm thankful for our very dedicated and loyal alums. They travel. They spend their hard-earned vacation money and Christmas money to get here and we're thankful for that."
Rain didn't impact Playoff Fan Central activities inside the 100,000-square foot San Jose McEnery Convention Center. Options included interactive football-themed games, shopping, food and a display of trophies from New Year's Day Six bowl games.
A free concert scheduled for Sunday in downtown San Jose headlined by OneRepublic and Ellie Goulding was canceled because of rain.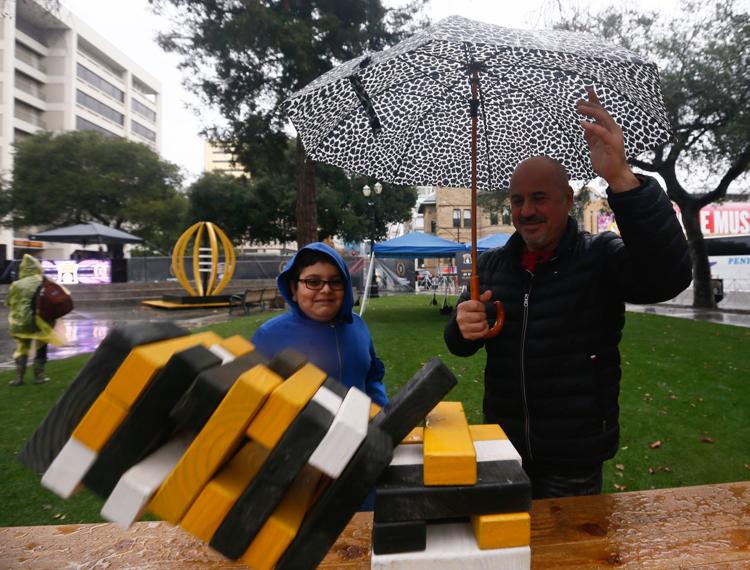 But Keith Urban went on as scheduled prior to the game Monday at the Championship Tailgate across the street from Levi's Stadium. Urban sang such hits as "Blue Ain't Your Color" before a cheering crowd of Clemson and Alabama fans.
Follow Gene Sapakoff on Twitter @sapakoff