It was an act of mercy.
The redbuds at the Trident Technical College horticulture program have been slowly dying for the past 20 years. Redbuds are native to South Carolina, but they're susceptible to verticillium wilt disease. Wilt pathogens enter a host through the roots and colonize the vascular tissue, or plumbing, of the tree. With redbuds, it doesn't always kill the hosts but rather makes them very, very sad for a very long time. The branches die, foliage wilts and growth slows.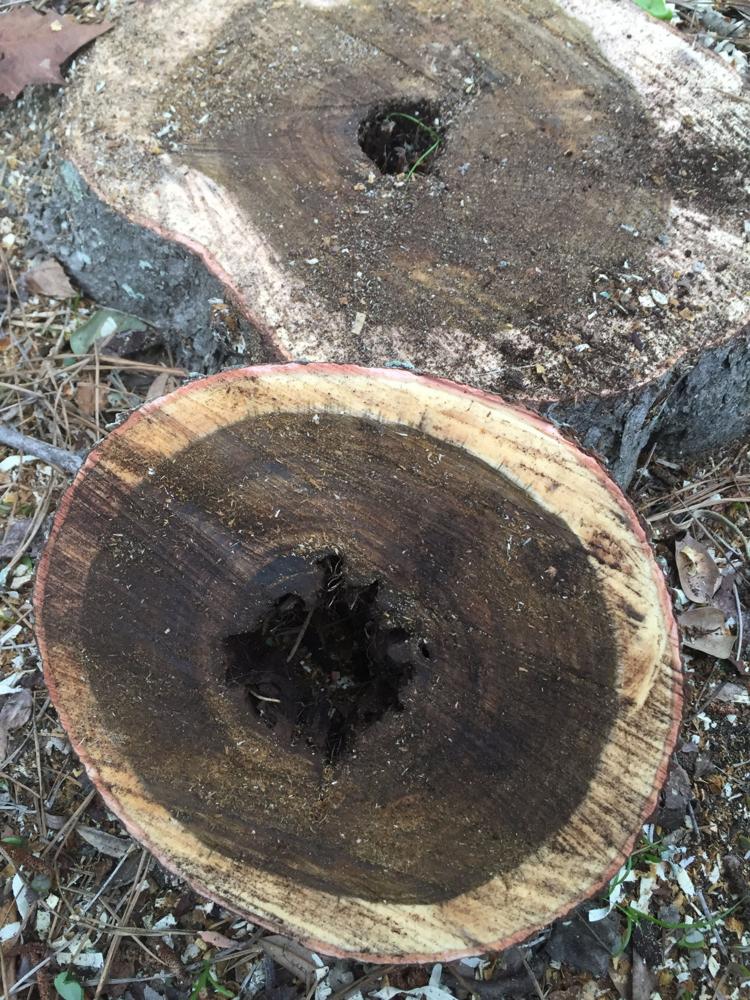 While pruning saws can do some damage, one of the most dangerous tools in horticulture is the chainsaw. With the generous help of Schneider Tree Care, the arboriculture class at Trident Technical College was armed with safety gear and went to work. 
Once we put our redbuds out of their misery, we observed the telltale symptom of vertillium wilt: the heartwood was stained with circular rings. In this case, there was an interesting side effect. The center of the tree had completely rotted and the cavity was filled with roots. In seeking out moisture, the tree's roots were growing up through the center of its own trunk.
There are no fungicide treatments for vertillicium wilt. Reducing stress can prolong the tree. We cut down a redbud several years ago only to have suckers grow back from the stump. Since then we trained one of the suckers growing into a small tree and it looks pretty good. It still has the disease and I might be retired by the time it succumbs to it, but in the meantime we have a seemingly healthy redbud.
Native plants like redbud are normally a good choice for the landscape. That doesn't mean they don't have problems. They support numerous organisms and increase biodiversity that's so important to the ecosystem.
Mimosa trees are another small tree that gets a wilt disease, in this case it's fusarium wilt. Unlike redbuds, mimosas will often die suddenly. With or without the disease, I'm not a fan of mimosa. Yes, it has pretty flowers. I won't argue that. It is, however, an invasive tree that readily reseeds itself. Invasive plants can alter the environment and reduce biodiversity. Mimosa isn't as aggressive as kudzu, but it's still problematic. And it will likely die from wilt disease.
If you're looking to fill the small tree niche, try these alternatives:
Dogwood is a native tree. It does struggle a bit with the Lowcountry climate, but it's still a viable choice. Afternoon shade can help reduce stress. It's susceptible to leaf spot disease and twig boring insects, but they're not nearly as severe as wilt disease. Avoid pink flowering dogwoods and stay with the standard white flowering species.
Crape myrtles are a fine choice. Yes, they are overused because they're so reliable. But there are so many choices in size, foliage and flower color that we can get a nice variety. Sizes range from dwarf shrubs to 30-foot-tall trees. They are not native but they are not invasive either. By the way, you do not have to prune them. I repeat, you do not have to prune them. However, it is important to choose the right size. For instance, Delta Jazz is a small crape myrtle with plum-colored foliage that rarely needs pruning.
Vitex, or chaste tree, is a home run. You'll see this small tree's purple flower spikes this time of the year. This is a fine substitute for the much coveted lilac shrub for those of you relocating from cooler regions; not so much for the foliage but the flower color. It is relatively pest-free and rarely needs pruning. And bumblebees love it.
One of the best choices for a small tree is the underutilized chionathus, or fringe tree. This can also be grown as a large shrub, but it can be limbed up as a tree that provides a stunning display of white flowers in the spring. And it's native.