The Mepkin Abbey Creche Festival drew my wife and me, with friends, up to the Abbey again this year. Mepkin is one of the most beautiful places on the planet; its Abbey is a force of divine zest grounded in peace and quiet. The annual festival welcomes guests to experience the beauty, serenity and deep tradition of the monastery in a generous way. The Creche Festival is in its 18th year — we've made this visit to Mepkin a family tradition over many years.
In case the word isn't familiar, "creche" is the tableau picturing the birth of Jesus with Mary and Joseph, shepherds and their animals, sometimes a few angels, gathered around the manger.
It's a scene easy to romanticize. But I responded to something entirely different this year in the amazing array of creches on display — something the opposite of "sentimental."
Of the 95 creche scenes in the festival, many were crafted by artists and ordinary folk in countries where poverty prevails. When these artisans molded, sculpted or carved the figures of shepherds, and even of Mary and Joseph — all from the lower rungs of 1st Century society — they captured their hard life with a gravity that moved me emotionally.
Hunger and fear are graven in some of the figures. Creches from Peru, for example, pictured hard-living Peruvian men and women you could find in a village today, gazing at a baby with an uncertain future. In these creches, artisans from all around the world poured their own real life experience into that venerable scene in Bethlehem.
Which is just exactly right and true.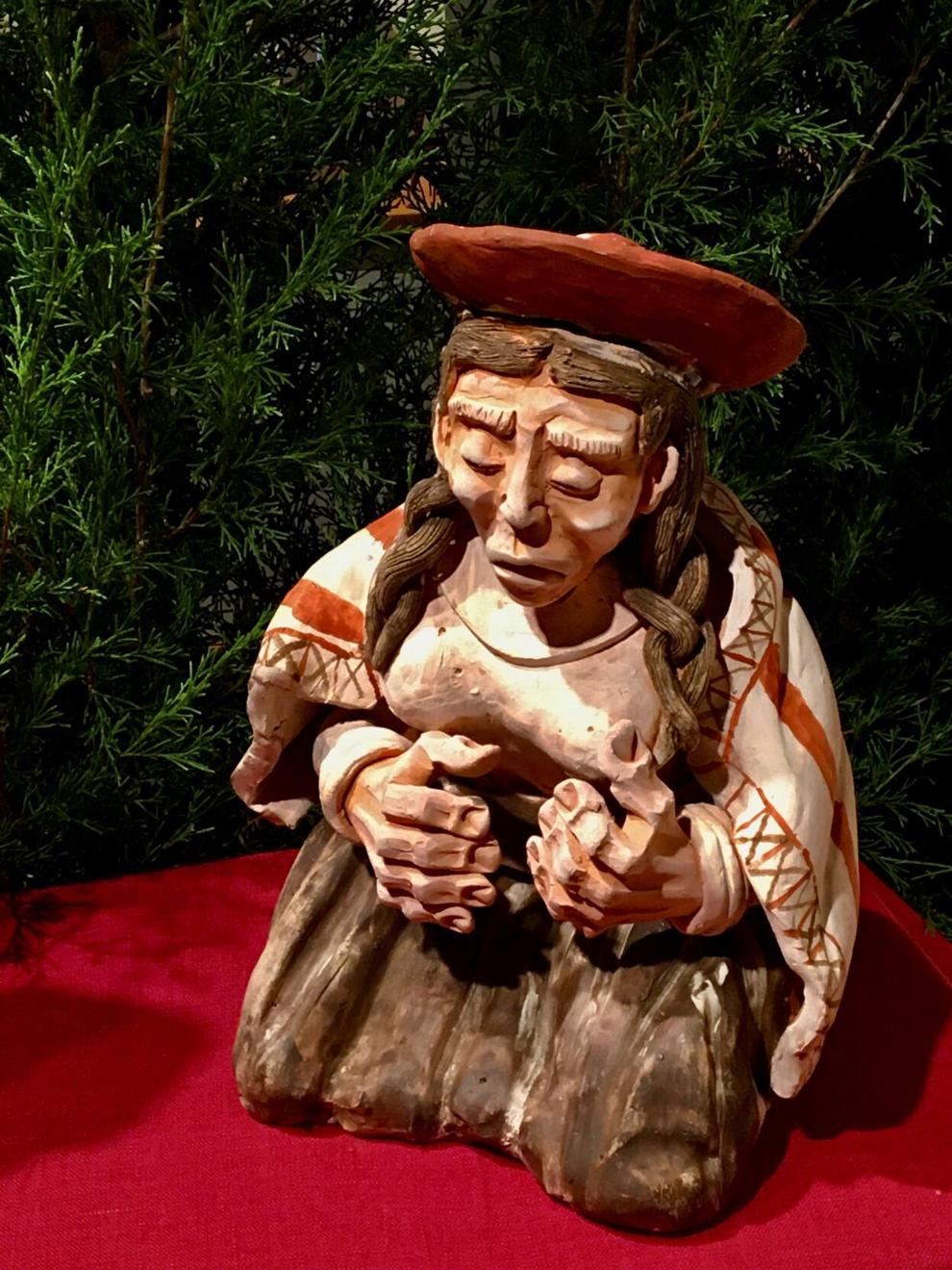 Why? Because we all know that we see things not as they are, but as WE are. The creche scene is a sturdy container into which struggling human beings pour our poverty and sense of dislocation, our vulnerability, our hopes and fears — our life condition. Even our fear of being ordinary — because the original creche scene in a cold barn in Bethlehem is ordinary to the extreme.
There's volumes more to be said about it, of course, but standing before those handcrafted creches at Mepkin, responding to the simplicity and the poverty transparent in many of them, I was moved to feel my own simplicity and poverty. And, maybe because of my age, my personal vulnerability too and — yes, this is the word — my ordinariness.
The creche tells a story. It is not an answer to questions, it is not doctrine or a set of beliefs. It's a story, and stories make poor dogma because they speak with a different voice, they always leave themselves open to interpretation, they engage our heart. Stories create a different consciousness.
What the Christmas story urges is not belief or argument; it is simple compassion. The drumbeat of the story is full-range humanness stripped of finery and titles, prestige and pretensions. A new baby comes into the world with a lifetime before him and opens the question: Who will this child become? The parents care deeply; the art helps us to care too.
Still deeply impressed by the signs of simplicity and poverty in the creche display, my mind turned to the old story about the Greek philosopher Diogenes. One evening he was eating bread and lentils for supper. He was seen by the philosopher Aristippus, who lived comfortably by flattering the king.
Said Aristippus, "If you would learn to be subservient to the king, you would not have to live on lentils."
Said Diogenes: "Learn to live on lentils, and you will not have to cultivate the king." 
The Christmas story and the creche that represents the story quietly teach us to live on lentils — and to enjoy the freedom and integrity that such simplicity makes possible in our society. And as to the poor who literally are surviving on lentils, the story blesses them, even before the Beatitudes were uttered by the one who as an infant is seen in the creche.
You don't have to be of advanced age to start appreciating more and more the value of simplicity to us humans — or as the Beatitude has it, "blessed are the poor in spirit." (The Gospel of Luke is more blunt, "Blessed are you poor.") But people in the second half of life get it at a deeper level, I think. We are more aware of our own weaknesses. We've let go finery and titles. Many are anxious about what lies in store for them.
What draws elders to the creche is less the fanfare of angels announcing what's going on here, and more our resonance with penny plain shepherds and with simple parents who had to give birth in a barn, and resonance with the little one lying in the feed trough in a very dangerous world. And, if we are of a mind, also with the climate of trust palpable in the room, and because of the trust, peace that makes the whole scene soul-satisfying.
Gazing, really looking at these figures that are transparent to the raw hopes and fears of their makers, one is not moved to heady, "theological" questions but to earthy, human ones. Such as: What's next, and how will I cope with it? Who or what do I trust? For me, lentils and bread, or fawning to power?
My take-home message from those elemental figures at the Creche Festival? Something like this:
I don't need to be right. I don't need to win.
I don't need to make more money. I don't need to get even.
I don't need to appear holy.
I don't need to feel shame and beat myself up.
I don't need to live up to anything. I do need: joy, simplicity, and caring.
That's more than enough to last until next year's Mepkin Abbey Creche Festival.