For those who savor traditional architecture, the new Edmund's Oast Exchange at 1081 Morrison Drive should be all the buzz, and not just because of all the beer and wine lining its shelves.
In a sense, its design is almost biblically orthodox, and in another sense, it's totally not.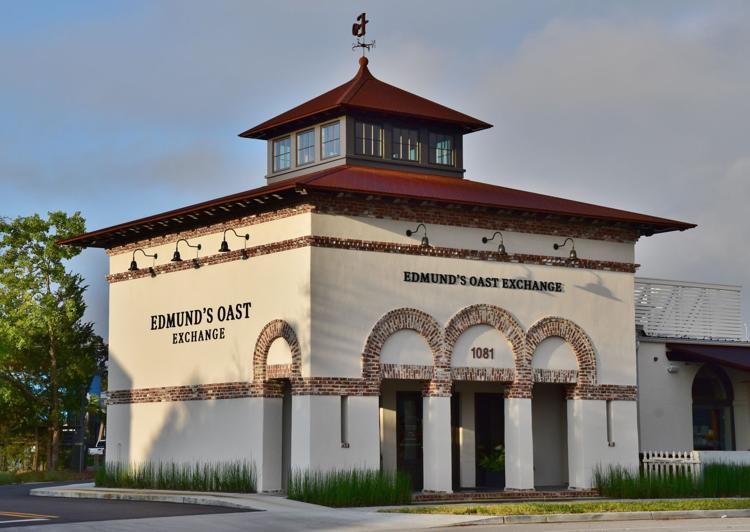 The orthodoxy part stems from Andrew Gould, who designed this as his first retail store after designing about 15 Orthodox churches, including the Holy Ascension Orthodox Church in Mount Pleasant.
"They joked through the design process that it looks a lot like one of my churches," he says. In fact, its exterior is a riff on the Romanesque (with its three brick arches) and the Italian Renaissance (with its dramatic cornice brackets).
"I just hate how most commercial buildings look," he says.
But the real treat begins once a person steps foot through the door and notices what might be the city's first timber frame building surrounded by a masonry shell built in modern times.
The joinery, done by Bruno Sutter of Timber Artisans LLC, is a dramatic display of craftsmanship.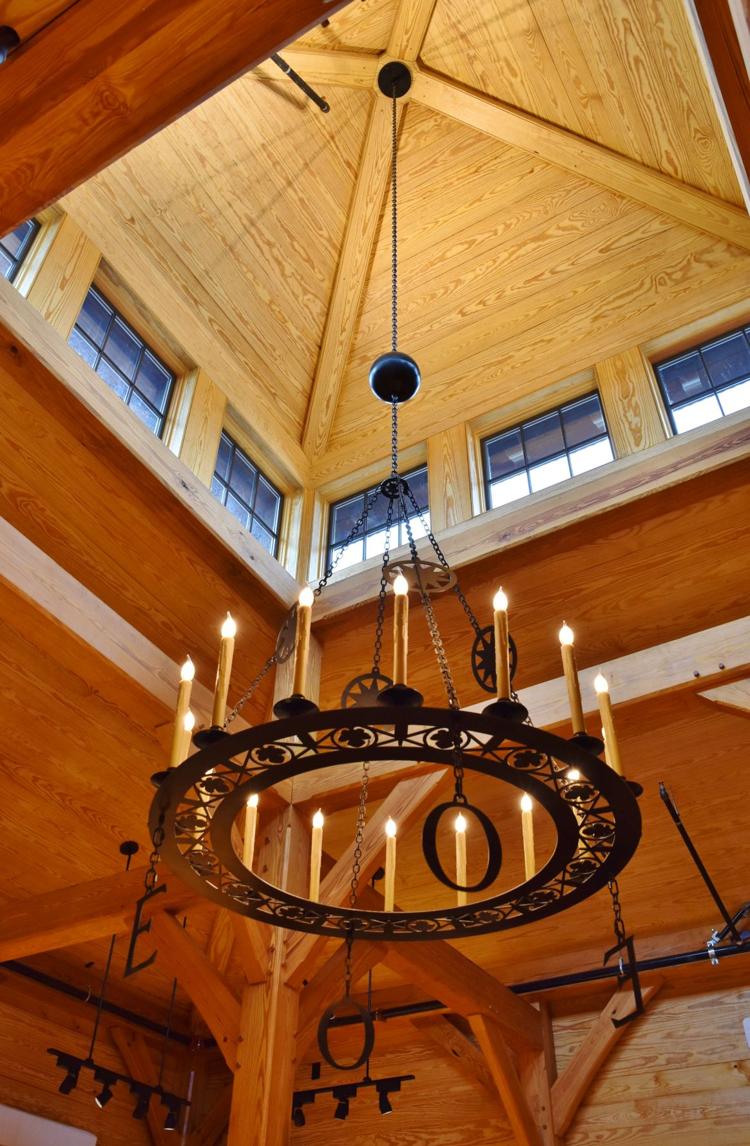 The interior stairs have wooden treads but metal rails that meet code but create a less enclosed feel. Otherwise, it's a tribute to some of the best construction in the city's past.
"That's one of the reasons I had Bruno come and carve '2017' into the beam," Gould says. "I wanted to make it completely obvious when this was built."
The yellow pine timbers and built-in shelving and tables creates a warm golden glow and makes the myriad of bottle labels the main splash of color.
The building has no windows, which helps maximize its display space. Gould created a cupola and cut a circle between the first floor ceiling and the second floor to allow that natural light to pour down. That proves that when well conceived, a cupola is not just an ornamental flourish up on the roof.
Ashley Harwood, a Charleston carpenter who teaches classes on bowl turning and wood turning, created the approximately 250 spindles for the shelving, and Gould notes it took her about seven minutes each.
"I think the shelving was more challenging than the timber frame, actually," he says.
The metal chandelier, not unlike what one might find in an orthodox church, has its own sort of secular symbols: Es and Os for the business's name as well as shapes of beer bottles and grape leaves. 
Now for the unorthodox part. There is a reason more new stores (offices, homes, etc.) don't look as good as this.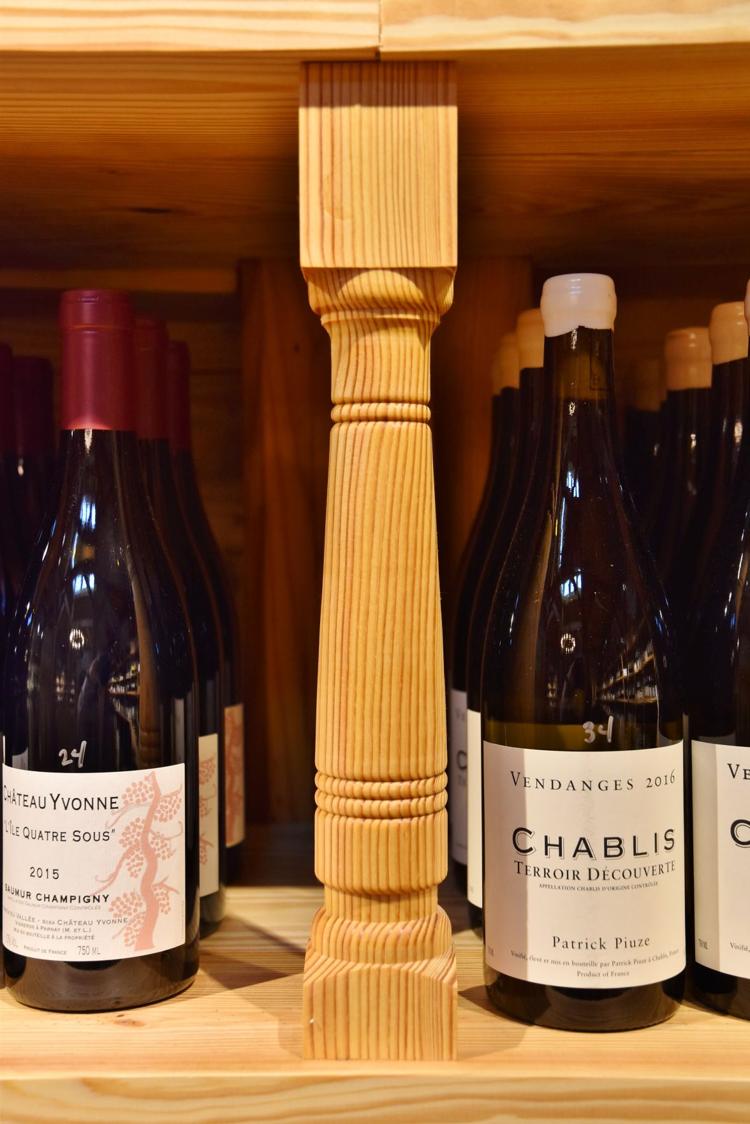 Steve Zoukis is not only the landlord, but a partner in the business and a guiding hand behind Half Mile North development. He's ready to admit that the expense of this architecture is much more than such a business normally could justify, but his unique involvement put the project in a different light.
He also notes it's important not to set the bar too low in a neighborhood that's turning around, and that the building's quality shows respect for what's for sale inside.
"We were mentally prepared to overspend on this to deliberately set the bar higher," he says. "We just marked it down as a marketing expense."
Another reason why he justifies the expense lies in the increasing online competition that retail shops face these days.
"Who will survive in the new retail environment? It's the place that gives people a special experience, and I think that's a really special experience," he says. "When the pricing came back even higher than we expected, it was just swallow hard and go forward."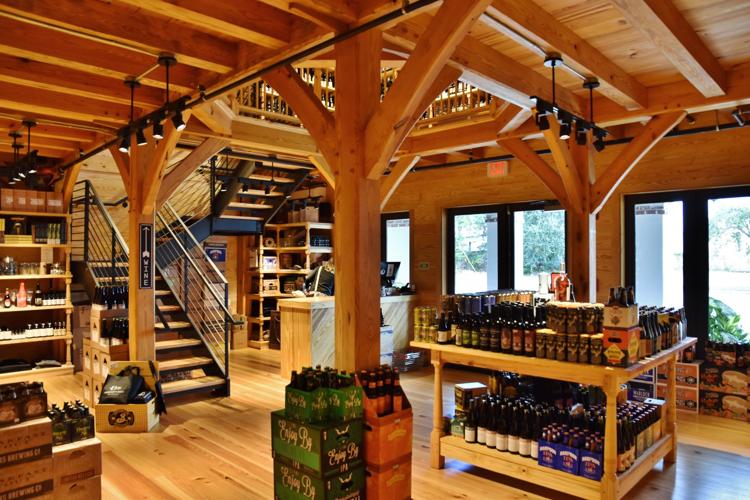 Gould, who has studied architecture but is not a licensed architect, describes himself and colleague George Holt as "contemporary designers who believe that answers to modern questions can usually be found in the past."
The building also begins to correct what some have considered a criticism of the Half Mile North project that has breathed a funky new life into the north central spine of Charleston's peninsula. That correction is a lack of urbanism, where surface parking dominates.
"It's done a lot to give an urban feel to this block," Gould says. "I'm hoping this sets the tone for the redevelopment of the other side of the street."
Zoukis says the area isn't quite to the point where people will pay to park.
But if it sees more more quality buildings like this, one can see that changing over time.