COLUMBIA — The University of South Carolina has more reported COVID-19 cases than almost any other major university in the country, a sign of the school's struggles to contain the virus after reopening the campus. 
USC's 1,192 reported cases since Aug. 1 is more than the universities of Florida, Mississippi, Virginia and Washington combined. 
During checks of university dashboards by The Post and Courier, the only college found to have more reported cases than USC was the University of Alabama with 1,201 cases.
But Alabama's total goes back through March when the coronavirus outbreak began. Alabama has had 1,043 cases since Aug. 18, while USC surpassed it with 1,092 since classes started Aug. 20.
USC is finding more cases, in part, because it is testing more students and staff than many other schools, according to university dashboards. And not all school data is current through this week like USC. 
"Quite frankly, sometimes I feel our aggressive testing program is going against our ability to build public confidence," USC President Bob Caslen said Wednesday.
South Carolina's flagship college with about 35,000 students has more cases than schools with much larger enrollments — University of Texas (504 cases dating back to March), Penn State University (73 cases since Aug. 7) and Ohio State (511 cases during a two-week period late last month). 
USC is averaging nearly 100 cases a day since classes started, which is 8½ times higher than the recent statewide infection rate. Put another way, South Carolina would be averaging close to 7,200 COVID-19 cases a day if the state posted the same infection rate seen at USC. Several days last week, USC accounted for 15 percent to 30 percent of all daily cases statewide.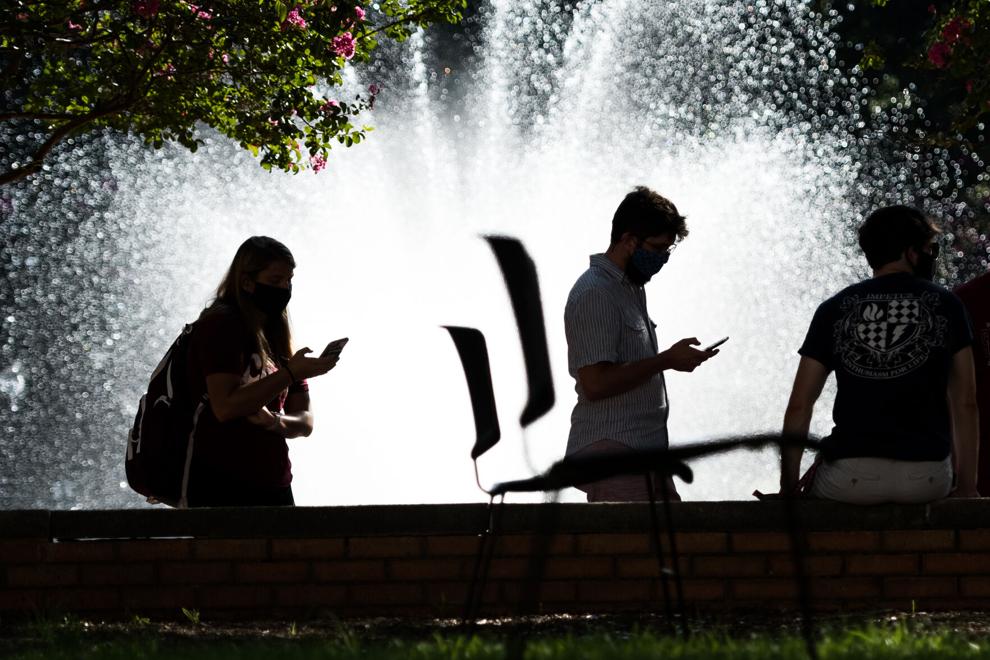 Still, the state's largest college has no immediate plans to stop in-person classes or close the campus like it did in March when the outbreak spread to the Palmetto State. The University of North Carolina ended in-person classes on Aug. 17 after reporting 177 cases. 
A dashboard USC leaders are following to make decisions has a "low" alert level despite 60 percent of quarantine beds being occupied and mobile testing units deployed to two unnamed dorms where wastewater tests found hot spots.
What's helping is that the school has enough personal protection supplies and health care capacity to handle cases, and there is no evidence of USC cases spreading into the community and staff, administrators said Wednesday. Student cases, which make up 98 percent of all USC infections, have been either asymptomatic or resulted in minor COVID-19 symptoms. No one has been hospitalized, though four students were taken to the emergency room.
"I do not have any plans to close," Caslen said during a town hall to students, families and staff on Wednesday. 
USC has contingency plans to shut down parts of campus if cases spread beyond students, Caslen said, but he does not want to dump USC's COVID-19 problem on the community by closing. 
Caslen said he is willing to take criticism over having a national high case count to gain control over the outbreak. The school's 900 to 1,300 tests a day help administrators to identify infected students so they can get well and return to class, he said.
"I believe in transparency," Caslen said. "If I don't test, I don't have any positives. If I don't have any positives, you don't make them news and no one pays attention."
Keeping the college open also is vital to the bottom line. USC leaders estimated the school could lose more than $165 million in revenue because of COVID-19 disruptions and has announced spending cuts, hiring freezes and furloughs. Top administrators have taken 10 percent pay cuts.
The school still plans to have 20,000 fans in the stands of Williams-Brice Stadium, including thousands of students, when the football season resumes Sept. 26.
USC's COVID-19 outbreaks have led to a crackdown on off-campus parties, with more than 15 students suspended so far as a result.
Half of the 20 Greek houses are under quarantine, with six facing discipline. The school's fraternities announced Wednesday that they planned to shift new member recruitment to all virtual after initially planning in-person events next week. Sororities also held virtual recruitment.
The city of Columbia passed an ordinance to punish landlords for allowing large parties. Activity in Five Points, the bar-heavy district near campus, has slowed with a statewide 11 p.m. halt to alcohol sales aimed at ending late-night, potentially virus-spreading crowds.
USC is the only major public university in South Carolina that started the semester with some in-person classes. Clemson University, the state's second-largest school that started fall classes online, has reported 336 COVID-19 cases since June 5. 
The spike in cases on college campuses was expected. 
"To some extent, it's natural to want to commune and have fellowship with new friends, so it's not surprising," College of Charleston social psychologist Lisa Ross said.
Meanwhile, young, healthy students are seeing friends contract the virus and only have mild symptoms for a few days or watching friends being careless without suffering consequences and assume the same will happen to them.
"It reinforces their illusion of being invincible," Ross said.