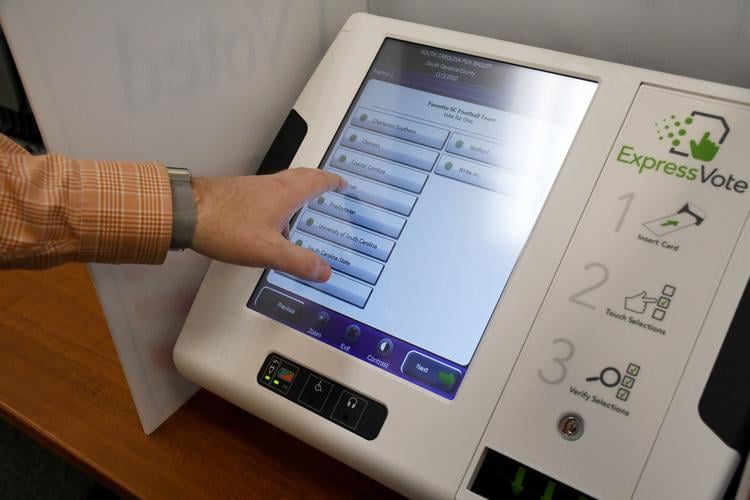 Elections have long been an adventure in Richland County, but it will receive grant funding that could make future elections go a bit smoother.
Richland County Council passed a measure at its Sept. 15 meeting to accept $730,000 in grant funding for the county office of elections and voter registration. The grant funds will come from the Center for Tech and Civic Life, an elections-focused nonprofit that has received financial support from Google, Facebook, the Knight Foundation and other organizations.
The nonprofit is doling out more than $250 million to local governments for elections this year.
According to county paperwork, the grant to the Richland elections office will include:
- $450,000 for absentee ballot processing equipment, including a ballot counting machine and a large inbound mail sorting machine. 
- $100,000 for advertising to promote absentee voting.
- $150,000 for 30 additional voting machines.
- $25,000 for miscellaneous elections supplies.
There is also $5,000 in grant funding set aside for secure drop boxes for absentee ballots. However, the state Legislature has passed a measure that would prohibit drop boxes for absentee ballots.
County officials have said there could be as many as 60,000 mail-in absentee ballots in Richland this year, as some citizens are looking to avoid crowded election day lines amid COVID-19.
Richland elections director Alexandria Stephens tells Free Times she hopes to have much of the new equipment in place before the Nov. 3 general election. However, she says the large mail sorting machine might not be available in time for this year's election, but it could be used in future elections.
The grant funding comes as Richland County looks to rebound from a calamitous June 9 primary. 
That day was marred by an extreme shortage of poll workers because of COVID-19 fears, numerous combined precincts, hours-long waits at polling places (the final votes were cast in the wee hours of June 10), and reports of people receiving incorrect ballots.
The county election commission announced Stephens' hiring on June 19. Her hiring came after a more than year-long search for a director for the embattled department. 
Since she came on-board, the county has run the Sept. 8 special primary for the District 9 seat on County Council. While that was just a one-district election, it went off without any problems.
The State reports the county already has about 1,100 poll workers signed up to work in November, way up from the few hundred it had for the June 9 primary. Still, the county is hoping to sign up several hundred more poll workers before election day.
Elections have a gnarly recent history in Richland County.
In addition to the recent June 9 debacle, the November 2012 election was particularly troublesome, with many complaining of machine shortages and hours-long waits at the polls on a day when, among other things, a contentious, $1 billion transportation penny tax referendum was on the ballot.
There also was the 2018 elections mess. In that instance, more than 1,000 ballots were not counted in the November election. While the blunder didn't affect the outcome of any races, it shook Gov. Henry McMaster's confidence in the county elections commission. Subsequently, he removed the entire board in February 2019.
After a new board was installed, it formally removed then-director Rokey Suleman from his post in May 2019.
There was another gaffe during this year's Feb. 29 Democratic presidential preference primary. In that instance, 74 absentee ballots were miscounted. It was eventually determined that the missing ballots in question had been accidentally left in a locked storage room. They were ultimately added to the county's tally and certified.