COLUMBIA — Richland County Council Vice Chairwoman Dalhi Myers was indicted on public corruption charges that alleged she used her government credit card to cover personal trips to Greece, Detroit and Nashville, Tenn., and pay for chocolates, books and a cellphone.
The 24-count indictment, issued by the state grand jury late Thursday, also charged Myers with using campaign cash to pay an expense at her law firm.
When questioned about the county expenses, Myers, a Hopkins resident who was first elected in 2016, made up false explanations for why the card purchases were legitimate county expenses, the grand jury found.
The charges against Myers include misconduct in office, using her government position for personal gain, embezzlement, writing a fraudulent check and misusing her campaign money for personal expenses.
Myers was suspended from office by Gov. Henry McMaster on Friday. 
The Lower Richland Democrat was already on her way out in two weeks. She lost in the Democratic primary for Council District 10 earlier this year, and her term ends Dec. 31.
Myers was released without bond after a short hearing Friday at the Richland County Courthouse. Judge DeAndrea Benjamin required her to return all county-owned equipment.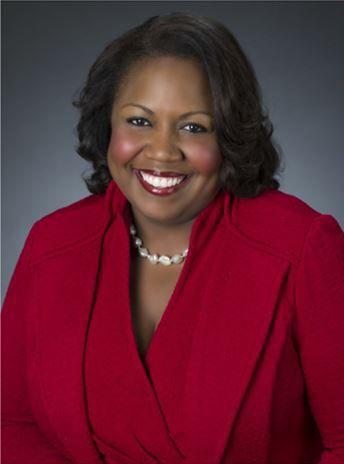 State Grand Jury Division Chief Attorney Creighton Waters told Benjamin that a vast majority of charges against Myers were "illicit use" of her county credit card and that she provided "demonstrably false" explanations to investigators.
She billed the county for trips to Greece and Northern Illinois University, saying she was using the trips to gain information about local government. Instead, she was taking a personal trip in Greece and attending a relative's graduation at the university, Waters said.
Myers, 52, used her county card for a trip to Newark, N.J., to seek out NBA Hall of Fame point guard Magic Johnson and former NFL player Richard Seymour, Waters said, in an attempt to talk to them about an undisclosed topic.
She told authorities that county officials allowed her to go to Houston to get a passport for an economic development meeting in China, but instead she flew to Detroit, where she has family, Waters said.
She also used her government card to buy personal items at Sam's Club and Staples — including Godiva chocolates, Slim Jims and drinks. Myers used her card for personal cellphone charges and repairs. She told authorities she bought books at Barnes and Noble to read to schoolchildren and then gave the books to the children, but her purchases included a strategy book to play the online video game Fortnite, Waters said.
Myers was asked to reimburse the county for $27,000 in expenses and sent in a check. Then she changed her mind, Waters said, and told county officials: "It's not my fault; it's your fault because y'all weren't monitoring my card."
"The county actually tried to run (the check) twice, it bounced twice, it bounced as high as Super Ball could ever bounce and when you look at her financial records, there's no $27,000 there," Waters said.
Myers' attorney, Deborah Barbier, told the judge her client turned herself in to authorities Friday and was not a flight risk or danger to the community, so she deserved to be released without bond.
Myers and Barbier did not speak with reporters before leaving the courtroom. Barbier declined comment when reached later Friday other than to say Myers is "deeply saddened and looks forward to resolving the charges."
During his court presentation, Waters scolded Richland County itself for lax financial oversight that enabled Myers' behavior and hampered the efforts of investigators.
"Our investigation was made harder because of the loose way Richland County runs its financial issues, and how there are many expenditures that on their face appear improper but because they're tolerated in Richland County, it makes it difficult for an investigation to pursue, and it needs to stop," Waters said in court.
Waters said the local government body's financial setup is irregular when compared to peers.
"This is just a very loose system. Richland County, the council itself, functions not as a council should, where you have the council as a group. You have individual council members that almost function as individual lords, some sort of fiefdom system and that's, unfortunately, that's how Richland County functions," Waters said.
Richland County Council Chairman Paul Livingston said he was disappointed in and concerned about the allegations against Myers.
"There is nothing more important than residents having trust and confidence in their locally elected officials and local government," Livingston said in a statement. "To that end, Richland County Council will review recommendations to improve the accountability and transparency in its use of purchasing cards."
Some of Myers' other colleagues on Richland County Council had little to say Friday.
Outgoing councilman Jim Manning, wrote in a text message, "Due to several on-going pending legal matters associated with Richland County Council, it would be inappropriate to make any public comment at this time."
Councilwoman Allison Terracio declined comment. 
Councilman Bill Malinowski said, "I would just say that there are two sides to every story, and she's entitled to her day in court and that can sort it all out."
Myers' conduct as a county councilwoman has faced heavy scrutiny over the past two years.
In 2018, The Post and Courier reported, council members used their government cards to book out-of-state trips, fuel up their personal vehicles and buy near-daily meals from restaurants that ranged from fast-food joints to pricey steakhouses after giving themselves the authority to spend up to $100,000 in discretionary public funds.
At the time, the newspaper reported Myers used her county card to pay for a tire repair on her personal vehicle. She damaged the tire during a work trip and the county administrator approved the expense, Myers said then. Her trip to Greece was another revelation, though she stressed that she repaid the cost of that personal travel, which was first reported by The State newspaper.
In July, Richland County Sheriff Leon Lott launched a criminal probe into allegations that county officials had misspent public money on their government credit cards. County Administrator Leonardo Brown wrote in a memo earlier that month that too much deference had been given to council members, who are allowed to give themselves credit cards and aren't always required to provide receipts for their purchases.
During a July council meeting, Myers said she had nothing to hide, adding she had recently "voluntarily met with law enforcement." She suggested that someone else on the council had leaked details of her spending to "weaponize" the information.
Most recently, Myers faced a stack of charges from the State Ethics Commission, which alleged she failed to disclose thousands in campaign contributions and expenses from her race in 2016. That included roughly $775 spent at restaurants, a $1,000 subscription to a law service, a $252 fireworks purchase and a $53 tab at a wine store. Myers denied doing anything improper and said she simply had difficulty filling out her required paperwork.
On Friday, Myers was slapped with a criminal charge related to that ethics probe. The grand jury charged her with improperly spending money from her 2016 campaign account to cover debts from her business, Myers Business Lawyers LLC, owed to LexisNexis.
Myers played a role in a string of other controversies in her four years on council.
She sparred with council members over a decision to fire the former county administrator, Gerald Seals, and court papers showed she texted Seals during a council meeting to help him negotiate a settlement.
An attorney who practices corporate law, she also texted Seals in advance of the negotiations.
"Don't counter small or reasonable," she wrote. "Go big." She later contended that Seals' firing was retaliation, at least in part, because of his request for a criminal investigation into allegations that several council members, whom she did not name, traded votes for sexual favors from "exotic dancers."
A judge recently threw out that settlement after finding council hadn't followed proper procedures. Council is currently renegotiating with Seals on a replacement deal.
Seals declined to comment on Myers' indictment Friday.
Richland County voters picked Myers four years ago in a special election to replace former councilman Kelvin Washington, who was removed from office after he pleaded guilty to failing to file income tax returns.
County library board member Cheryl English defeated Myers in the Democratic primary in June.
County Council has no other meeting planned this year after holding a special session Thursday to appoint Elizabeth McLean as acting attorney, after the county's top two attorneys announced their departure.
Joseph Cranney, Stephen Fastenau, Mike Fitts and Andy Shain contributed to this report.