ELGIN — A toxic chemical spill from a Kershaw County plant led to evacuation of residents and closure of a major interstate for four hours on July 27.
Local fire crews and hazardous materials teams worked to contain the leak of nitric acid at the WeylChem plant while nearby residents were evacuated, said Elgin Mayor Melissa Emmons, whose small town is three miles from the facility. The spill occurred around 6 p.m. when workers could not close a valve, she said.
Authorities learned about the leak 25 miles northeast of Columbia only after receiving reports of a vapor cloud wafting across Interstate 20, Kershaw County Fire Chief Will Glover said.
The spill at the plant, right along the busy highway stretching from Aiken to Florence, forced the closure of a 10-mile stretch of I-20. Lanes reopened shortly after 10 p.m.
There were no immediate reports of injuries, Glover said. Fire crews sprayed hoses high into the air at the plant to suppress fumes. No fire was reported.
Nitric acid is a colorless liquid that is toxic to inhale and can cause irritation to the skin and eyes, according to the National Institutes of Health. The acid, which produces red-brown fumes, is used to make explosives, fertilizer and dyes.
Authorities said the leak included a mixture of other chemicals made at the plant, but no details were released.    
"If you can taste it, you know it's in the air," said Kelley Yopp, an employee at The White Pond Food Beverage Stop about a mile from the plant that closed early as a precaution.
Soon after 8 p.m., Glover said the leak was under control at the plant. Firefighters worked in near 90-degree heat well into the evening.
It is unclear how many residents were evacuated after the spill. No one was at a shelter set up at Lugoff-Elgin High School. Residents were allowed to return home around 10 p.m. Authorities also were monitoring livestock on farms near the plant, Glover said.  
A portion of the plant will be closed after the leak, WeylChem said.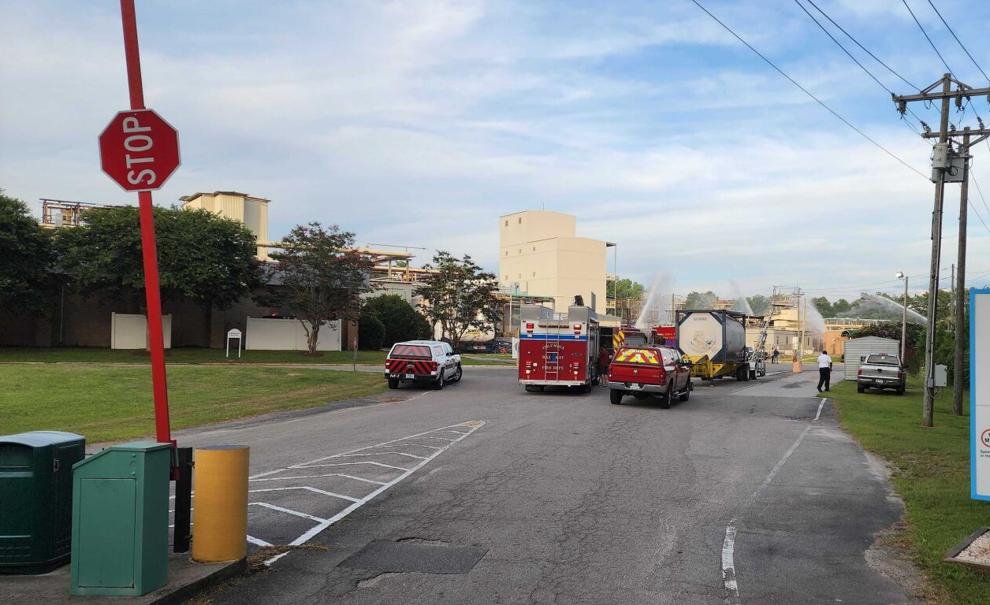 "We will not bring the unit back online until we can complete a full investigation and understand the source of the issue," the company said in a statement provided to WIS. 
WeylChem did not provide any details about the spill, referring to it only as "an incident."
The maker of specialty chemicals used in pharmaceuticals, flavor enhancers, herbicides and pesticides employs 125 workers, according to Central SC Alliance, an economic development organization.
WeylChem's plant has a history of being cited for state and federal environmental violations.
The German-based company was fined $500,000 in 2013 for a series of pollution violations at its manufacturing and wastewater facilities in Elgin, according to an Environmental Protection Agency news release. The violations included mismanagement of hazardous waste and excessive air pollutant emissions and wastewater discharges into the Wateree River. 
The company agreed to install enhanced leak testing based on results of an outside audit. WeylChem also was banned from trucking wastewater from the Elgin plant to the Lugoff treatment facility and discharging any wastewater into the Wateree River. 
The company also was fined a total of $50,790 in five orders from the S.C. Department of Health and Environmental Control between 2013 to 2018, according to online records. Violations included failing to properly label hazardous waste containers, transfer hazardous waste out of leaking containers and maintain air pollution control equipment.
WeylChem invested $4 million last December to expand the 55-year-old facility with a new research and development lab. 
Elgin has been in the news recently as the epicenter for a swarm of 70 earthquakes since Christmas, though none of the tremors have been strong enough to cause major damage. The town of 1,600 residents was holding a question-and-answer session with earthquake and emergency experts when the chemical leak occurred. 
Click here for more news from Columbia, South Carolina