COLUMBIA — Michael Amiridis, a native of Greece with expertise in chemical engineering and a reputation as a personable college administrator, was hired Jan. 14 as the University of South Carolina's next president.
Amiridis is returning to the Columbia campus, where he taught two decades ago and eventually rose to the rank of chief academic officer. He left in 2015 to lead the University of Illinois Chicago, where he launched a $750 million fundraising campaign and helped reach a school record in research awards.
He was approved unanimously following a two-hour, closed-door meeting by USC trustees, a change from the 11-8 vote to hire former president Bob Caslen in 2019 after a contentious board meeting and campus protests. Amiridis will earn $900,000 a year when he starts this summer — $250,000 more than Caslen and $300,000 more than he makes in Chicago.
After the board vote, he called his new job a "homecoming" that he could not pass up.
"I'm overwhelmed with emotion right now because it's a great honor and great responsibility for me to have the confidence of the Board of Trustees," Amiridis told reporters. "As the president, it will be my responsibility to make the case for the importance of the University of South Carolina and to develop solutions to the problems that have led some to question the value of higher education. We need to be more accessible and more affordable."
He was hired just nine hours after he was formally revealed publicly as a candidate for the post. He spent a whirlwind day in meetings and interviews with administrators, faculty, staff and community leaders before the board vote.
Amiridis said the final negotiations took place in "the last few days" and that he came to Columbia on Jan. 12, the last time the board met before the vote.
His name often came up first among preferred successors because he understands the academic and political challenges of the school that boasts an annual budget approaching $2 billion, more than 50,000 students and more than 12,000 employees across eight campuses.
Amiridis, 59, is considered a popular pick after garnering respect as an affable, effective leader and is seen as a steadying force after Caslen's tenure was cut short abruptly amid a plagiarism scandal.
His arrival came together quickly after USC lost its top presidential pick in December.
The board targeted Amiridis because of his experience at USC and his strong desire to come back. He was interested in the job in 2019 after Harris Pastides ended his 11-year tenure, but USC instead hired Caslen, a retired general and West Point superintendent who lasted just two years.
After resigning in May, Caslen called coming to USC the "biggest regret of my life."
Asked about how he would regain any lost respect for the administration after Caslen's departure and the hurried announcement over his replacement, Amiridis said, "Gen. Caslen is an American hero. And he has my respect and my gratitude for his service to this country and I believe this is true for all Americans. We're looking forward (and) we're looking forward to establishing trust."
Despite the general excitement about Amiridis' hiring, some critics are arguing that USC leaders failed to follow through on their promise for an open search after the 2019 presidential hunt ended with a singular focus on Caslen, a move pushed in part by Gov. Henry McMaster, and earned a sanction from accreditors.
The current search also was beset with problems.
In November, Lou Kennedy, a major USC donor, quit the presidential panel after a spat with board Chairman Dorn Smith over how the search was proceeding.
USC's initial top pick to succeed Caslen, Purdue University Engineering Dean Mung Chiang, backed out in December just days before he was expected to win board approval, citing family reasons.
Some other leading applicants opted out after Chiang was named the board's preferred candidate. It is unknown if Amiridis was among the five candidates sent to the board in December, but he said he was among the 11 semifinalists interviewed in Atlanta in November.
Smith did not take questions from reporters after the Amiridis vote.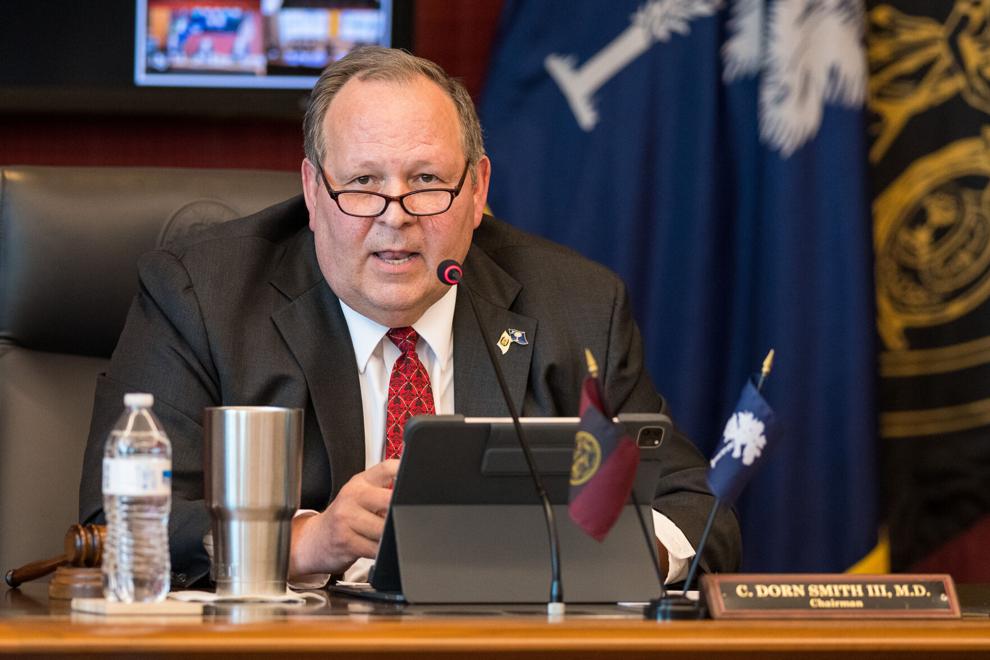 The other finalist for the job announced by the board, besides Amiridis and Chiang, was University of Connecticut engineering professor Cato Laurencin, who is African American. This was the second straight USC presidential search that included no announced female finalists.
Recruiting Amiridis became vital for the USC board, which was coming under fire for the second time in two years for its presidential searches. Three pieces of legislation are under consideration at the Statehouse that would remove current university trustees and cut the size of the board in half.
In returning to USC, Amiridis will have several key spots to fill, including provost and vice presidents over research and fundraising. He will oversee crucial construction projects, notably the $300 million health sciences campus planned for the BullStreet District that is the most expensive college project in state history.
He also will look to smooth over relationships with two of USC's top three donors, Kennedy and financier Darla Moore, who have pledged to stop giving to their alma mater in spats with the board and administration.
In the late 1980s, Amiridis came from Greece to pursue a chemical engineering doctoral degree at the University of Wisconsin. He started a 21-year career at USC in 1994 as a chemical engineering professor. He rose through the ranks as chair of the department of chemical engineering and dean of the College of Engineering and Computing.
He was promoted to provost in 2009, soon after Pastides took the president's office.
Amirdis created a dashboard to better track academic performance with benchmarks against peer colleges, rebuilt the international study office and helped the school move toward online classes, including the creation of the Palmetto College where students at USC's satellite campuses can take courses taught in Columbia.
He became interested in leading a college, applying to run Florida State University.
Amiridis then left USC in 2015 to become chancellor at University of Illinois Chicago, which has 34,200 students, about the same number as USC's Columbia campus, and about 13,000 faculty and staff. The Chicago school has an annual budget of $3.8 billion, double that of the entire USC system.
During livestreamed panel sessions with faculty and staff on Jan. 14 that amounted to his only public job interviews, Amiridis was asked often about diversity, an issue close to the surface since the 220-year-old college has never had a leader who was a woman or person of color.
At his current school, Amirdis said he has five people of color in his 10-member Cabinet and three of the school's 16 deans are African Americans.
"It's extremely important because it's the diversity of opinion that matters when the Cabinet sits together," he said. "And I'm very grateful because, in a number of cases, they protected me. They convinced me to do something that I was not convinced about."
He pledged to explore diverse candidates in filling open administration and dean posts.
To boost minority faculty representation at University of Illinois Chicago, Amiridis said the school implemented a pair of measures: a promise they would hire any qualified faculty of color whether there was an opening in the department or not and the creation of groups of minority graduate students who would be tenure-tracked.
Those two programs added 50 faculty of color, increasing the number of African American and Latinx faculty by 30 percent in two years, he said.
As USC deals with professors accused of sexual misconduct remaining on the payroll, Amiridis was asked about how he would handle those types of complaints
"There is no room for sexual predators in an academic community. Let's be clear about this," he said. "Part of the misunderstanding that we have sometimes, tenure is not a free ticket for bad behavior."
Amiridis said the University of Illinois Chicago has the Office of Access and Equity that investigates sexual harassment and assault claims at the school.
"My goal is also to be proactive, not only to rectify situations, but prevent situations, and education of our students, educational faculty and staff is extremely important," he said.
Within the University of Illinois system, Amiridis is known for his work to grow enrollment at the Chicago campus, said Robert Jones, chancellor of the University of Illinois, Urbana-Champaign. Under Amiridis' leadership, the school has seen seven straight years of record enrollment. 
Amiridis also attracted a $40 million donation from MacKenzie Scott, the novelist, philanthropist and ex-wife of Amazon founder Jeff Bezos. It is the largest gift from an individual in the school's history. The funds are used to aid first-generation and low-income students in a number of ways, from funding internships and tuition assistance for summer classes to covering student housing costs.
"This is like a homecoming for him from my perspective," Jones said of Amiridis' appointment to USC's top office. "And it doesn't get much better than that."
Jessica Holdman contributed from Columbia.