COLUMBIA — A jury will decide whether Nathaniel Rowland kidnapped Samantha Josephson and stabbed her to death after the state rested its case July 26 and the defense called no witnesses a week into Rowland's murder trial.
Rowland waived his right to trial in his first comments in court since the first day of jury selection and his defense called no witnesses before resting. The jury will return to court the morning of July 27 to hear closing arguments and begin deliberations.
The state called more than 30 witnesses during five days of testimony. On the final morning or testimony, a forensic pathologist described the dozens of stab wounds Josephson suffered, and a video analyst pieced together the movements of a black Chevrolet Impala as it moved through Five Points before picking her up in March 2019. 
A unique set of stab wounds found multiple places on Josephson's body match the weapon authorities say Rowland used to kill her, Dr. Thomas Beaver testified July 26. Beaver, a professor at Medical University of South Carolina, conducted Josephson's autopsy.
Josephson sustained as many as 120 stab wounds, Beaver said, including one behind the University of South Carolina student's ear and another that severed a bone in her neck that could have been the fatal blows. In multiple places along the right side of her body, Beaver noted wounds that appeared in pairs and parallel and set him on a search for a unique weapon.
When 5th Circuit Solicitor Byron Gipson handed Beaver the multitool that investigators found in the trash behind Rowland's girlfriend's apartment, Beaver said the knife, with its multiple blade and handles, explained the wounds he examined.
Beaver said he was confused about some wounds being caused by two blades and others a single blade, and that the multitool can accomplish both.
"This is the weapon," Beaver said, holding the knife.
Beaver's testimony came before the state rested its case against Rowland, the 27-year-old from Clarendon County being tried on charges he kidnapped and killed Josephson in March 2019 after she mistakenly got in a car she thought was her Uber ride in Five Points.
A video analyst with the solicitor's office took the stand July 26 to walk jurors through more than 25 hours of security footage in Five Points that tracked the path of a black Chevrolet Impala weaving through the nightlife district.
Outside The Bird Dog bar on Harden Street, Josephson can be seen standing alone under a tree on the phone and first tried to get in a gray sedan when it pulled up nearby.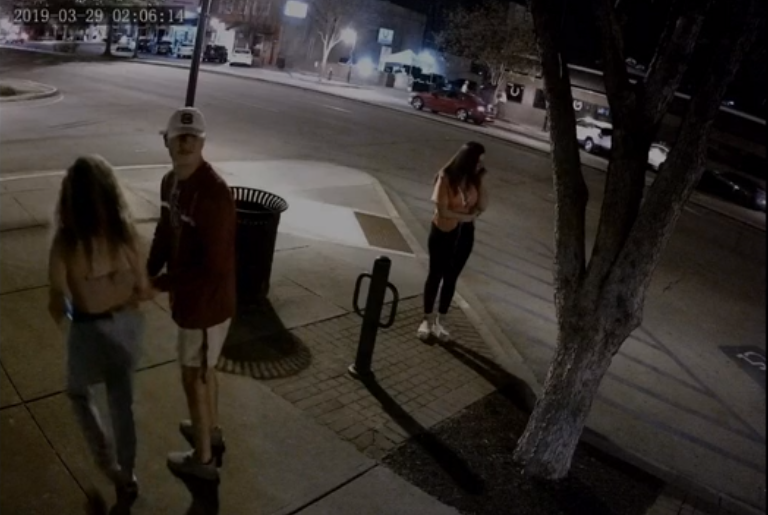 The Impala then partially hops a curb to pull in the handicap parking spot beside Josephson. She gets in, opening the door before the car stops completely, and the Impala pulls off just after 2 a.m. The video analyst, Justin Martin, said he used Josephson's GPS data to look for video in other areas of the city.
He found video showing the Impala going down Rosewood Drive past the Publix grocery store, heading south on Kilbourne Road and later driving north on Beltline toward Devine Street before hanging a U-turn back toward the Rosewood area. That was the last video Martin had of the Impala until it could be seen traveling east on Garners Ferry Road toward Sumter after 3 a.m.
Josephson's body was found later that day in the community of New Zion, east of Sumter.
Beaver said he took 170 photos and 13 X-rays as part of the autopsy. Josephson's parents, who have traveled from their home in New Jersey, were not in the courtroom as Beaver described to the jury numerous close-up photos of the wounds.
Rowland, in a dark shirt and red tie, stared straight ahead during the testimony.
Josephson shielded her right side during the attack, with one of the strikes piercing her right hand all the way through, Beaver said. All but a couple of tablespoons of blood had drained from Josephson's body at the time of the autopsy due to the attack, and Josephson would have bled quickly where she was attacked, Beaver testified.
Rowland's attorneys asked Judge Clifton Newman that some of the autopsy photos not be introduced into evidence. Public defender Tracy Pinnock argued that it was clear Josephson died from stab wounds in a brutal attack and the photos are only meant to elicit an emotional reaction from jurors.
Newman excluded two of the photos showing wounds to Josephson's head.
Witnesses called by the state included the turkey hunter who found Josephson's body; Rowland's former girlfriend, who told the jury she questioned all the blood in his black Chevrolet Impala; and numerous State Law Enforcement Division investigators and other experts prosecutors say paint a picture of Rowland locking Josephson in the back of his car, stabbing her to death and dumping her body in a rural stand of woods in Clarendon County.
Bank video shows a man then trying to use Josephson's debit card at ATMs in Sumter and Columbia and a Columbia wireless store owner identified Rowland as a man who came in the shop after Josephson's death and tried to sell a cellphone for $300.
Scratch marks on Josephson's cheek indicate her body was dragged, Beaver said. Investigators believe Josephson was dragged to where she was found in the woods.
After prosecutors rested their case, Rowland's attorney, Tracy Pinnock, asked Newman to direct a verdict in Rowland's favor, saying the state's evidence was circumstantial and never showed whether Rowland murdered Josephson or that he was driving the car the night the 21-year-old disappeared.
Newman rejected the argument, noting "an avalanche of direct and circumstantial evidence" the jury could decide is proof of his guilt.