COLUMBIA — One thing everyone knew about Joe Taylor was that he wanted to change Columbia. 
"I made the mistake one time of asking him how, and it was several hours later before I got in another word," the Rev. Derek Thomas said at Taylor's funeral on Jan. 5.
It was one of those stories that was "so Joe," Thomas said of the Columbia councilman and former state commerce secretary, who died at Cherokee Plantation in Yemassee on Dec. 29. He was 64.
People in suits, uniforms and polo shirts filled First Presbyterian Church's 2,000 seats for Taylor's funeral, exemplifying his wide-reaching impact. State, city and county employees shook hands with police officers, firefighters, friends, neighbors and everyone in between.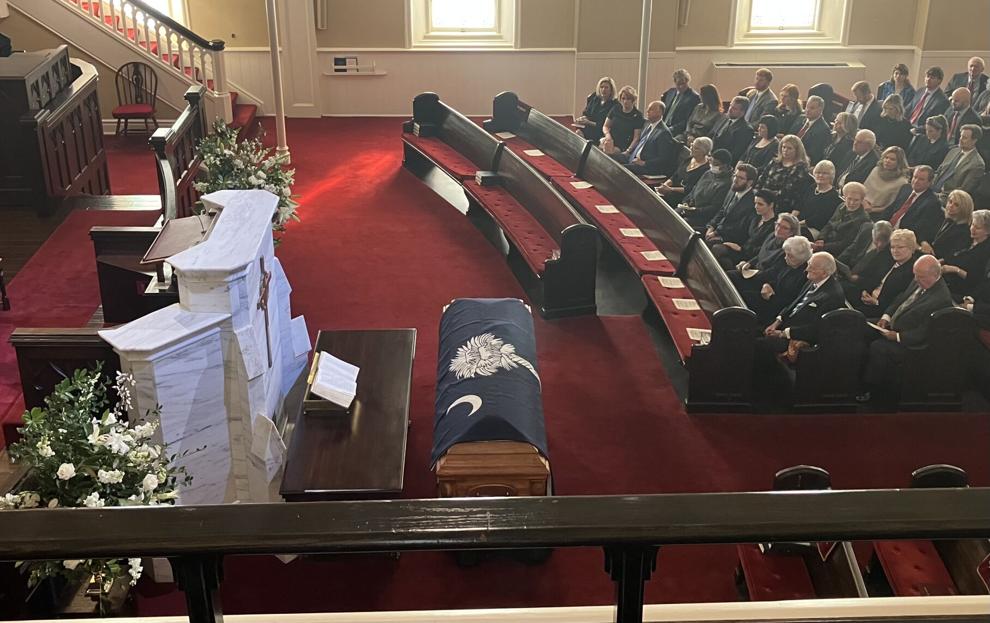 "This crowd is just a fraction of the lives my dad touched," said his daughter, Ann Taylor Corontzes. 
Gov. Henry McMaster looked down from the church balcony to where members of the Columbia City Council, which Taylor joined at the beginning of 2022, sat below. McMaster ordered flags to be flown at half-staff Jan. 5 in honor of his statewide service.
Mayor Daniel Rickenmann, a longtime friend whose District 4 seat Taylor won during Rickenmann's successful bid for mayor, watched the ceremony with teary eyes.
"Joe was a good friend — probably the biggest heart of anybody," Rickenmann said during an emotional special-called council meeting Jan. 4. "Every day, I've heard more and more stories about what he'd done in our community that a lot of us who were close to him didn't know."
Some of Taylor's work was common knowledge for those in his circles. He was behind Boeing building a jet plant in North Charleston in 2009, marking a major economic development win for the state.
A tenacious businessman, Taylor helped his father found Southland Log Homes and build it the largest pre-cut log building producer before selling it in 2005. Taylor continued to hold ownership stakes in a number of businesses, including banks, advertising and real estate.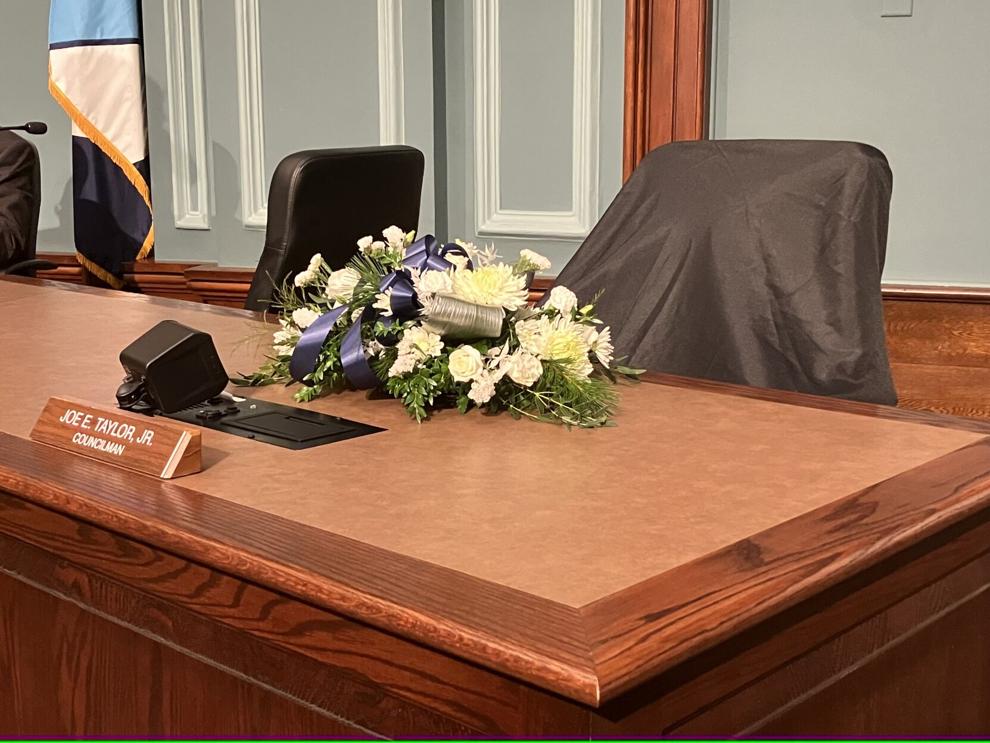 During his time on City Council, Taylor was a force to be reckoned with. He brought his mind for business to the council chambers and spearheaded a series of initiatives to make opening a business in the city more affordable while encouraging the Economic Development Office to hire a recruiter to land bigger development deals. 
With the goal of making Columbia a place worth investing in, Taylor supported public safety, including raising bonds to prevent repeat offenders from getting out of jail easily, and joined the push to help connect homeless people with resources. 
While other City Council members didn't always agree with him, they did respect him. Because of their frequent differences in opinion, he and fellow council member Tina Herbert would make it a point when they did agree on something, calling to the city clerk: "Let the record reflect I agree with Mr. Taylor/Ms. Herbert on this one."
"The lesson to be learned: We are more alike than we are unalike," Herbert said. "Joe's passion for the betterment and growth of the city of Columbia will truly be missed."
Taylor also worked to develop West Columbia, where his private equity office was located. With a hand in the residential community St. Anns Alley, he was influential in the city's transformation, West Columbia Mayor Tem Miles said.
Despite his resounding success in business and politics, Taylor wasn't the boasting type, Thomas and Corontzes said.
"He lived passionately to serve others and see people succeed. He connected with so many and made so many great things happen," Corontzes said. "Yet he was behind the scenes more than he was in front of the camera."
Taylor was as determined in his personal life as he was in his career, friends and family said.
Taylor was relentless even in finding places to eat. A part-owner of Il Bucato pizzeria in Columbia, Taylor was always handing out restaurant recommendations, whether through his "big man's lunch guide" on Twitter, the printed and bound cookbook he gave friends one year for Christmas or the map of West Columbia restaurants he kept in his office.
"His recommendations on where to eat in West Columbia are legendary," Thomas said, pausing before adding, to laughter: "They are some of the sketchiest places." 
Years ago, Taylor battled cancer with the vigor he brought to board rooms and council chambers, Thomas said. He once showed up to Wofford College, his alma mater and the school both his children attended, to take his kids to breakfast and only mentioned at the end that he had cancer and would be getting his foot amputated soon after — also "so Joe," Thomas said.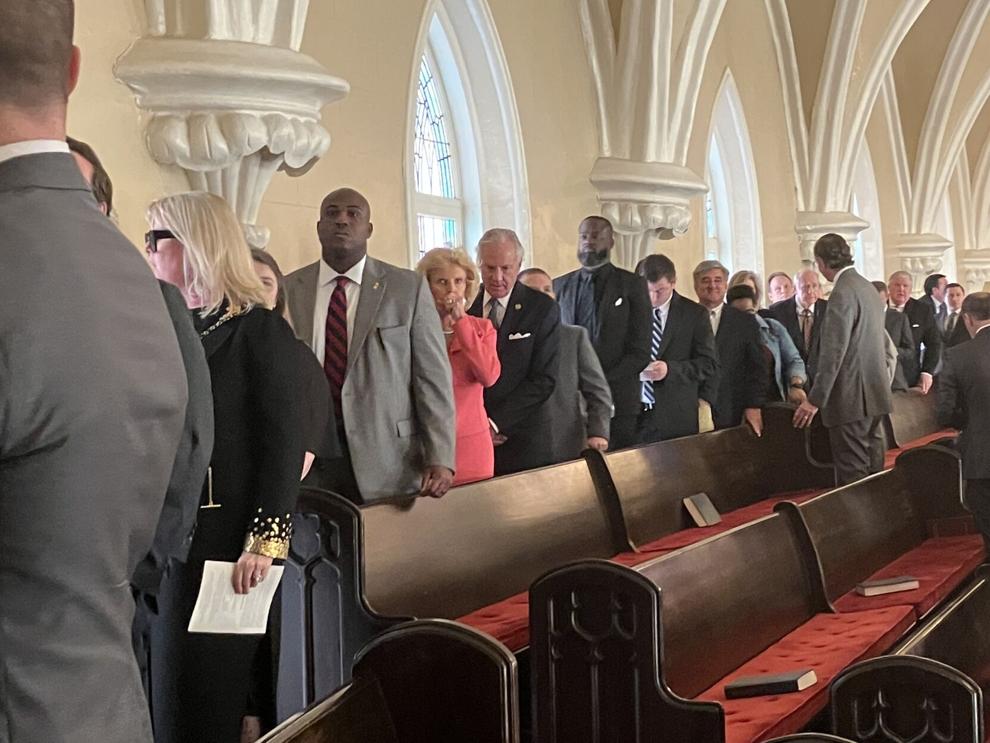 In honor of his dedication to helping other people buy prosthetic devices like his own, Taylor's family established the JET fund and asked for donations to the fund, mailed to the Central Carolina Community Foundation, in lieu of flowers.
Taylor was "a fierce leader, protector, provider and one outstanding teacher," Corontzes said. 
"As we carry on my dad's legacy, I pray that we can live a little bit more like him," Corontzes said. "Check on your people, check on your neighbors, always say thank you and be sure to ask, 'What can I do for you?'"
Click here for more news from Columbia, S.C.