This may be the most skittish transition into the fall cultural season since its all-out undoing, compliments of Hurricane Hugo, more than 30 years ago. 
Yes, there are ample signs of vitality, albeit as soft and safely distanced as those openings may be. There are the new exhibitions, like "Connections" at Redux Contemporary Arts Center, for instance, along with the many splashy Gibbes happenings surrounding "Building a Legacy: The Vibrant Vision Collection of Jonathan Green and Richard Weedman," as well as "Summer Reflection" in the museum's new gallery for its resident artists.
There are socially-distanced concerts, too, among them violinist Yuriy Bekker's live (and recorded) Beethoven Fest at Charleston Library Society this coming week, Forte Jazz Lounge's limited-capacity opening and Charleston Gaillard Center's "An Evening with Brendan James" on Thursday, Sept. 17, the first live performance at the venue since it closed in response to COVID-19. (This concert will also be livestreamed.)
But as we all continue to bob and weave, checking daily COVID tallies and weighing emergent cultural offerings, my mind turns back to a pet topic. That is the potential for public art in Charleston. For a city of this size and cultural renown, public art has mostly eluded the critical mass that commensurate cities can boast, but for a few smart murals, many of which have made it through the red tape by way of restaurants. 
However, this may well be the moment when public art could finally take hold. Think about it. With the push me-pull you of lockdown and loosening, public art remains free of such vicissitudes, able to be mounted by an artist and viewed from a distance. At the same time, it is ideally suited to foster dialogue at a time our community calls for it.
In short, public art uncannily dovetails the twin issues of a pandemic and a social reckoning.
Consider some recent examples from around South Carolina.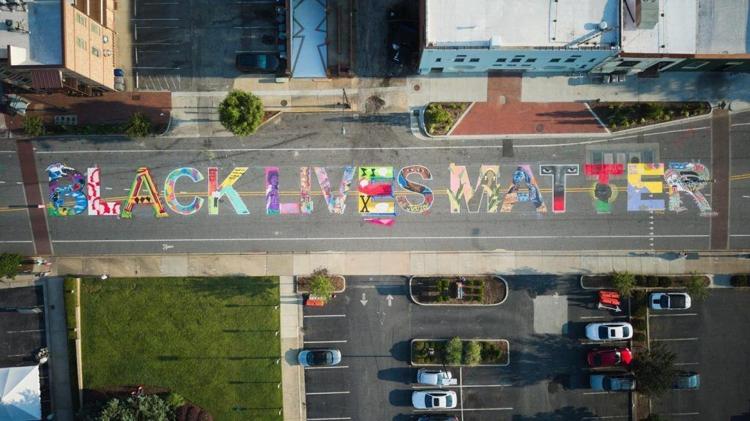 In Greenville, murals are the thing. Artist Nick Burns, known as Ninja Picasso created a Banksy-style work bringing back paperboys, and elsewhere combined graffiti with dance to create energized works. In the commercial sector, the former BB&T office building got a dramatic facelift during its renovation with an outsized mural of pioneering Black educator Pearlie Harris, painted by acclaimed Australian muralist Guido van Helten and due to be finished this weekend.
In June, downtown Spartanburg became a vibrant canvas for 16 artists who together painted the message "Black Lives Matter" on Broad Street in front of City Hall.
In Columbia this summer, a new mural titled "A Southern Affair" by McClellan Douglas was created to celebrate Columbia's diversity in the wake of George Floyd's death (and which was vandalized with racial slurs during the making, thus underscoring the need for further exchange within our communities).
In terms of environmental art, there is "Southern Light," the literally luminous installation by U.K.-based artist Bruce Munro at Brookgreen Gardens, which wraps up this month. While it was in the works before COVID, it has it all for this strange summer: lavish grounds for social distancing; illuminated magic of the C.S. Lewis variety, as well as a rousing example of the potential of alfresco offerings in these strange times.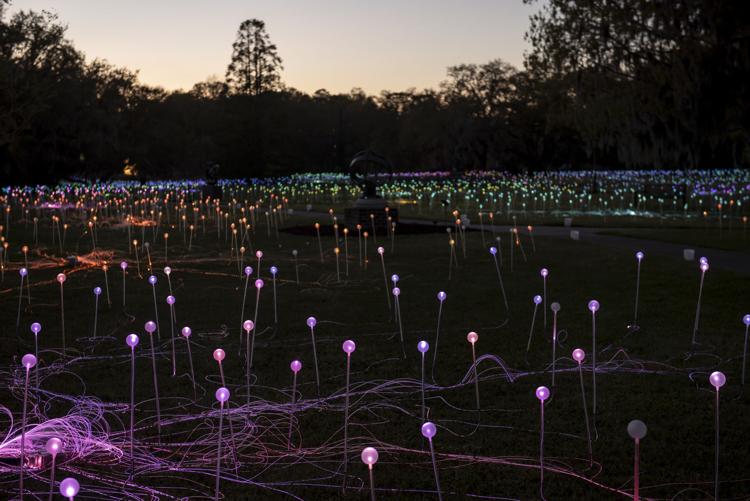 Charleston is getting with the program, too. This summer, the collective Tiger Strikes Asteroid GVL got the ball rolling with their "Yard Work" exhibition featuring installations in yards in North Central neighborhoods, put together to offer an art experience in the midst of the lockdown, and one that could serve as a model for other neighborhoods to do the same.
Next up is Enough Pie's annual "Awakening" project, which was originally planned for the spring but shelved due to the pandemic. It is now full-steam ahead, though with its traditional gathering no longer in the picture.
The project was not the only shift for the organization connected with the events of the past few months. The other is the departure of its executive director, Cathryn Davis, who for the past five years has overseen the growth of the organization.
According to Kate Nevin, founder and chair of the board of Enough Pie, such a shift was always in the long view and has been an ongoing goal of Davis and the board since she was hired.
"The ideal leader for a nonprofit like Enough Pie, that's so geographically tied to one small community ... is that a leader ... should eventually hopefully rise out of that community," she said, of the North Central organization.
In light of the past few months, both in terms of the pandemic and the increased call for more inclusivity in the arts, Nevin said Davis felt it was the right time to do so, identifying some people who have been partners with whom they have worked for a long time. "You can't allow leaders to rise if the top people don't step aside, it really takes that moment of stepping down to create the space."
A community manager from the neighborhood will be announced in mid-September. The search for an executive director is well underway, one that may or may not have the traditional resume of bona fides, thus addressing some of the inherent challenges with arts administration pipelines that have made it challenging for many organizations to become more inclusive with top hires. "I think the pipeline is kind of broken, because, overall, a lot of arts organizations are underfunded, too," Nevin said.
Nevin feels that Enough Pie is well-positioned to help fix it. "We're a small member organization and creativity is in our DNA," said Nevin, who has learned that the best way to bring up new leadership is allowing opportunities to get experience on the job rather than hunting for the perfect resume. That way, the candidate can shape it in their own image.
Yes, that's a risky proposition, but one Nevin feels Enough Pie is suited to. "I think it potentially has a big reward."
When coronavirus hit, Enough Pie shelved its plans for the 2020 Awakening, shifting instead to collaborate with partners to focus on community needs such as making masks and delivering food.
Now, the group is reupping the postponed Awakening, focusing on the refurbishment of the neglected Vivian Anderson Moultrie Park under the interstate with a series of botanical-themed murals created by local artists.
"Cathryn was able to push through that approval, which surprised everybody." said Nevin. Such red tape has accounted for less public art than in other cities of the same size, such as Raleigh and Chattanooga. Organizations like Enough Pie instead often engage in projects under the radar, more along the lines of guerrilla art.
"I think one of the challenges in Charleston not seeing the same level of sort of public art is because we really need to get a public art policy in place. We do not, as a city, currently have one," Nevin said.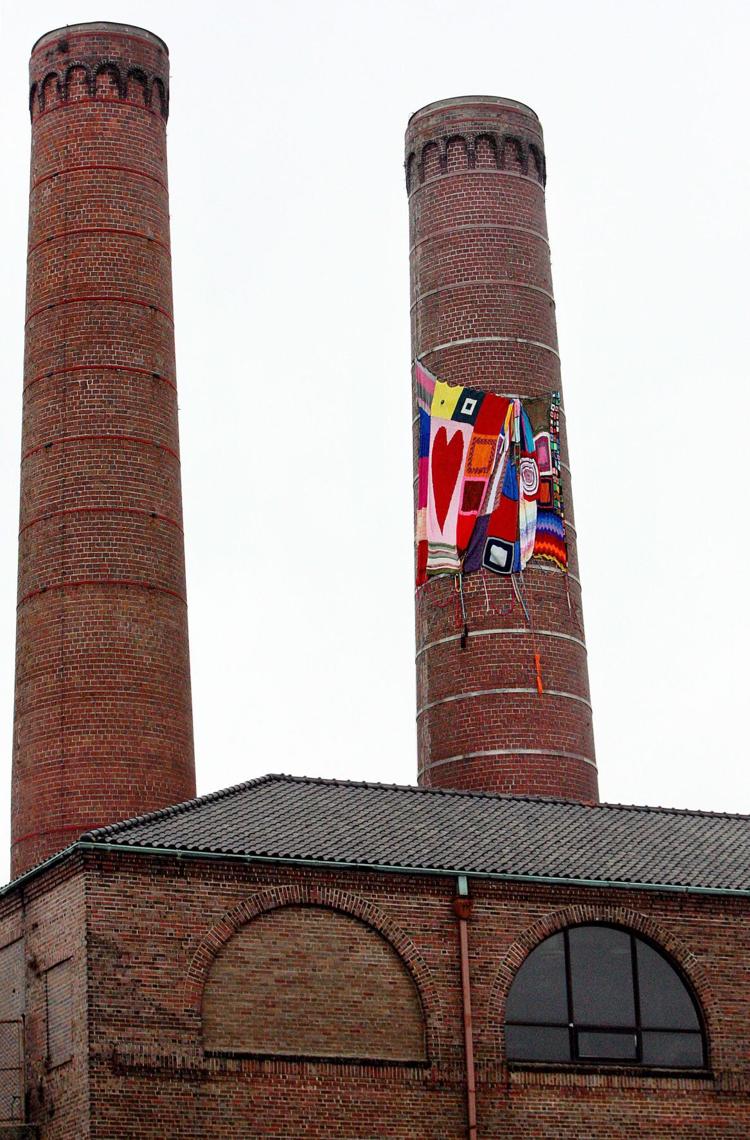 Enough Pie has long been involved in think tanks to further such a policy, as in noodling out possibilities like 1 percent programs that provide funding from development. "We need to see some of these sort of business owners and real estate folks step up in interesting ways to support that activation," she said.
Things may well be lining up that way. Along with social distancing from the pandemic and a regrouping from Black Lives Matter, other factors may include market forces. The easing of development pressure perhaps could make way for an opportunity for creative collaborations between the commercial and creative sector, such as temporary venues for local artisans and makers and other arts venues.
While many arts organizations and stakeholders remain in a quasi-holding pattern, maybe, just maybe, the time is nigh to revisit those aims to push for public art in ways that promote the vitality and the common ground in our city.
"As the city, as a community, there are a lot of good conversations happening," said Nevin, "But at some point you've just got to stick your neck out and do something."