COLUMBIA — Drones flying over prison fences, dropping packages of contraband, likely enabled two state prison inmates to get their hands on a cellphone and use it to help orchestrate a drug-trafficking operation in which methamphetamine was smuggled from Mexico to South Carolina's Upstate.
The contraband drop-offs by drone have become a nightly battle at state prisons and continue to fuel an illegal, high-demand trade among inmates, supplying them with drugs, tobacco, knives and some with cellphones, which the state prisons chief said is a top threat to public safety, allowing some to arrange drug-trafficking operations and even plot murder.
The S.C. Department of Corrections will begin using a new detection technology to pinpoint where a drone is as well as its drone flight route, but Director Bryan Stirling said the ultimate solution to the problem lies in the hands of the federal government.
"This lies squarely on the backs of Congress in D.C.," Stirling said.
The solution is "jamming," Stirling said, which would block or interfere with radio communications. Jamming would not only interfere with radio frequency of drones but also block cellphone signals, which would, in turn, prevent inmates from committing criminal activities while behind bars.
Jamming is prohibited under federal law, but Stirling as well as Attorney General Alan Wilson are calling on Congress to pass legislation that would allow state prisons to use so-called "jammers."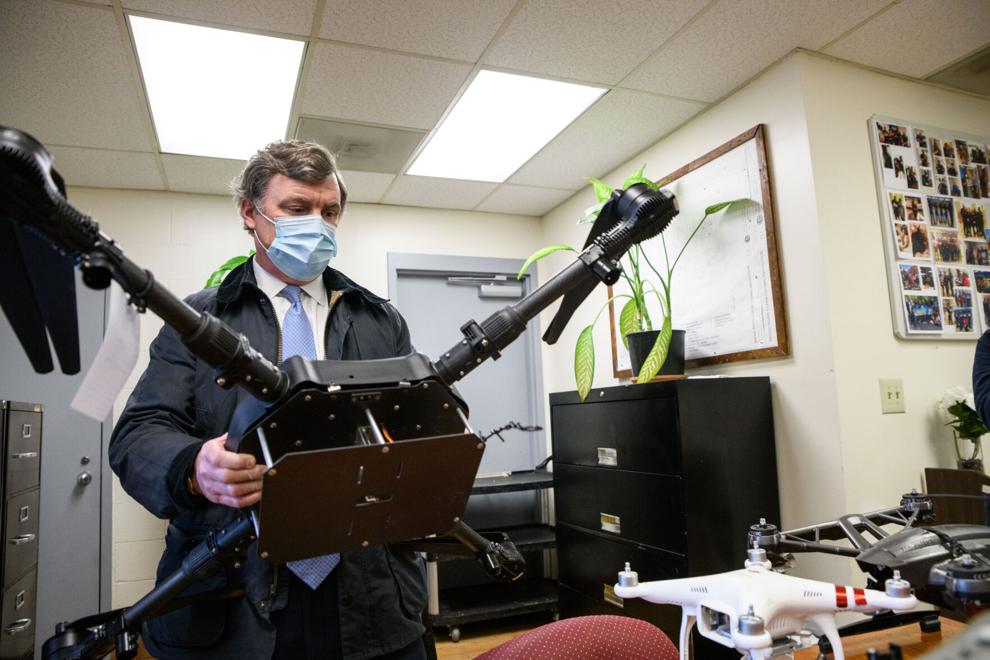 Prison economy
Behind bars, an illegal economy exists among inmates buying and selling drugs and other items that have been smuggled in.
With high demand and short supply, the prison costs can be tenfold above the street value. 
A new model iPhone 14 can cost up to $6,000 on the yard, while other models can go for about $3,400. For a loose cigarette, an inmate can pay $20 to $25 just for one, according to contraband Lt. Randy Ward at the Broad River Correctional Institution in Columbia.
"You're not only paying for what the phone is, you're paying for the time to get it smuggled in," Ward said.
Standing by a display of seized contraband — large bags of marijuana and tobacco, cellphones, SIM cards, knives and cigarettes — prison officials said everything on the table would cost about half a million dollars in the prison trade. Ward pointed to a large bag of marijuana and said that on the street it would cost around $500 while behind bars it costs $72,000.
Ward said drones have become the "new wave" of smuggling contraband, with inmates paying for orders in advance and the drone even pinpointing the exact delivery location.
"They get it bulk and they try to get it in faster," Ward said. Pointing to the seized contraband, he added, "This is already pre-ordered by the inmates before it even hit the yard."
Over the course of a year, the Broad River prison seized contraband worth more than $7 million in the illicit trade, according to Warden Kenneth Nelsen.
"Seven million — now that's what we captured. So think about what got in ... how much money these guys are making," Nelsen said. "That's what it all boils down to."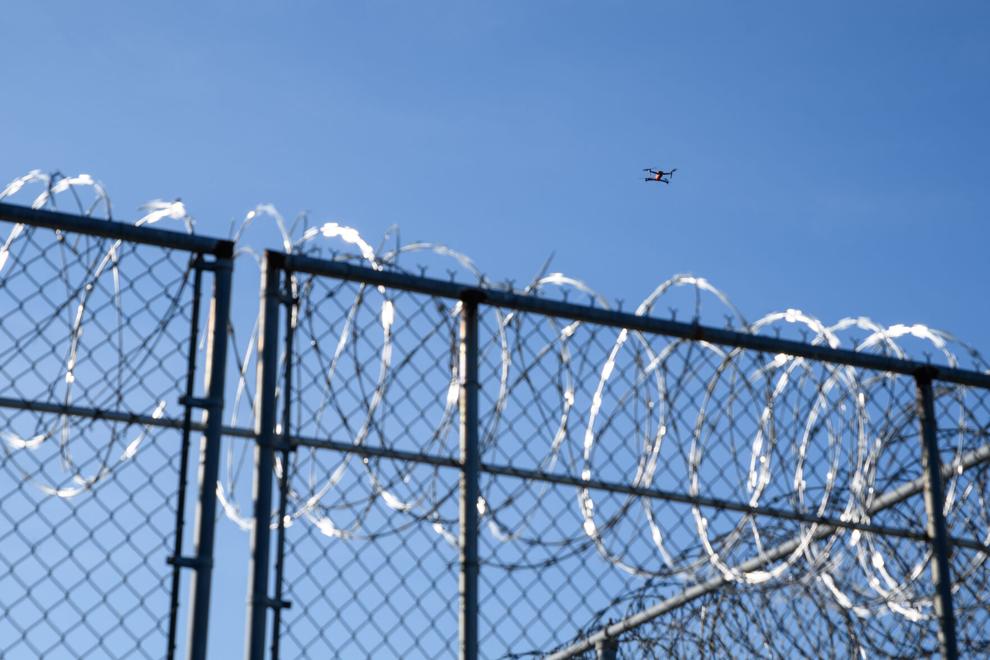 Drone drop-offs
The smuggling of contraband has been a longstanding problem at prisons.
In South Carolina, trees have been cleared to improve visibility around prisons and 50-foot-high netting has been put up around medium- and maximum-security prisons to prevent contraband "throw overs." X-ray body scanners are also being used at entrances to screen visitors and correctional officers.  
Despite efforts, smugglers still are able to sneak drugs, cellphones, weapons and other contraband into the guarded prisons.
In 2022, Corrections officials recorded more than 262 drone incidents, a rise compared with the 161 incidents logged in 2021, 40 in 2020, and 69 in 2019. In January alone, there were 23 incidents.
"And these are the ones we know about," Stirling said.
"The warden and his staff fight it every day — this is every day, 24/7," Deputy Director of Operations Joel Anderson said.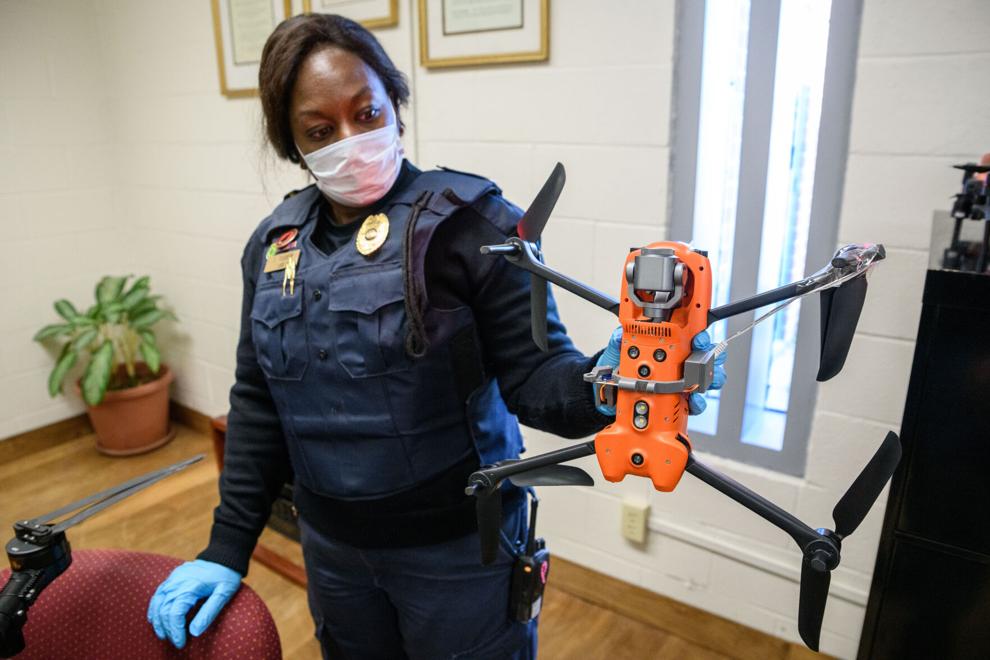 The drone drop-offs have become a "militaristic" operation, Stirling said.
Drones fly in a succession of three or four. The first often does a surveillance to monitor who is on guard. The next will be a decoy, dropping off a package. As officers respond, another drone will drop off a package containing the contraband that inmates pre-ordered.
"We had one that was so sophisticated, it was like FedEx delivery," Stirling said. "It literally had the room numbers of inmates (who) ordered the contraband."
Prison officials say they've found that some inmates are even holding training classes on how to use drones to smuggle contraband into the detention centers.
Under Federal Aviation Authority regulations, drones are not allowed to fly over correctional institutions and drones are wired with a software that prevents them from flying over prison grounds. But people working with inmates have hacked these systems.
Correctional officers aren't legally allowed to shoot down drones. They aren't allowed to hack their systems and force them to land either. But the technology exists. 
"Right now, you can't capture a drone and make it land, but there's technology out there that can do that," said Nelsen, Broad River's warden. "We can literally take over and land the drone safely and gather the drone and the contraband for evidence. But because of the different regulations by the federal government, it holds us back."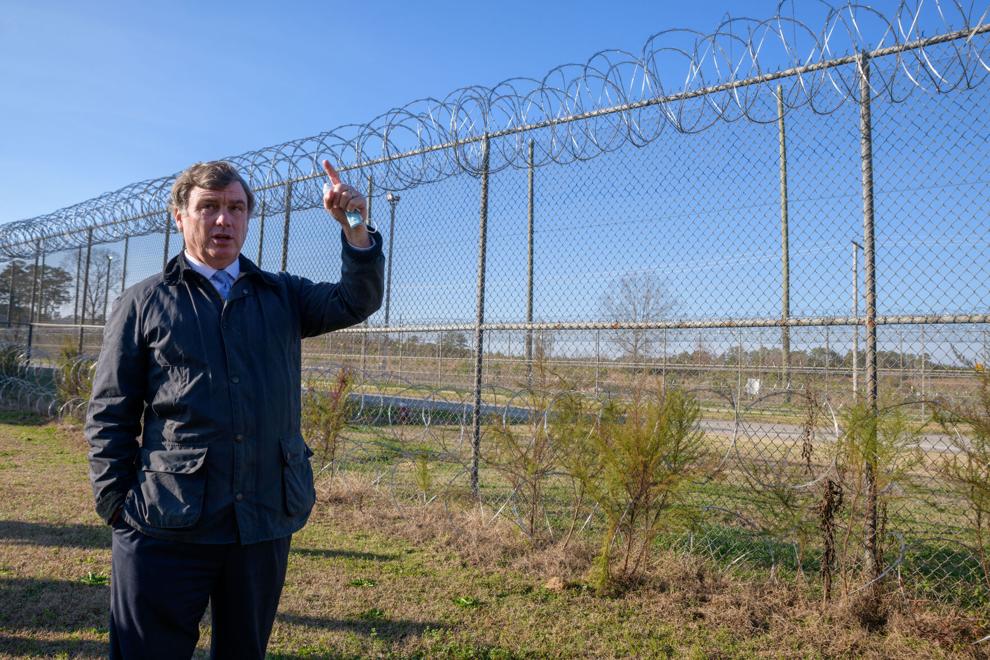 New technology
The S.C. Corrections Department is in the process of acquiring a new detection system that pinpoints a drone's location as well as where it took off from. 
"The good thing about the new technology is that it live-tracks the drone the whole time it's in the air," Nelsen said. "What we have currently only tells us there's a drone up there somewhere."
Using a cellphone application, correctional officers will get an alert when a drone is in the air. It identifies the type of drone as well as the speed and flight path. Anderson said you can see where the drone took off and where it's returning.
"Not only that, the control room will have a screen that tells them where it is and where it's going," Anderson said. "We can share that information with local law enforcement, they can have access to the app, and then we can apprehend the people trying to fly."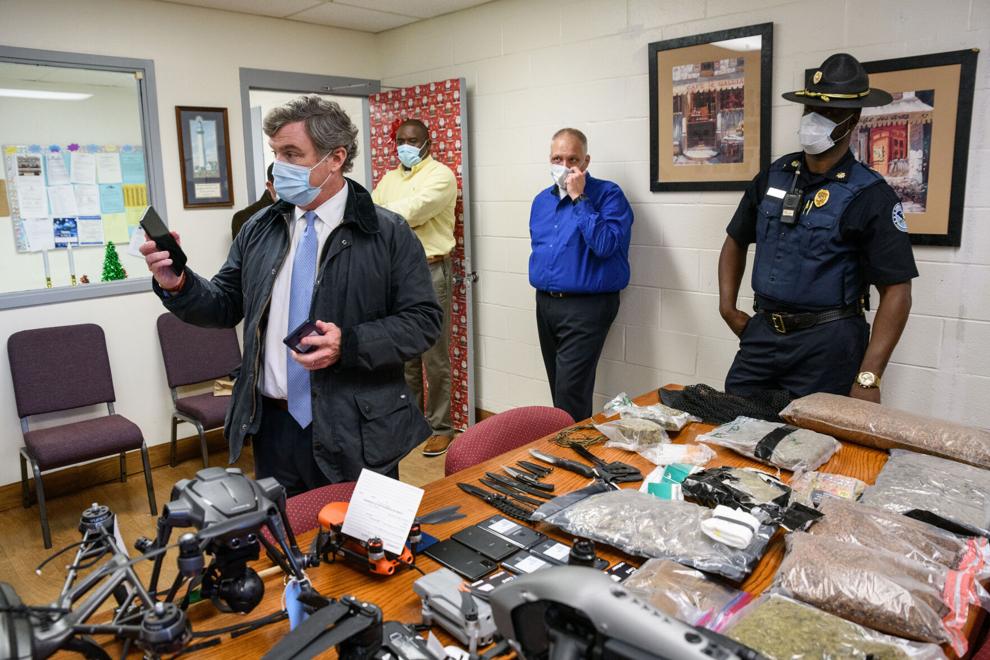 Cellphone jamming
For years, Stirling has been pushing for federal regulators to allow the use of jamming equipment at state prisons, which would block or interfere with signals and block cellphones.
In a recent op-ed, state Attorney General Alan Wilson described four drug-trafficking cases in the past five years in which state inmates used contraband cellphones to "facilitate and run drug rings from within prison walls."
Top state prosecutors recently sent a letter, urging Congress to allow cellphone jamming at state prisons. According to The Associated Press, the 22 prosecutors, led by Wilson, wrote to House Speaker Kevin McCarthy and Senate Majority Leader Chuck Schumer saying the smuggled cellphones allow prisoners to carry out crimes while behind bars, which jamming would prevent.
The calls follow the state grand jury's investigation into the methamphetamine ring in which inmates exercised "command and control" of the drug-trafficking operation, according to Wilson, coordinating the trade through Atlanta and up Interstate 85 to South Carolina's Pickens, Greenville, Laurens, Anderson and Oconee counties.
In the past, the Federal Communications Commission has said cell jammers and similar devices "pose serious risks to critical public safety communications" in part because they can prevent 911 and other calls in an emergency as well as interfere with law enforcement communications. The FCC did not respond to requests for comment for this article. 
The FCC did announce another technology to combat the use of cellphones in prisons in 2021, which would allow correctional facilities to identify the device number on the cellphones and send the information to the carrier to be disabled. South Carolina was the first state to apply but has yet to be approved, Wilson said.