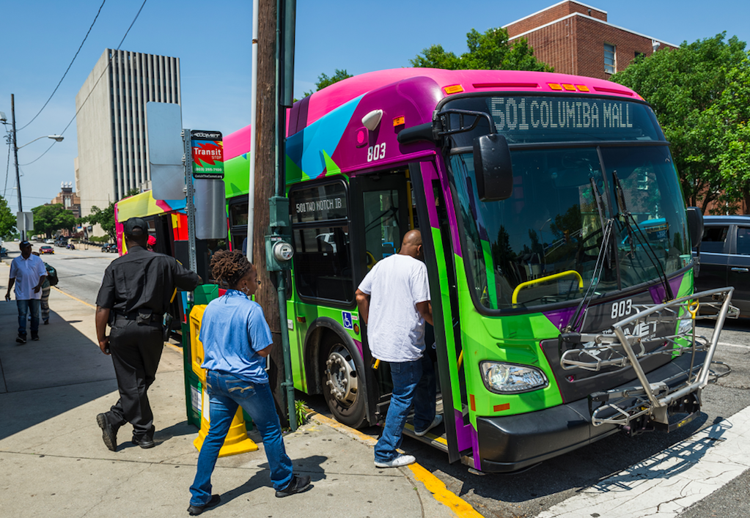 A driver with the COMET bus system who recently drove a shuttle bus for University of South Carolina students, as well as buses on a number of other non-USC routes, has tested positive for the novel coronavirus and has been quarantined. 
The bus system — which services Richland and parts of Lexington and Newberry counties, and has a contract to operate USC's shuttle buses — disclosed the driver's diagnosis in a late Friday afternoon news release.
The driver in question last worked on Wednesday, and on that day drove what the COMET described in the release as the "1302 Tripper USC." A spokeswoman with the bus system says tripper buses "follow one of the main buses to prevent overcrowding."
COMET CEO John Andoh added Saturday that the bus driver operated on COMET routes 77 and 6 on September 7, and drove the Soda Cap route 1 on Sept. 8.
The bus driver reportedly tested positive on Friday. They will self-quarantine for 14 days, then be retested.
"The safety of our bus operators, our riders and the public is top of mind, especially during this pandemic," COMET CEO John Andoh said in the news release. "We are constantly exploring newer and better ways to ensure that we protect staff and passengers so that they can travel as safely as possible."
The bus system has been disinfecting its vehicles daily, and riders and drivers are required to wear masks. The COMET also does daily temperature checks on its drivers and staff.
"Because we enforced masks and other safety measures, as well as limiting interactions with the drivers, the likelihood of exposure from the driver is minimal," Andoh said. "We encourage all individuals who are concerned about exposure to get tested at their earliest convenience. We continue to disinfect daily and enforce strong safety measures for the health of our passengers, drivers and staff."